It's done! My summer dress is finished in the middle of November. Totally impractical, I know, but so much fun to make and admire on the dress form. And now I can look forward to wearing it when Spring arrives!
Here's the original inspiration – Betty Draper's picnic outfit: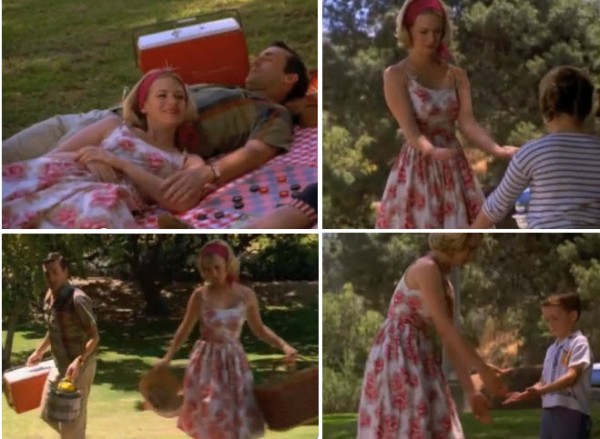 And here's my picnic dress! What do you think, have I captured that 1960's summer vibe? (PS. I'm freezing!)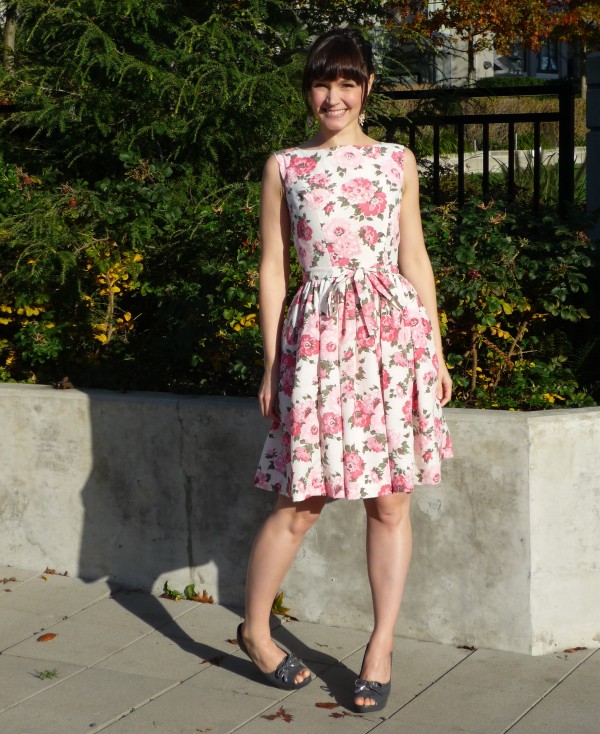 I loooove this dress. It's as girly as it gets! Pink, flowers, full skirt, bow-tied belt. I feel so feminine in this swishy skirt! It's definitely a 'cupcake of a dress' as Karin commented last week.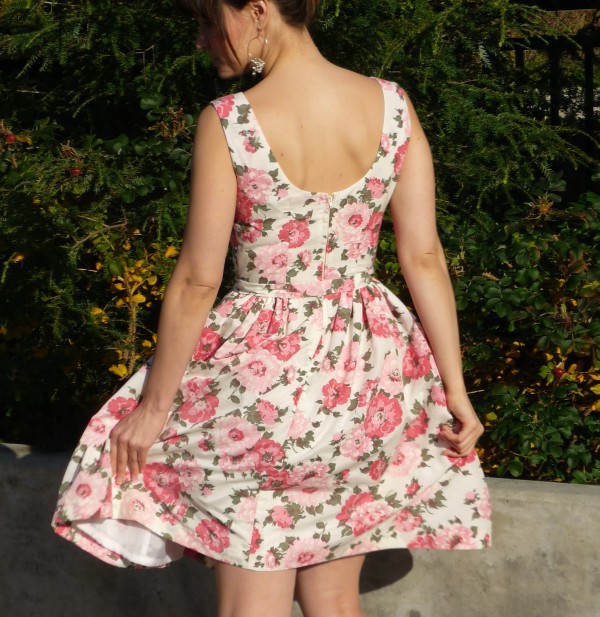 If you've just stumbled across this post – welcome! Here are earlier posts highlighting some of the construction steps on this dress: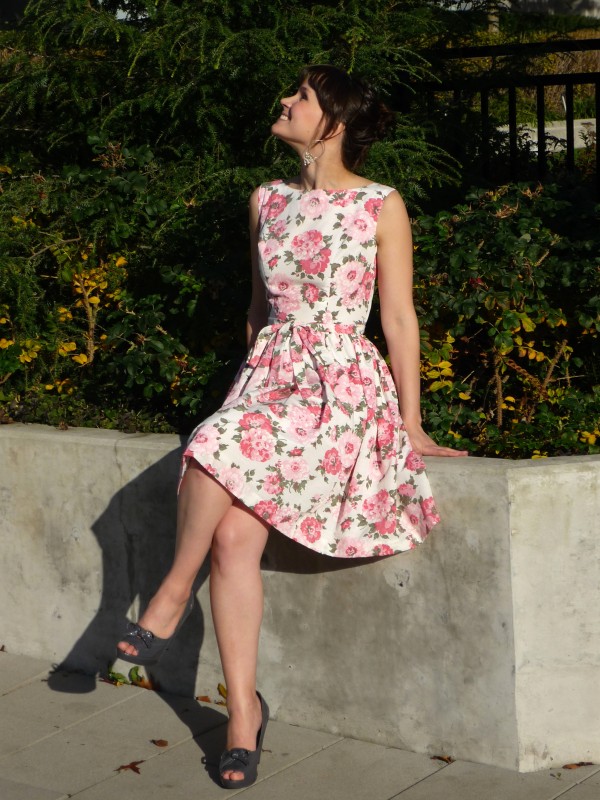 I do have to admit, this dress turned out slightly tighter than the last version, because of the different fabric used. The vintage floral is much stiffer than the rayon fabric for the Twin Spruce Dress, and doesn't allow for deep breaths either! (If this is a Picnic Dress, then I won't be eating very many picnic snacks…)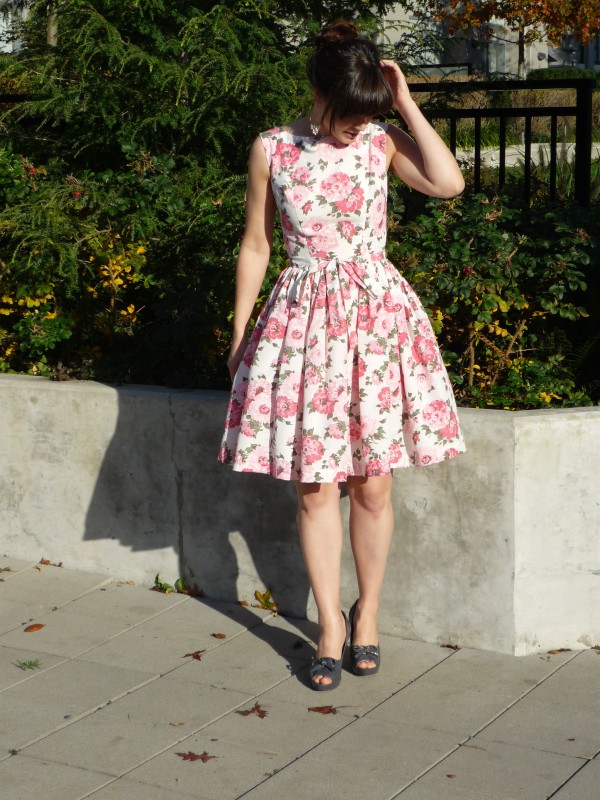 I should have done what Claire aka Seemane suggested and left extra room on the waist stay for a little wiggle room. (Here's the link to her helpful diagram.) You guys are so smart!
My shoes are from Nine West, purchased back in January 2008 from Macy's in Seattle. (Because I know you'll ask! I love these, I had no idea that grey four-inch patent leather pumps would become such a staple in my shoe wardrobe… but I reach for them all the time!)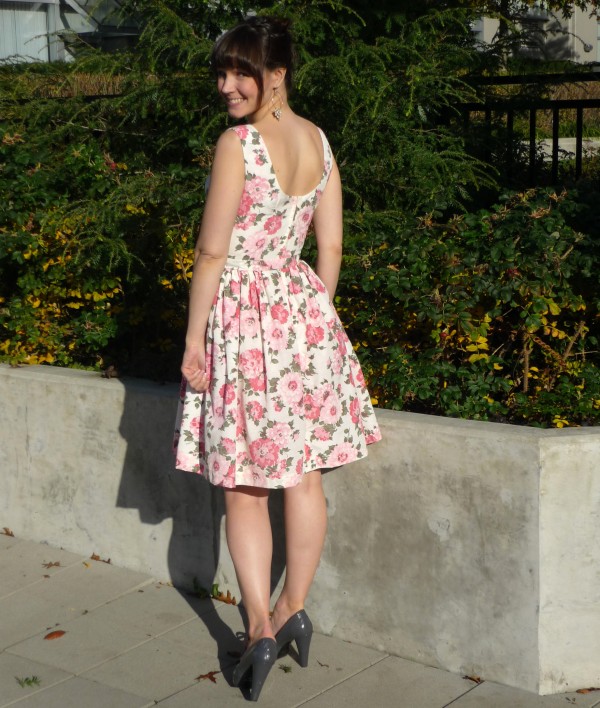 Yes, Betty wore it to a picnic… but I'm thinking it would be nice for a summer wedding? Family get-together or BBQ? Either way, I'll be looking for an excuse to wear this one out!
I like this shot with Mr Sewaholic's shadow creeping in the foreground: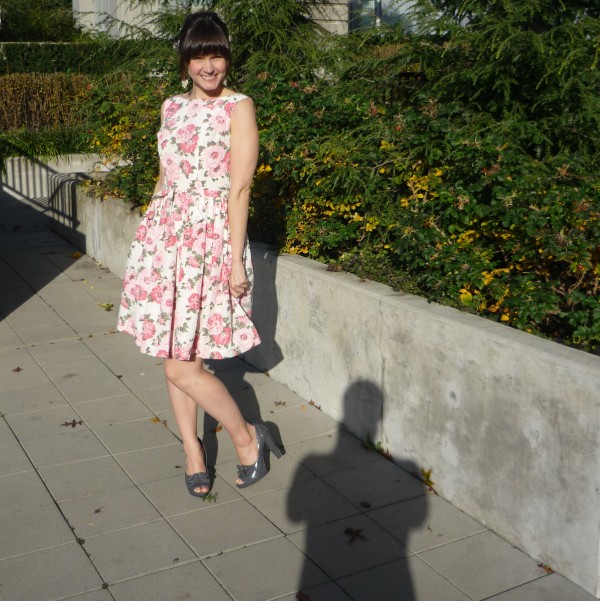 Doesn't it look like a warm summer day in these photos? Let  me tell you, it was not, so I took the rest of the photos indoors:
Back view – lovely, tidy hand-picked zipper! (Read how I did it here..)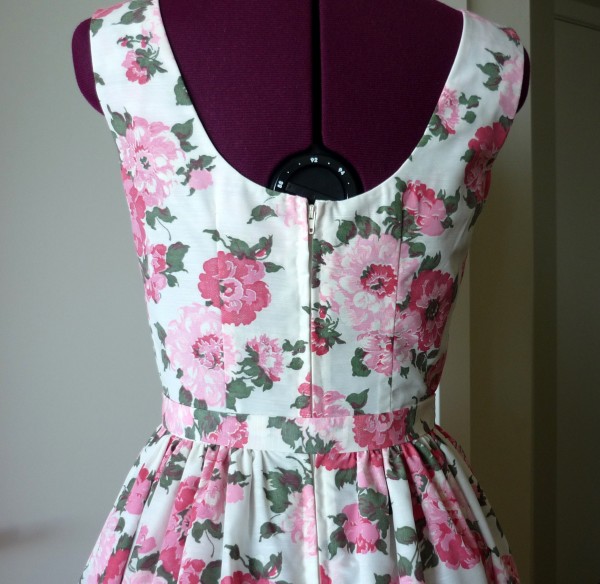 Because I know you'll ask, here it is, inside-out!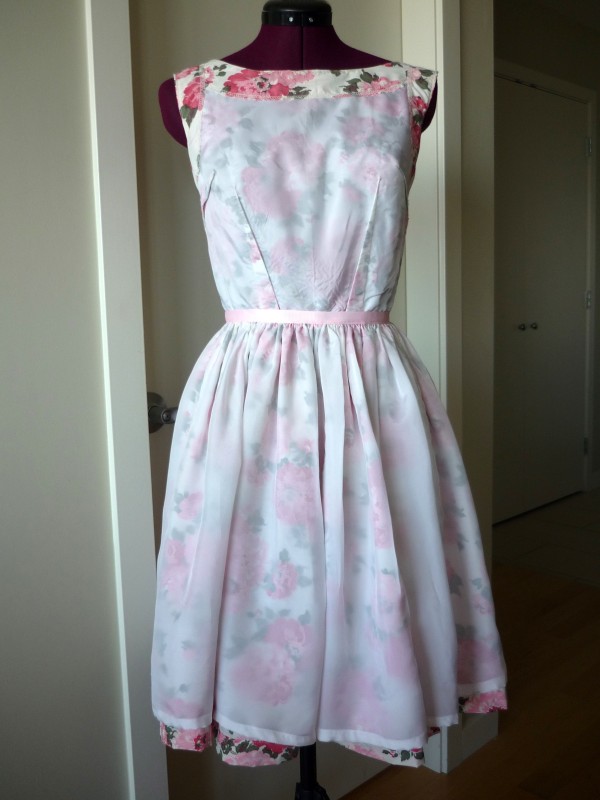 What do you think? Personally, I'm thinking that it's time for some winter sewing projects. Too cold to take good outdoor photographs!
If you want to see more photos of this dress, stop by my Flickr account here!