Every now and then, it's a great idea to clean your sewing space. Maybe you have a huge room that gets overwhelmed with clutter. In that case, you already know you need to clean, but when you have to choose between cleaning or actually sewing, I know what I would pick! Maybe you're the type who puts everything away carefully, so your space is always nice.. but you might not remember what's at the bottom of those carefully-packed sewing boxes!
Me, I cleaned my office thoroughly over the last two days. Partly because of necessity, and partly because I find I work more efficiently in a tidy, organized space! I finally finished counting and packing up the Minoru Jacket patterns, and stacks of boxes had been looming in my workspace since the pattern launch. Literally, the boxes were piled so high you couldn't see me from the doorway. Remember these sweater photos? I'm dodging boxes and leaning against my sewing machine just to fit into the camera's view. So when I had an opportunity to move these boxes into storage (yay!) I also took the opportunity to clean house.
Here's how nice it looks now!
So nice! It makes me so much happier to walk in here now. Mr Sewaholic came by to see the freshly-cleaned office and have a coffee, and he said something like 'it looks like a real office now, not like you're working out of a storage locker.' Thanks, I guess?
Scary 'before' photos: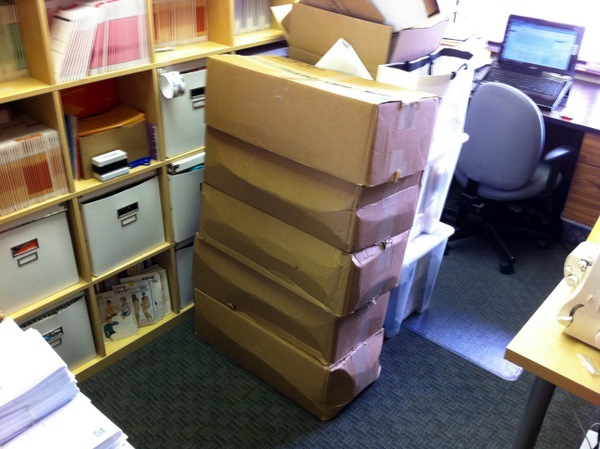 So cluttered, so overwhelming. I feel like when you let your space get cluttered, you also let your life get cluttered. And it stops me from being as productive as I can be. Told you that I could completely hide at my computer behind the stacks of boxes and totes!

And here's a before and after shot, comparing the same views before the clean-up and afterwards. (Anyone else have the tendency to use up every available square inch of space, before admitting it's time to do something about it?)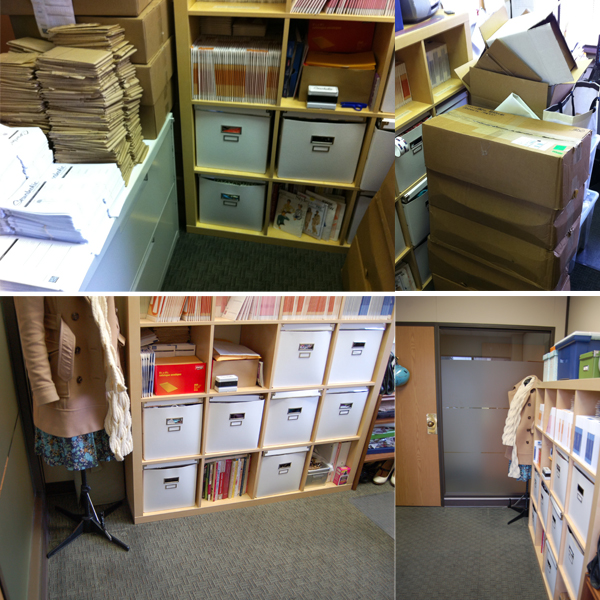 Top photos are before, bottom photos are after. So much better! You can walk in a straight line from the door to the desk now.

I'm not really qualified to tell you how to clean your sewing space, considering what it looks like in my before photos. It's going to be different for everyone. There's no set rules, there's no set timeline. It's your space. And there's nothing worse that someone nagging you to clean, right?
So here are my 'non-tips' for cleaning and de-cluttering your sewing space. Just some things I noticed as I cleaned up, and some good things that happen when you do eventually clean your sewing space!
Cleaning up your sewing space
Set aside the right amount of time. Or else the cleaning will take over, and you won't be able to do anything else until the cleaning is done. Or, if you're like me, you'll get about halfway through, decide that's good enough, and heap everything into the nearest drawer.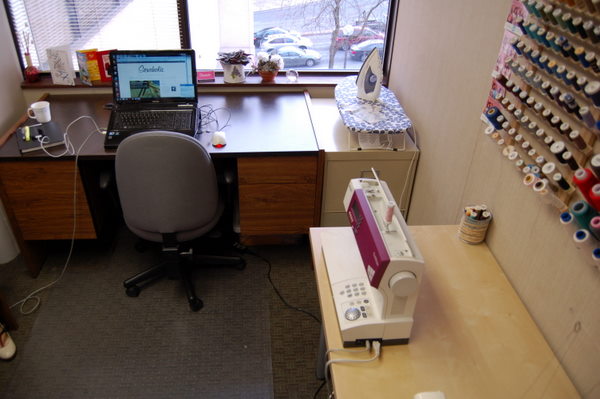 Give everything a place. If it doesn't have a proper resting place, you might find yourself shifting the same few piles of clutter around and around to make room, and never putting them away. I have a drawer for tools, a box for notions, thread racks for thread, etc. If a tool gets used, I throw it back in the drawer afterwards.
Make it easy on yourself. Instead of having an overly organized system, I've decided to use one drawer for small tools, and a bigger drawer for bigger tools. There are only two places that a pair of scissors is allowed to go. Patterns go in a filing cabinet, but they're not sorted by any rhyme or reason. If it was hard to put things away, I'd be less inclined to do it at the end of the day. Don't set yourself up with an organizational system that's not user-friendly!
Can't keep your pattern or fabric collection tidy? Hide it! You know those lovely photos of fabric stacked on open shelving, perfectly folded and arranged in rainbows by colour? That's just not how everyone works. If your fabric collection has become a big scary pile, then hide it in a tub, box, or drawer! (Bonus: you'll protect your fabric from fading and sun damage.)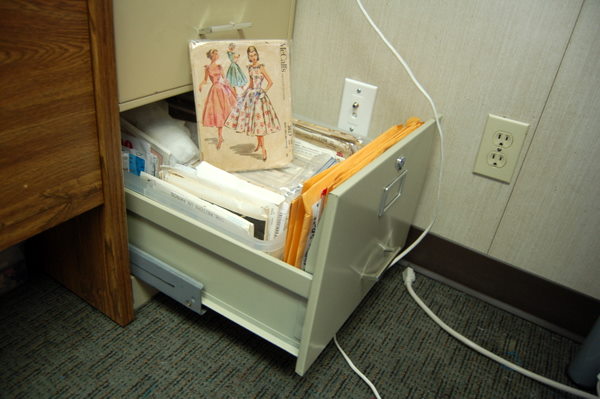 These patterns are all different sizes, and look messy on display, so I'm hiding them in a file cabinet!
The perks of cleaning up
You find things that have been missing! I found my tire gauge (useful for checking tire pressure of my bike tires, missing for at least a month), a can-opener, patterns I'd forgotten about, and fabric I knew I bought, but hadn't seen since I moved in here.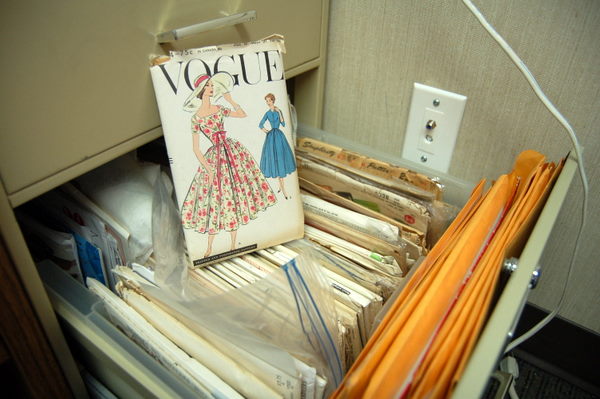 I loved this dress pattern when I first got it, but completely forgot about it until now!
You see fabrics and patterns with fresh eyes. It's easy to love everything the moment you get it, and equally easy to forget about it once it's packed away. Or maybe it's the wrong season for that winter dress pattern, but you see it next to a cotton voile and all of a sudden it becomes a great spring dress!
Sometimes having fabrics spill on top of each other lets you see them in new and exciting combinations. Mess isn't always bad – sometimes it leads to creative fabric pairings! (Just make a note of the idea, and then put them away again.)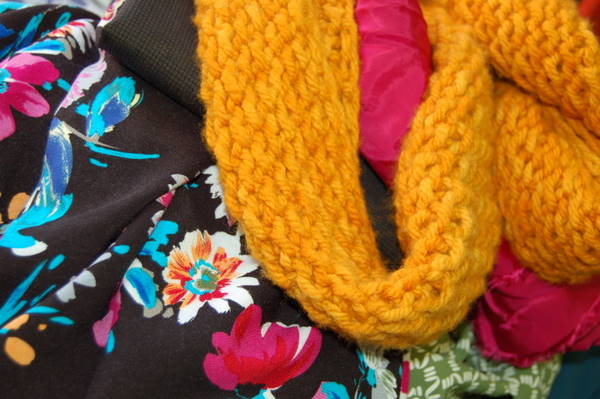 This pile of fabrics fell together naturally! Put my scarf on top and knocked the whole thing to the floor… I see a Pendrell blouse from the printed rayon, a black skirt lined with the hot pink lining, worn together with the yellow scarf!
You might already have what you thought you needed to buy! I found a couple of identical cuts of cream rayon lining. Oops.
You're a little more ruthless when it comes to keeping and tossing things. When it's a choice between having space and keeping old scraps, I'll choose space over scraps! I tend to keep just about everything just in case but now, I know it's better to pass it on to someone who can use it if I'm not a hundred percent sure it'll get used. (Things like scraps, the last half-yard of fabric, failed projects, miscellaneous trim ends – those are the kinds of things I'd rather get out of my way than hang on to!) It's easier to get over my pack-rat tendencies if I'm in the cleaning spirit.
I am a much happier camper now that my office is clean! It's a fun place to be again, now that I'm not surrounded of heaps of boxes and piles of fabric. It feels great!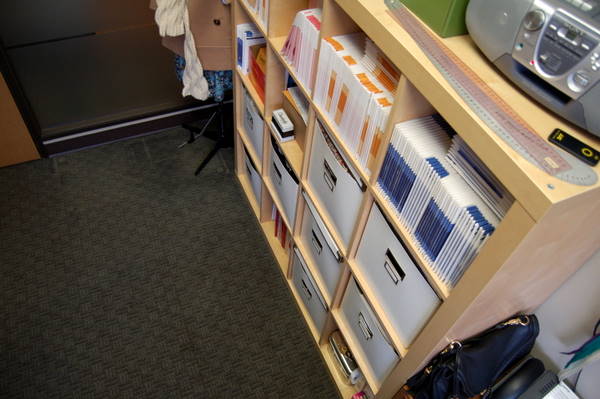 So much floor space! I love it!

How often do you clean house in your sewing area? What's the best thing you found after cleaning up? Any tips for organizing and keeping your sewing space tidy, without investing in a ton of special containers or equipment?