It's Saturday morning, and the big party's tonight! I'm quickly running out of time to finish up this dress. Luckily, I have all the materials, I know it will fit, and I've made this pattern twice already. It's looking promising! Plus, the fear of having to wear the same dress as last year is wonderful motivation.*
Here's the dress status so far:
The lining, underlining, and main fabric are all cut. I underlined the bodice in muslin. You'd think that would slow me down, but I like working with an underlining. I can mark it up with marking pen, and it adds body to the silk, which is so light and delicate. Plus, it will add a little bit of extra warmth to the dress. There's nothing glamourous about shivering!
Darts have been sewn in the bodice. I also trimmed the darts and pressed them open to reduce the bulk. The last two times I made this dress, I didn't do that, but with the silk, you could really see the fold of the dart on the right side! Trimming the darts and pressing them open helped achieve a flatter look. (I'll write up what I did, once the dress is done!)
Bodice seams are sewn, trimmed and pressed. I love how the muslin underlining gives it almost a padded or quilted feeling!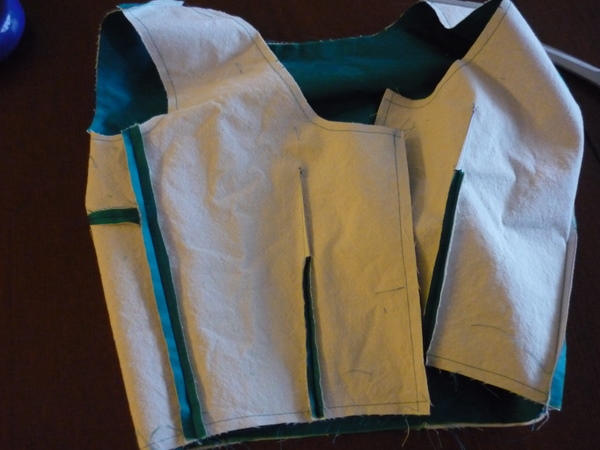 Facings have been interfaced and sideseams sewn, with the facing edges finished. They're ready to be attached to the dress!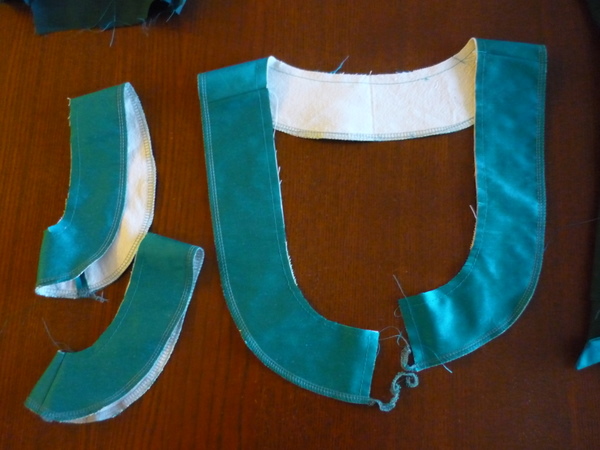 Skirt sideseams have been sewn and serged. The tie belt is finished, too! Well, almost. I just need to slip-stitch up the opening and then it will be done.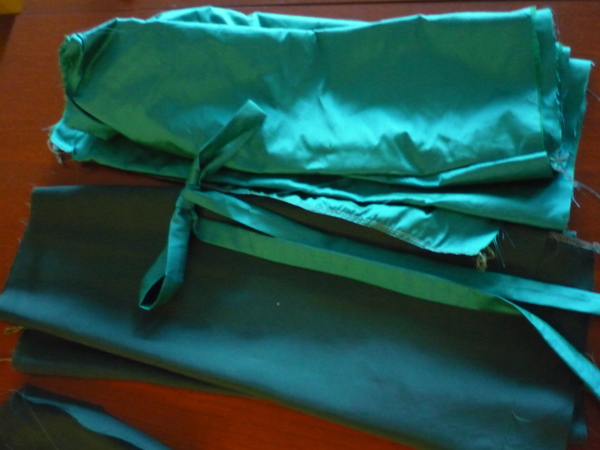 The lining is partially constructed – the bodice is ready and the skirt seams have been sewn. Just need to put it all together!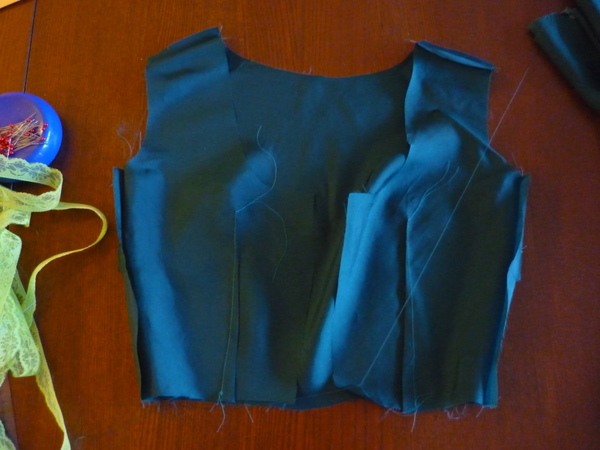 My 'Finish By 4PM' List:
Slipstitch belt opening
Attach bodice lining to bodice
Attach skirt lining to skirt
Attach bodice to skirt
Insert zipper
Add waist stay
Hem skirt
Hem lining with lace trim
Whew! That's a lot. Better make a cup of coffee and get started right away!
As I worked on this project, I made a few notes on sewing with silk. I'll share them shortly, once the dress is finished. Luckily, most of the tutorials I could be writing on this project have already been written! Underlining, hand-picking the zipper, understitching – all done! The only thing I'd like to share is how to trim the lining in lace.
If all goes well, I'll have party pictures in the party dress to share after tonight!
*PS. I know it's not tragic to wear the same dress twice. I know it's not life-or-death that I finish a new dress for tonight! I'm just having fun with my personal speed-sewing challenge, and imaginary drama makes it interesting!