It's finished! The Instant Dress, my version of McCalls 3660, is complete. I took a lot of photos of this one, so I'll try not to talk so much and let the photos do the talking.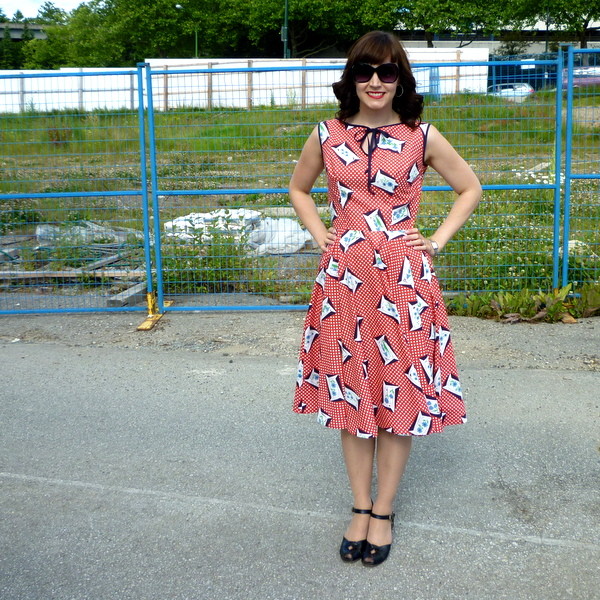 Pattern: McCalls 3660
Fabric: vintage cotton from SelvedgeShop on Etsy
Shoes: thrifted
Nylons: What Katie Did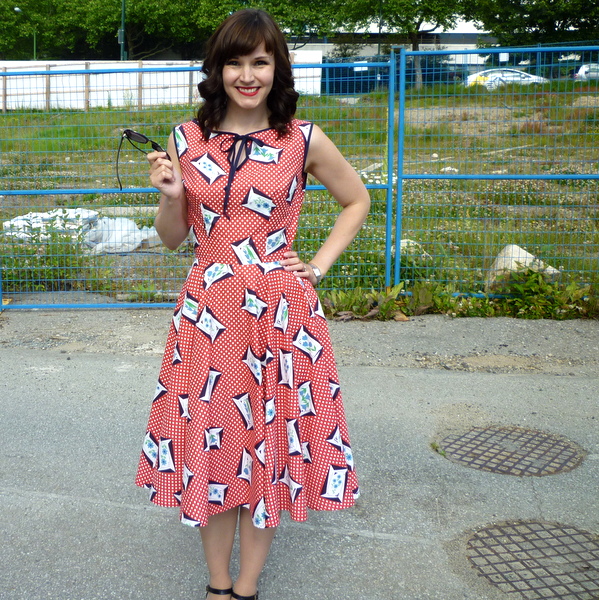 Yes, there's a sewer with a sewer. I'm in the back alley behind my building so I could take photos undisturbed.
I'm posting these photos in the order I took them, so you can watch the sun come out!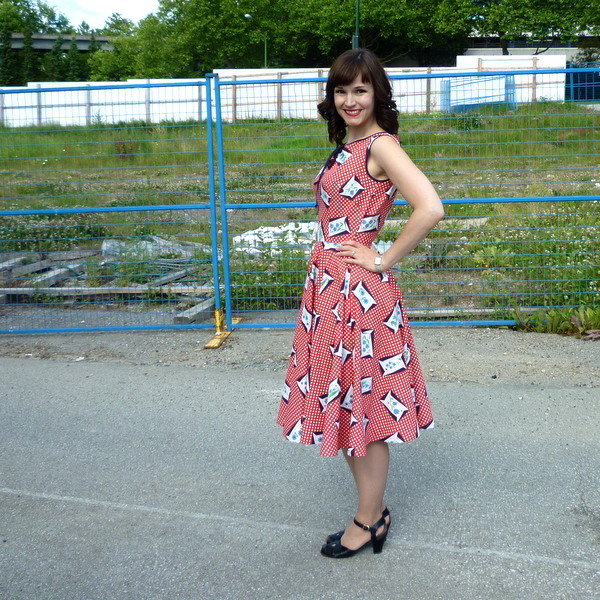 I'm quite happy with this dress. It's interesting without being too distracting, it pairs well with black or navy accessories, it's a happy print with the dotted background.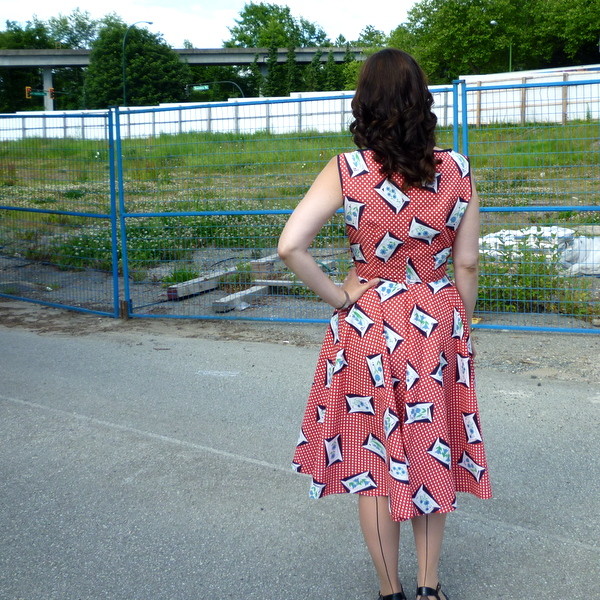 Back view. You can see that it's not extremely fitted through the bodice, yet the waistline is snug.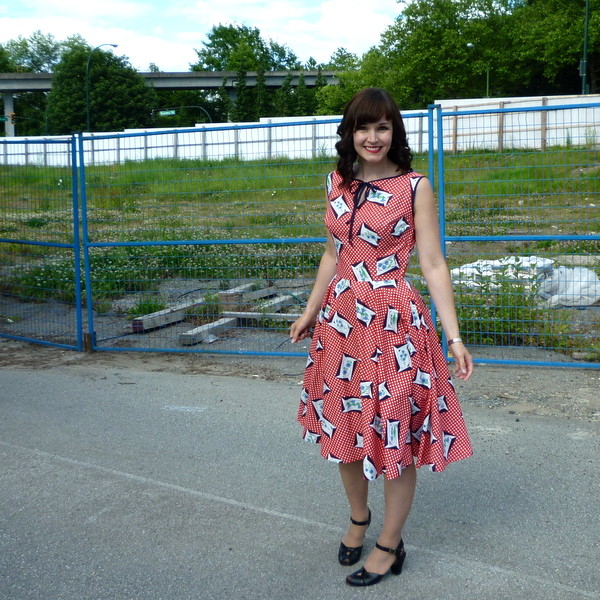 As with most clothing, it looks best when worn with good posture! This dress looks vintage without being obviously so. Or perhaps my ability to judge is skewed by the amount of sewing blogs and vintage patterns I look at regularly. (And it looks like I ignored the sewing step of 'purchase a belt' – oops!)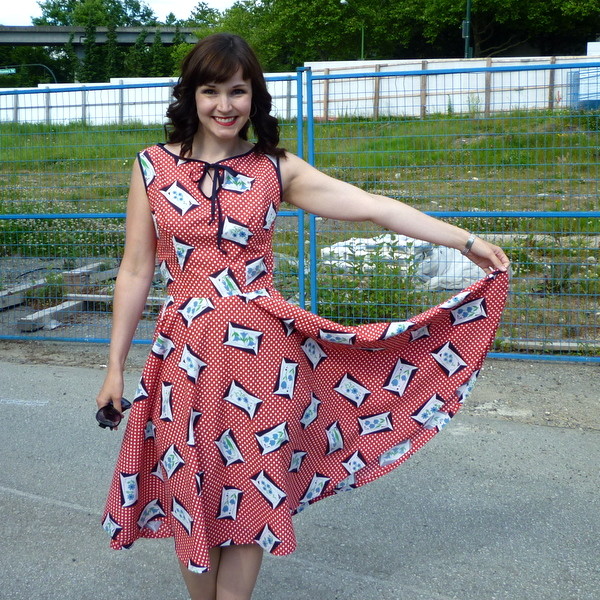 Nice, full, circle skirt. And yet, could it be fuller? You bet! (I had a lot of fun taking photos this afternoon. Something to do with being alone in the alley, I suppose!)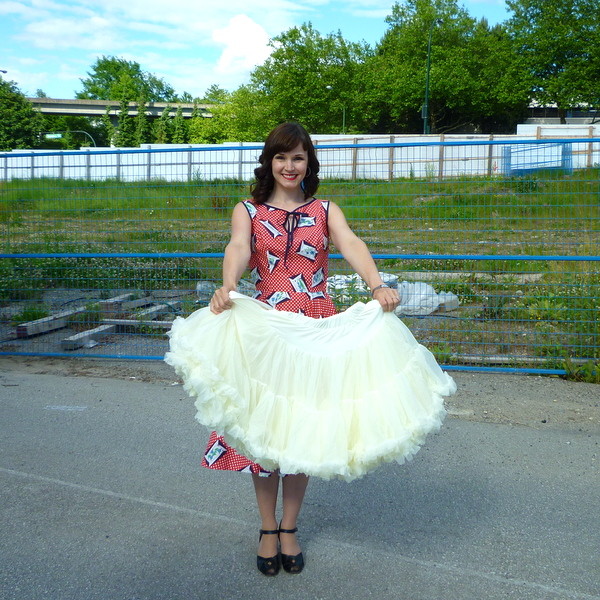 I put this awesomely fluffy petticoat on and the sun came out! (Petticoat from Doris Designs. I did not sew it, I needed it for another thing, but decided it would be great fun for modeling projects too!)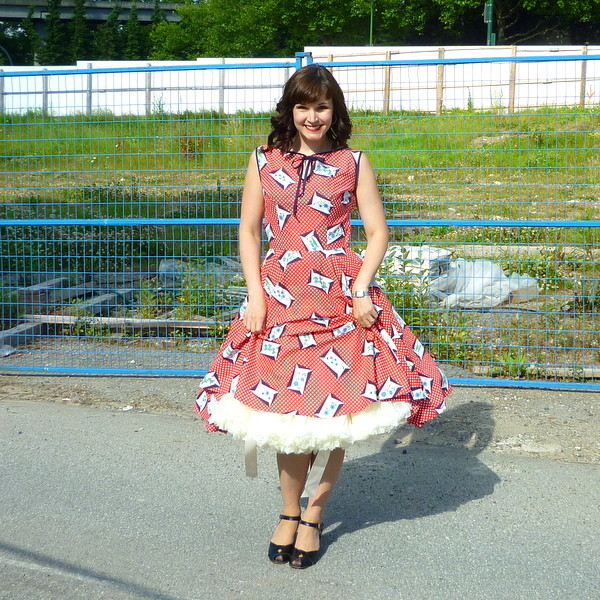 So, here's the thing. Wearing this petticoat feels pretty insane. I feel like I'm in a movie, like I should break into song & dance any minute now! I also feel like a lampshade. If I sway my hips, the entire skirt and petticoat sways. Kind of like if a lampshade gets dislodged from its top screw and sways from side to side. It's a hard feeling to describe but that's the most accurate comparison I can think of!
And yet, in this next photo, you can hardly tell it's there. It fills out the silhouette nicely and makes my waist look small.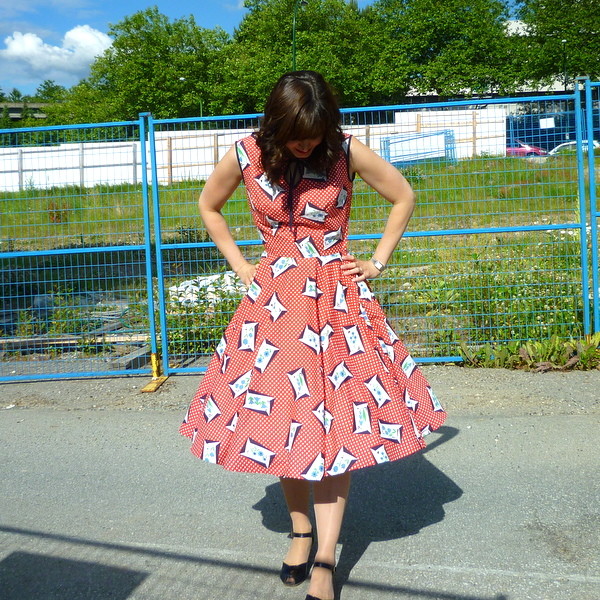 While wearing it, I feel over-the-top! I feel like everyone knows it's there. I feel like I should take dancing lessons so I can twirl and show it off.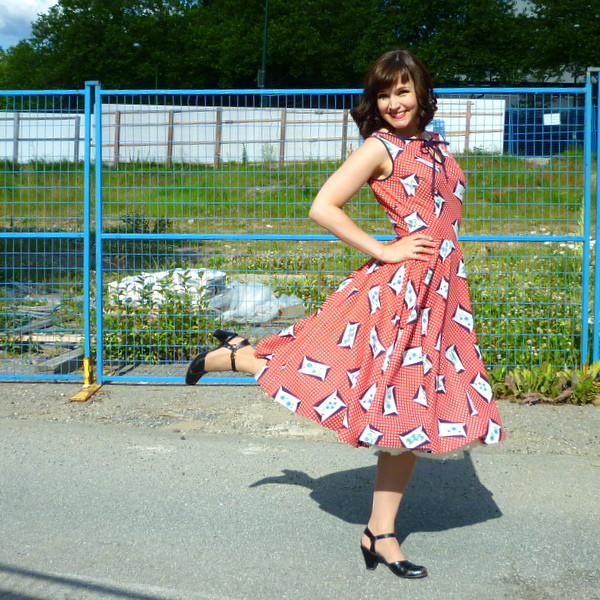 Great fun, I tell you! I've always wanted an excuse to wear a big puffy petticoat and modeling a new sewing project is a good enough excuse for me.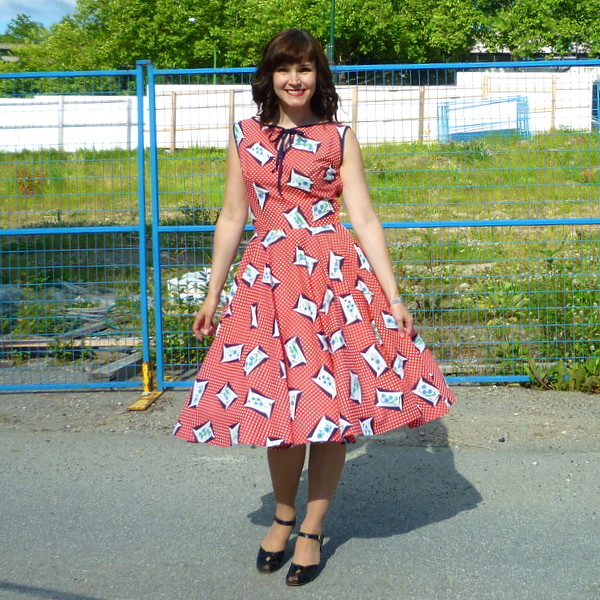 Here's a close up of the neck tie detail. So glad I changed the bias tape colour! I've forgotten about having to unpick the hand-basting, all I see now is the finished dress.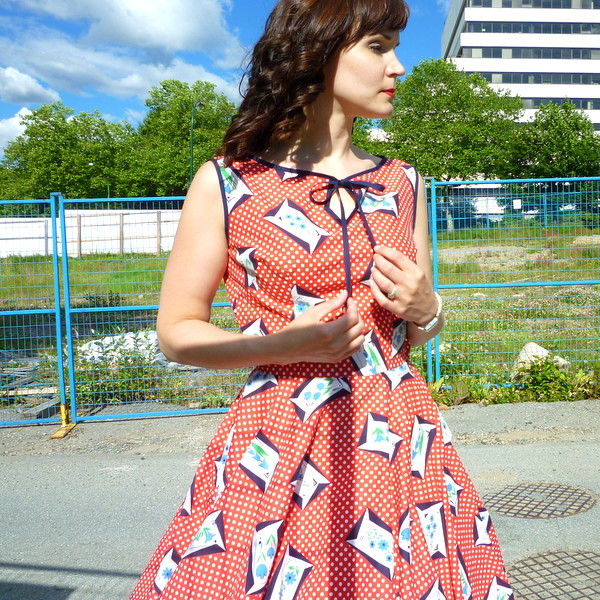 My favourite silly petticoat photo: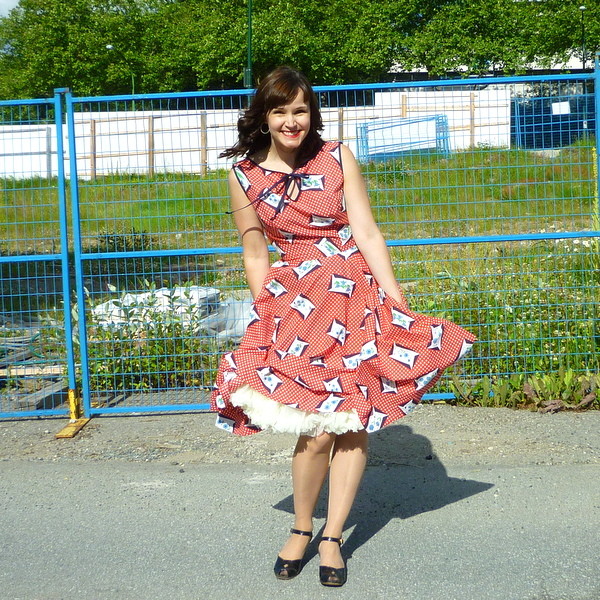 Does it look at all natural, or am I just trying to get away with wearing it on regular days?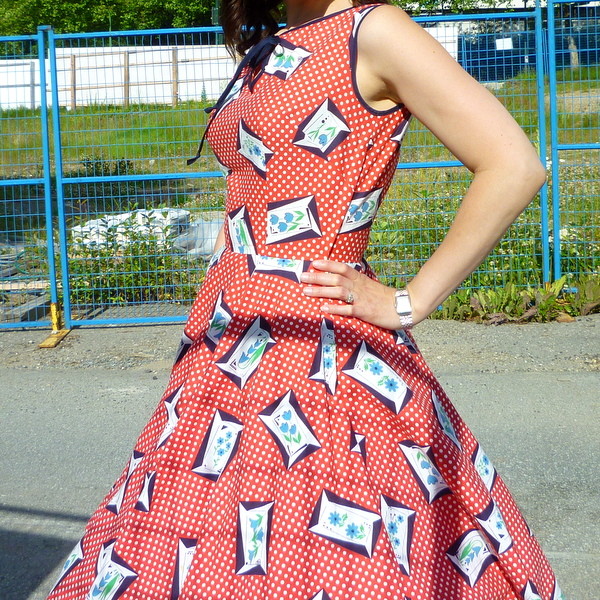 I did a hand-picked side zipper, and I raised the zipper opening up by an inch. Do you find that side zippers don't open enough to get on and off comfortably? I almost always extend the opening higher up towards the armhole.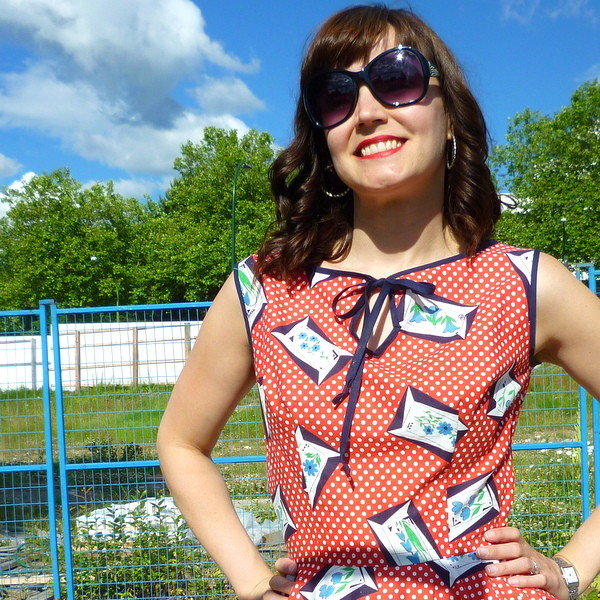 You can see there's a bit of room in the bodice, compared to other vintage dress patterns I've sewed. I like it, it's incredibly comfortable to wear. I kept the dress on after taking these photos to work, and it was so comfortable I forgot I was wearing it!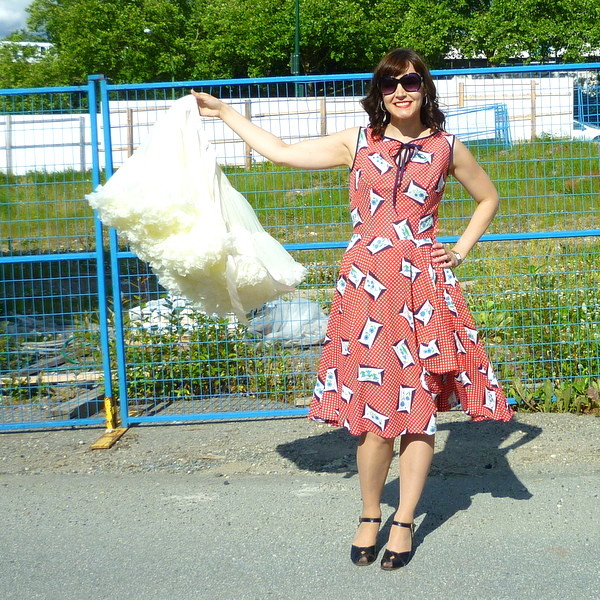 Petticoat out! Oops, the side of my skirt is bunched up. It feels a bit flat after all that volume, doesn't it? Speaking of the skirt, I did shorten the skirt length. I let the skirt hang after finishing the dress, so that the bias could stretch out, then hemmed it evenly to a 25″ skirt length.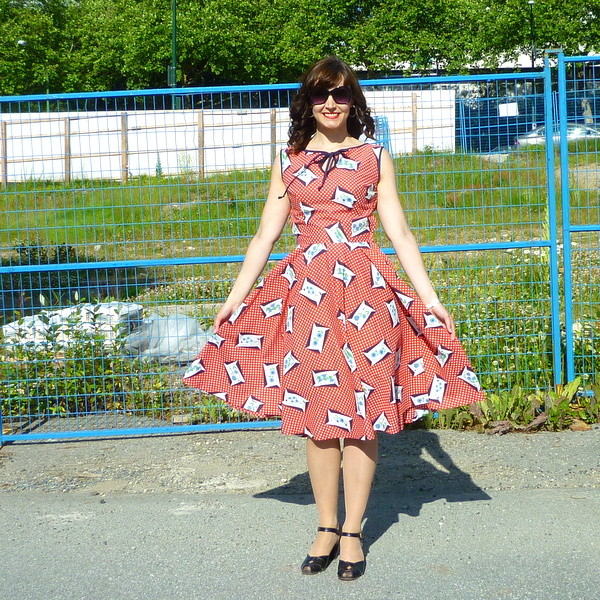 Still a great-looking dress! I'll probably never wear it out in the real world with a petticoat. I feel it crosses over into costume territory, and I already dress a little more colourfully than many people I encounter every day. (But now I'm thinking of making a halfway petticoat, something with not quite as much poof as the one in these photos, but not as flat as a plain slip. A slip with a ruffled hem perhaps.)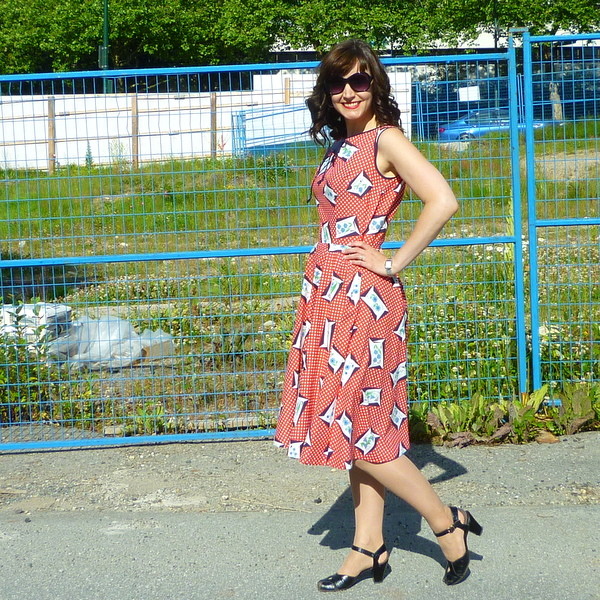 I also think this is a dress that looks better on a person than on a hanger. I'll have to remember these photos and picture how good it looks on, instead of judging how it looks on the hanger.
More posts on the making of this dress:
Make again? I think so! It's a fairly quick dress, all things considered, and I like the fit. Fitted without being extremely snug, a great circle skirt, a nice flattering skirt length. Not quite instant like the package said, but still quite a successful dress project!