Whenever I talk about knitting projects, people often ask me how to learn to knit. Burke asked in the comments of this weeks post:
I was wondering if you had any tips for someone wanting to learn to knit. Did you just pick out a pattern and give it a go, learning as you went along?
The short answer is yes, that's basically what I did! But I thought I would write a nice long thorough response as a post, as there might be others of you who tune in for the sewing, but are curious about the knitting too. Keep in mind, I'm no knitting expert. I've only been knitting since April of 2011 – less than two years! And I'd be happy to recap my knitting experiences if it helps you start learning to knit yourself.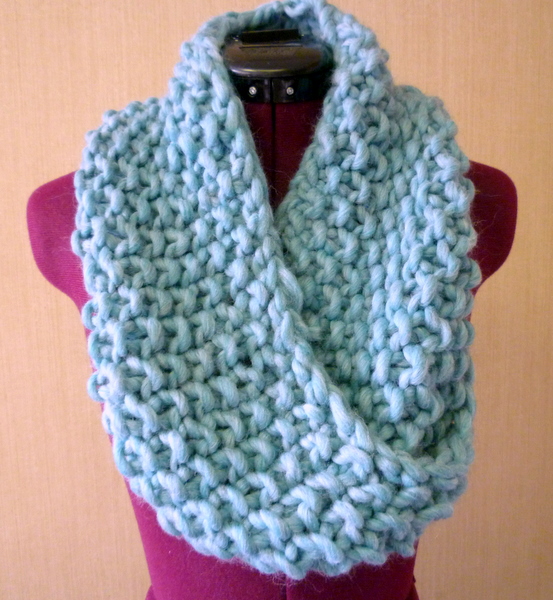 (my first ever completed knitting project!)
How did I learn? Self-taught, basically! I borrowed an old pamphlet from my mother with the basics of casting on and making knit and purl stitches. I learned by watching YouTube videos and searching pattern terms as I went. I joined Ravelry, and searched out free, easy patterns to start with. Every time I came across a term I didn't understand, I searched on Youtube for a video to help me out. Even if was as simple as 'bind off' – I searched it and watched someone demonstrate how to do it!
Some videos I had to watch multiple times to get it figured out, and some videos I still watch when I come across certain techniques (Kitchener stitch, I'm talking about you…I've watched it so many times I know exactly when she's going to talk about putting your kids and pets and  spouse away so they don't distract you.)
Here's a list of the projects I worked through, from beginning to end:
Cowls: simple seed stitch or ribbed or garter stitch is best! Free patterns are often simple, beginner ones.
Hats: quick, and you learn to increase and decrease
Scarves: keep in mind, a scarf is a lot of knitting and can get boring if you're impatient. I turned a scarf into a cowl because it was just too boring to finish such a long, repetitive thing!
Hats with cables: good way to learn cables, on a small item
Fingerless mitts: useful, and good practice in making two of something
Socks: because, warm feet!
More cowls and scarves, including ones with charts. Charts are not hard, but you have to read each stitch and follow the key. Like a paint-by-numbers, sort of.
A sweater! (Took me three tries to get it right though.)
More sweaters
More hats
More socks
I knit what I wanted, I didn't make anything just to learn. I think if you have a desire to make the project, it's more compelling than knitting swatches or washcloths just to learn. I know that some people start off knitting washcloths to learn, which is cool if you want washcloths! But if your main draw to knitting is to learn to make your own accessories, then I'd try making something you really want to wear.
However, I made a lot of really silly mistakes learning this way. The first thing I got stuck on was how to alternate between knitting and purling – I somehow missed the step where you move the yarn back to the front, or to the back, and ended up with very tight stitches and a lot of extra wraps around the needle. That took me a while to figure out!
For the longest time, I had a hard time with yarn-overs and remembering how to wrap the yarn. The first project I ever made with yarn-overs, I did them all as double yarn-overs so the holes were huge!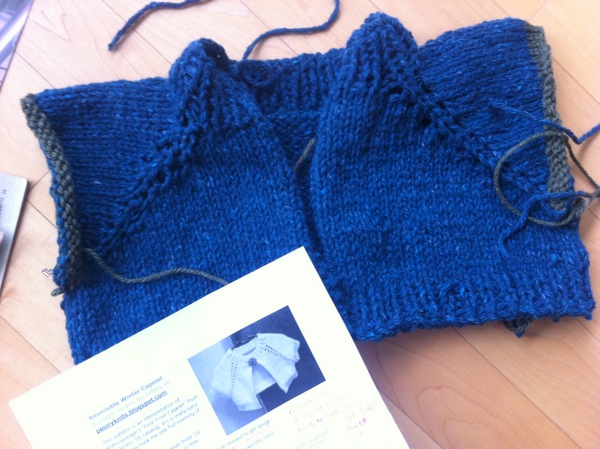 (yeah – my first actual knitting project didn't turn out at all!)
I'm sure there have been many other things I got stuck on but these two stand out because if I were learning in a class I'd have someone there to gently correct me and explain how to do it, as I went to wrap my yarn incorrectly or start purling with the yarn in the back.
I also had plenty of great suggestions from you guys in the comments of this post, way back in 2010 when I was wondering if I should learn to knit at all. If you are considering taking up knitting, read the comments for recommendations!
I also still get really good recommendations in the comments of my blog posts, so thank you, knitters who read here!
I also go to a knitting night and learn all kinds of things from the talented ladies I meet with. It's almost the kind of learning you learn by accident, like when someone asks a question and a handful of people chime in with their suggestions or share their experience with that technique. I absorb a lot of information through casual conversation!
I'm a trial-and-error kind of learner, I'd rather get my hands on the materials and start playing around than listen to a lecture. I don't mind making mistakes and I don't mind having to look up every term every time I get stuck. I'm also stubborn (or determined, both are true) and I will keep on trying if I really want to make something work. My desire to own and wear cute knits was stronger than the frustration of making mistakes!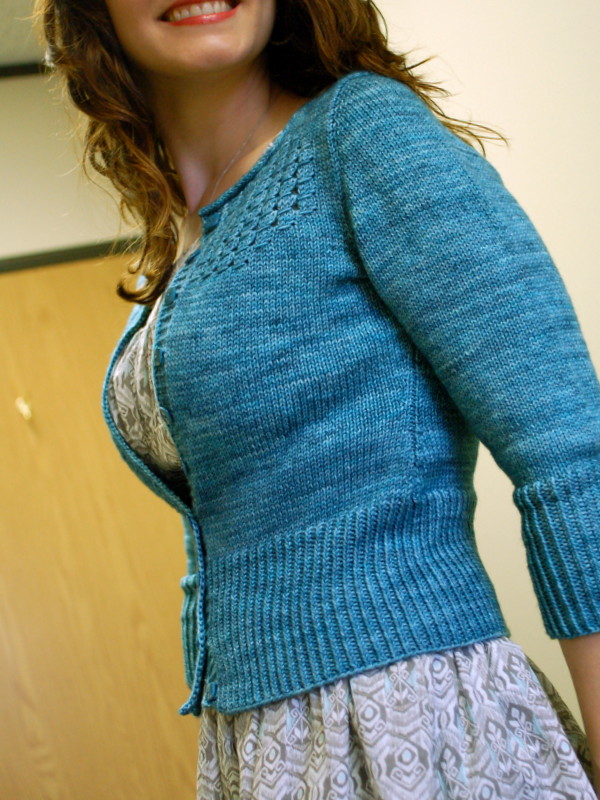 (success – a cute sweater to go with my handmade dress!)

I'm sure that's not the best way for everyone though. My youngest sister learned to knit late last year by the same trial-and-error method, looking stuff up online when she got stuck (or asking me) and she's already knitting socks and lace shawls. (Although, she did make some interesting mistakes as well while learning.) She's like me though, in that if we really want to do something or learn something, we won't stop until we have it mastered! So if that's your temperament, self-taught knitting might work for you. If you like to be helped, or prefer a social atmosphere, classes or lessons may be more your speed.
So I'm curious: How did you learn to knit? What do you suggest for Burke to get started? What would you say is the best way to learn?