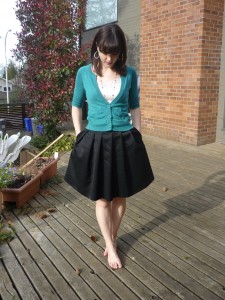 This skirt was SO easy to sew, I literally started and finished it in the same evening!
If that's not the story of your typical sewing project – yeah, it's not always how my sewing adventures go either.  But sometimes, everything falls into place.
Like this skirt. Granted, it's the third time I've made this pattern (McCalls 5803), so I don't even need the instructions anymore. But this gorgeous Armani rayon fabric is beautifully textured and crisp to stand away from the body,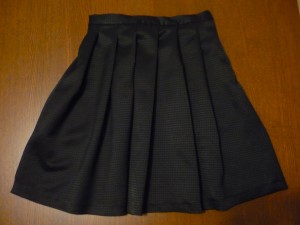 yet light enough to fall softly into pleats.
Classic black goes with everything in my wardrobe, too. I have a pretty collection of silk printed blouses that I usually wear with jeans (boring, I know!) Now I'll be tucking them into this skirt instead. And it's another waist-slimming style!
And while I didn't plan to follow the Top 10 list in order, I've now completed items 1 and 2. Eight more to go – with a few un-planned projects squeezed in between!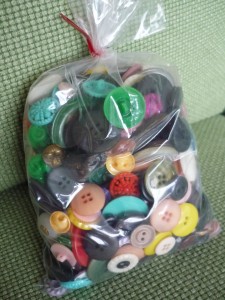 And if you're wondering if I went to Button Button this weekend… I certainly did! I also visited Dressew – another sewaholic's delight!
Plus, I spent Saturday morning sorting clothing donations for Dress for Success. As someone who sews and makes a lot of my own clothing, it's interesting to see what garments hold up over time, and which styles look completely out-of-date. Makes me think, in 10 years will everything I'm making  now look dated and unfit to wear? Pants were the biggest offenders, maybe that's why I don't sew pants. (Nothing to do with the fit issues and fly-fronts, of course!)
Pictures of my weekend loot (plus, what's really inside a pound bag of buttons) to follow…