Ok, you guys are the best. Did you know we managed to completely fund seven entire sewing-related loans yesterday? (Not just from our contributions alone but we certainly played a part!) That's at least seven people whose loans are now fully funded, one step closer to building a better life. Many of the sewing related loans I made were close to 70% or 80% funded when I signed off yesterday. I felt really good about what we did together. What a great way to end the week!
Because new people signed up, I was able to make new loans with the bonuses totalling $500. That doesn't sound like a lot at first, but when you consider the average annual income in some countries can be as low as $1500 to $3000, that's a big chunk of money!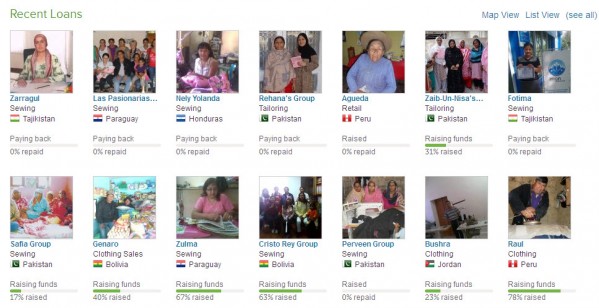 As loans are repaid, I plan to put all of the money back into funding new loans. I hope to add my own contributions in addition to the sponsored bonuses. Click here if you wanted to check out the loans I made with the sign-up bonuses.
And it's funny how good things can inspire us to do more good! I used to volunteer regularly at Dress for Success before launching my business, but stopped when things got overwhelmingly busy. Thinking about ways that I can help reminded me of that, and I've signed up for a volunteer shift next month. (My favourite thing to do is to sort through boxes and bags of donated clothing. It's like a treasure hunt!)
Speaking of treasure hunts, I'm excited to announce the winner of Our Social Fabric's giveaway!
TriMama September 20, 2012 at 8:34 am

What a fabulous idea! I foresee a day trip to Vancouver in my future. . .

The best deal I've ever gotten on fabric is when my mom left 4 yards of jersey at my house this summer. Can't beat free!
Congrats TriMama! We've chatted already about picking up your prize, I hope you enjoy the next sale!
Thanks to everyone that commented about their amazing fabric deals! That was fun to read. Exciting to hear that many of your best deals on fabric took place at an OSF sale! (I'm heading there to check it out myself and can't wait! I can never resist a good bargain hunt.)
Have a wonderful weekend and I'll be back next week with photos of the shiny new office, plus some more Renfrew top-related sewing posts!