First of all, thank you all SO MUCH for all the positive comments in response to the Sewtionary book announcement! I can't tell you how much it means to me that you are excited about this book. It's full of as much useful sewing information as I could pack into 256 pages. I hope you like it, when it's finally printed and released to the world!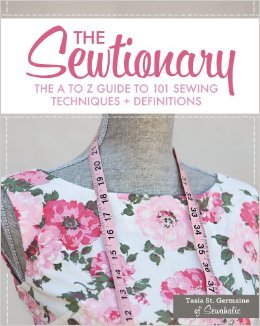 I'm glad you guys like the cover, too. Isn't it delightfully pink? It's pink, it has a flowered dress on it, but it isn't overtly pink and floral-ized. You know, where it's supposed to look like a product for women? Books, for Her? I feel like the design captures the spirit of my blog and company, it's fresh and appealing and yet still has a vintage-inspired feel. Anyways, I love it. There's a chance it could change between now and the actual launch date, but for now, this is the cover!
Did you know? On Monday the Sewtionary was the #13 best selling book in the Sewing category on Amazon. And then it was #7! And then on Tuesday was #5! I have no idea if that's good or average, but it sure was exciting to see it move up the charts.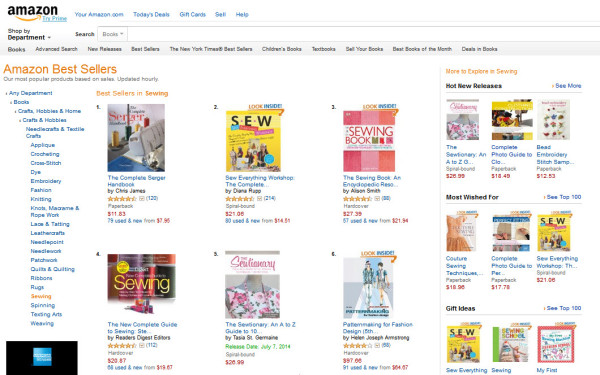 Screen-captured! Look, the Sewtionary is the #5 top selling book in sewing yesterday. You guys did that, so thank you!
Some questions came up so I'm going to answer them here. If you think of anything, please ask, I don't mind. You can ask me anything!
Will there be a Kindle edition?
My editor says that likely there will be! It's a good type of book for a Kindle option so the odds are good. If there is, it may be available after the print copy is ready. I'll keep you posted if I find out more. I did find a button on the Amazon page that says 'would you like this to be a Kindle book? Click here to request it!" Maybe if you're one of the ones interested in a Kindle option, go click that button!
Can I order the book in countries outside the US and Canada?
You bet! You can order from the UK Amazon site, if you're in the UK. You can order from the US Amazon site and have it shipped to your country. Or, if you want to wait until the book is launched, you can look for it at your local bookstore or sewing supply store. If you are having trouble ordering the book to your country let me know and I'll ask for you.
Was it hard to keep a secret?
You bet it was! Really hard. Especially when I write a blog, and post on it several times a week! I had to write hundreds of posts while keeping my secret. (All those Behind the Scenes posts and I couldn't mention the very big thing that I was working on the entire time! Since the start of 2013 I've been working on the book. That's a terribly long time to have to keep quiet.)
Did you take the photos for the book?
Some of you said you were excited about the book because the tutorials and images on the blog have been useful to you. Well I have even better news, the book photos were done by a real professional photographer! Two of them in fact, LS Photography here in Vancouver. Leanne and Susannah (the L and S) were really wonderful to work with. I sort of thought it would be a high-pressure situation, working with pro photographers, but they were relaxed and easygoing. We had a massive amount of photos to take in a short time period, so it was awesome to work with people I instantly felt comfortable with. Thank you Leanne and Susannah for making it fun! (They did the lovely profile photo in my sidebar, too.)
Where did we do the photography? Here! In my tiny office. Oh yes we did. Imagine two photographers, three hot lights, Corinne and myself in this tiny space. Imagine that in July, too. The September shoot was still hot, but not as hot as July. We did some of the larger shots in a studio but the majority were taken right here.
Will there be a book launch party?
You bet! If you're in the Vancouver area, come and meet me and celebrate the launch of the Sewtionary! More details to follow once we have a date and time. I'll practice my signature!
Other questions
How about the sewing? I sewed well over 1,000 samples for the book. Every photo you'll see was its own individual sample. So if there are three steps to sewing on a button, I had to make three separate samples! There was absolutely no time to sew, photograph, keep sewing, photograph during the photo shoots. Everything had to be prepared in advance.
Some of you wondered how I was able to get it all done! Running a business, while writing a book, now that's definitely a lot of work. I worked pretty much every Saturday and Sunday as well as most evenings, in order to stay on top of things. I'm fortunate that Mr. Sewaholic still wanted to marry me after it all, and that family and friends understood when I pretty much disappeared for nine months. (I joked about my book baby since it was nine months from start to finish.) In fact, the day after the final photo shoot is when we eloped. Book's done, let's go!
Thank you again!
You'll get tired of me saying thank you, I'm sure, so I'll try not to gush although I do feel very warm and fuzzy towards everyone right now. One last final thank you to say, thanks for asking questions! Your questions were what inspired me to start sharing more of the techniques I use on projects, explain some of the whys behind certain decisions, and create the Sewtionary reference page in the first place. Thank you!