Thank you all for such thoughtful, kind comments on Monday's announcement! Pretty amazing to see over a hundred comments of congratulations coming from all over the world – making it the most-commented post ever! You guys are wonderful. Thank you! It's a great feeling to have support and encouragement coming from people who only know me online through blogging and sewing. I feel loved and happy, and I'm so lucky to have amazing people in my life, both online and in real life! So thanks again for all of the comments, tweets, Facebook posts and emails. I truly appreciate it!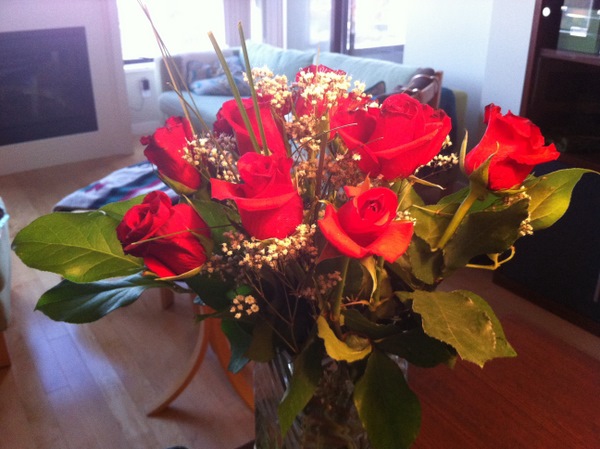 To answer some of your questions… (and yes, I painted my nails red after the proposal! I'm not usually a bright nail polish girl but when I put on the ring, I felt like it deserved a little extra sophistication.)
Am I going to make my dress?
Well, at first I thought, of course! I have a couple of inspiration photos picked out, and I seem to be drawn to the same silhouettes and details so they must be the right ones for me.. Then again, it all depends on when we're getting married. Ambitious me says 'you can make it AND do everything else, no problem!' Practical me knows that when I take on too much, nothing gets done well. I'm an extremely budget-conscious, practical person and I know I can make a dress for less than I could buy one. Although, I don't want to be crying over the dress, desperately trying to sew it every weekend and late at night. (Alone at the office, while it's dark out.)
The two most important factors that make me want to sew my wedding dress – well, three? Fit, fabric, and cost. I'm pear-shaped, so there's no way I'll be able to buy a dress off the rack. And I detest alterations. I'd rather start from scratch! Fit is the main attraction of making my own dress – besides being able to customize the design! Fabric is also an important consideration. I prefer natural fibres, and I want it to feel soft on the inside! I can pick the loveliest fabrics for my own dress if I make it. (Plus, who hasn't wanted an excuse to buy over-the-top expensive cream lace – even just as a detail fabric or inset? I'm dying to take advantage of the opportunity to browse the bridal fabric section!) And cost is a huge factor. I'd want to be able to choose my favourite dress in the shop and I just know I have expensive taste! I sew, so I know I could make a dress for less. And luckily I don't want a strapless dress, so I won't need to sew in tons of boning and structure into my dress. But I barely have time to sew for myself at all these days! Am I crazy for thinking I could sew a wedding dress and do everything else that I do?
Have you set a date yet?
No, we haven't set the date! I never realized that when you get engaged, the planning starts right away, but a lot of people are already asking about the wedding itself! The date is the most important thing I'm guessing, as everything else depends on the wedding date. If it's a year away, that's plenty of time to organize a big wedding. If it's in January, then it will have to be a smaller affair. We're pretty excited to get married though, so it may be sooner rather than later!
Big wedding? Small wedding?
You might be surprised that Mr Sewaholic and I are not centre-of-attention party people. The thought of a big wedding makes both of us want to run for the hills! Watching the royal wedding I remember thinking if I'd been Kate, the whole time I'd have worried about tripping, crying, forgetting my lines – and just waiting until I could breathe a sigh of relief when it was all over! So it'll be a small affair no matter what we plan. And I'm not one of those girls who's been dreaming of her wedding day since childhood. (To be honest, I'm more excited to plan the honeymoon!)
Before we got engaged and people asked about my future wedding, I always said 'City Hall, and a plane ticket out of here!' Which we found out you can't actually do here. You have to pick a venue even if it's just a tiny thing, there is no imaginary City Hall hall or room where someone marries you and you're done. (Vancouver locals – please correct me if I'm wrong!) Though I'll admit I went out with my sister and bought a ton of bride magazines the next day. (Because you're finally allowed to buy those when you're engaged, or helping someone plan!) And with all of the countdown calendars and etiquette tips, the thought of planning a wedding seemed a little less daunting. (Just a little less than before. Planning is still scary and a ton of work!) And both of our families have been amazing and supportive, telling us that whatever we decide is fine with them! (And so have all of you who offered advice, tips, and even local venue ideas! Thank you!)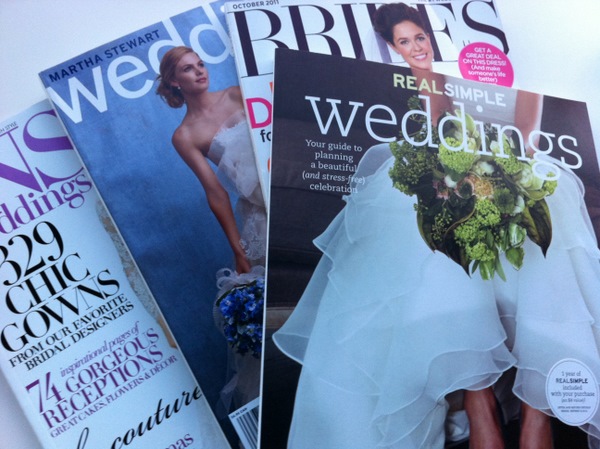 So we're still undecided – plan a proper wedding? Get hitched somewhere small, since you can't do it at city hall? (Can I still wear a pretty white dress if it's super-small?) Again, my extreme thriftiness makes me not want to drop a lot of money on one day. The most important thing is that I'm getting married to the love of my life, not centrepieces or catering. And for at least the next week, we're not making any plans yet. We're trying to enjoy being engaged and focus on that – one thing at a time!
I will be sure to keep you posted on all things wedding-related! And there will still be plenty of sewing content like usual. It won't turn into Weddingaholic over here – I promise!
Thanks again for the outpouring of comments, well-wishes and encouraging thoughts! I'm excited for Mr Sewaholic to officially be my Mr, no matter what kind of wedding we have. This has most definitely been the most exciting and fun year of my life – I can't wait to see what happens next!