Do you think 'grandmotherly' when you think of shawls? I used to, until I started spending more time on Ravelry and saw hundreds of truly beautiful hand-knit shawls. I finally realized the secret – wearing a shawl is how we can get away with wearing a blanket in public! A beautiful blanket, of course, but still a blanket. Great if your office is unpredictable with the heat and air-conditioning. Just wrap a pretty wrap around your shoulders and your hands are free to type away!
The other great thing about shawls is the fact that they always fit. No worrying about tight upper arms or if it works with the clothing underneath. It always works! Plus, shawls are great when worn as a dramatic scarf.
Ok, enough trying to sell you on shawls. The point is, I'd always considered shawls for either grandmotherly types, or the very dramatic – think little black dress with an elegant jewel-toned wrap – and now I'm sold on them as part of everyday life. I like a little drama in my regular life and I certainly like being warm.
So – I knit a shawl!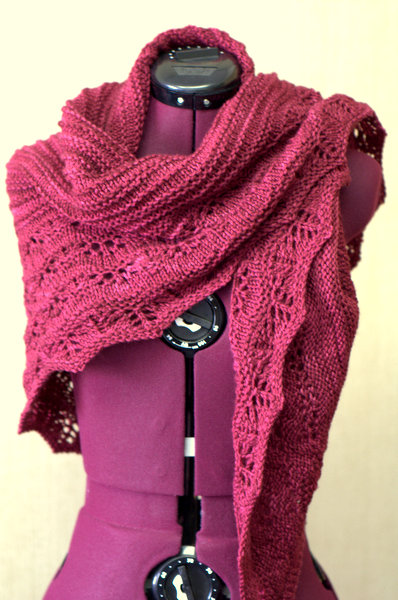 It's a simple, triangle-shaped shawl (Terra from Brooklyn Tweed) done in worsted-weight wool.
Most of the shawl is done in a garter ridge pattern (a lot like garter stitch, but with a few purl rows in there for interest) with a more detailed pattern at the edges.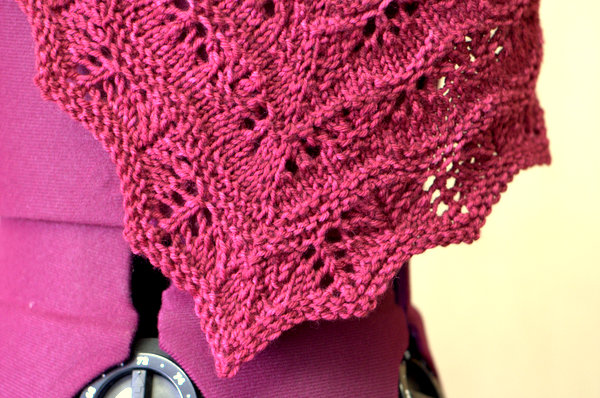 When I finished this project, I wondered 'will I actually wear this?' Then I wrapped it around my shoulders and decided, yes, absolutely. It's springy and hugs my shoulders with soft, wooly warmth. Now I understand the allure of shawls! Not only that, it works as a very warm, very snuggly scarf. Great over a tan, or black, or grey winter coat.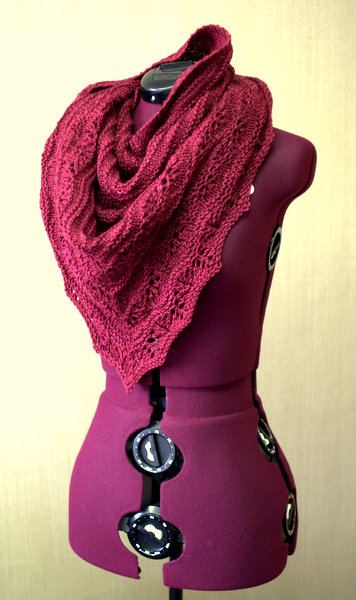 Ravelry notes with links to the pattern and yarn here.
What do you think about shawls for this day and age, yes or no? A little bit of glamour for every day life? Lovely but for special occasions only? (With the amount of shawls being knit on Ravelry I have to assume people are wearing them for more than just special occasions, yet I rarely see anyone wearing a shawl in real life!)
Have a great weekend, everyone! I've finally finished unpacking and getting my new office space set up. Ready to start sewing and everything. Photos to follow, of course!