Hello again! I hope you had a wonderful Christmas, full of yummy treats, family moments and sewing-related gifts. (I sure did! More on that later.)
Back to the Vogue Bolero! I've cut it out and now I'm marking… not my favourite step. Especially if you hate cutting out, too, you probably aren't a fan of marking either. I personally love the planning and cutting stage, but loathe the marking! Because it's so tedious, I often 'cheat' and pin-mark everything. Although that doesn't always work, so occasionally I will use tailor's tacks for marking. Today, here's a quick run-down of marking methods!
Here's how I pin-mark:
After cutting out your fabric, leave the tissue pattern piece attached. Poke pins through the markings through all layers. In this example, I'm using a perforated pattern so I'm centering the pins through the holes. If you're using a printed pattern, stick the pin in the middle of the black dot.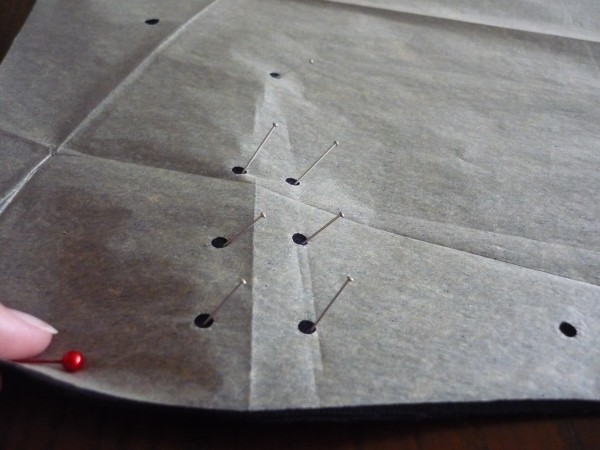 Now, carefully remove the tissue. It's easy for me because the holes are already there – but if you're using tissue, gently pull the tissue around the heads of the pins, so you're only making a tiny hole. Use small-head pins for less damage to the pattern piece.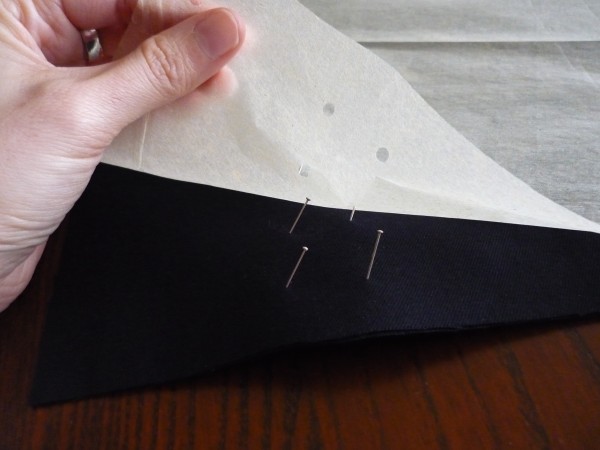 Flip the fabric piece over carefully, so the sharp ends of the pins are pointing upwards.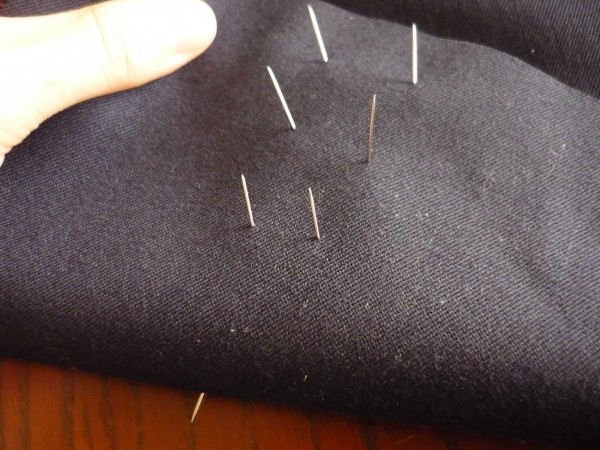 Start with one pin-mark at a time. Take a second pin, and poke it as close as possible to the other pin in the opposite direction. We're doing this so we can separate our two layers of fabric, right now we only have pins marking one layer.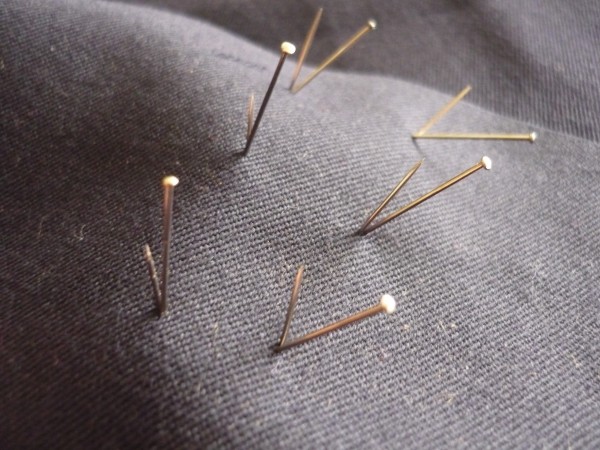 Repeat for each pin. When you're done there should be an equal number of pins on each side of the fabric.
Slowly separate the two layers of fabric. Be careful not to let the pins fall out! If your fabric is very loosely woven or delicate the pins will slip out easily.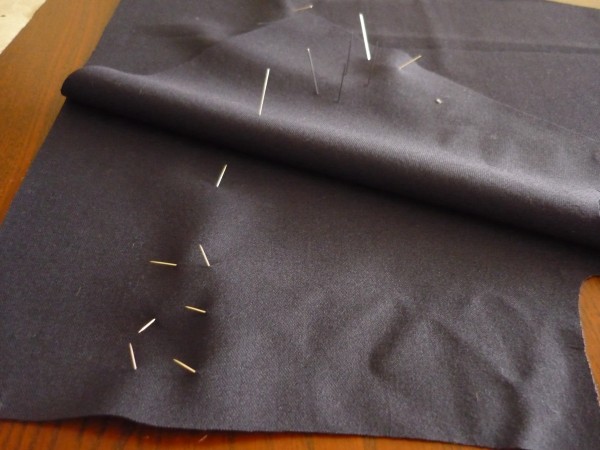 Now, your pin marking is done! It's a fast though sometimes sloppy method of marking. They don't teach you this in home ec class! (Or do they? It's been a while..)
I know that tailor's tacks are a much better method. They stay in better than pins, and are easily visible from both sides of the fabric. They're easy to remove and don't leave a mark!
Here's how to make tailor's tacks:
Start with your pattern piece still attached to the fabric. Thread a hand-sewing needle with contrasting colour thread.
Then, take small stitches through the markings. Again it's so easy with this pattern since it's perforated! If your pattern is printed, you can either take the stitches through the tissue (and remove it gently afterwards), or lift the tissue paper to make your markings.
I took a small 1/8″ stitch through both layers of fabric, pulling the thread until there was only 1/2″ of a thread tail left. Then, I made a second stitch, leaving a loop of thread that was about the same length as the thread tail. You can make your tailor's tacks thicker if you want, by making a few more stitches.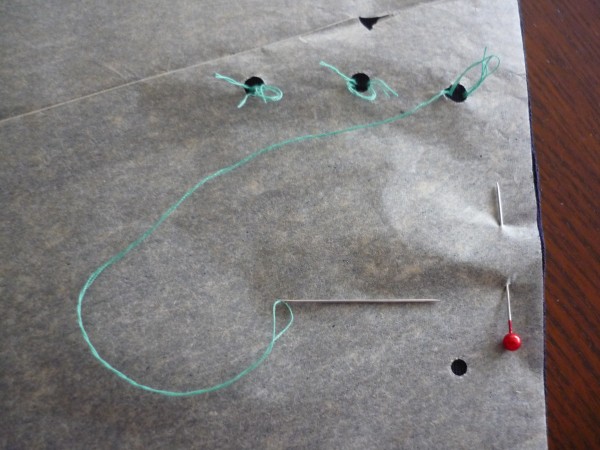 Close-up of thread loops: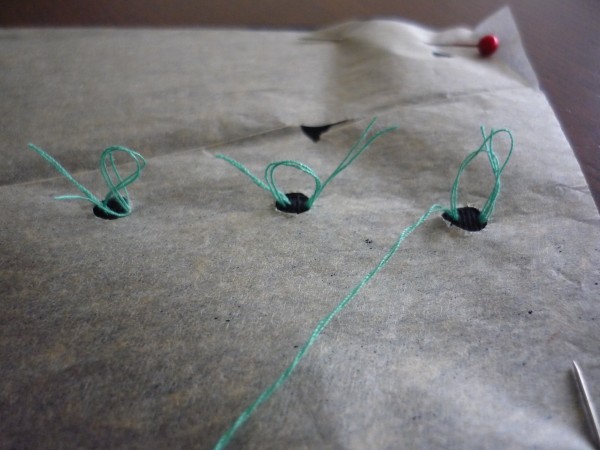 Now remove the tissue paper, if you haven't yet.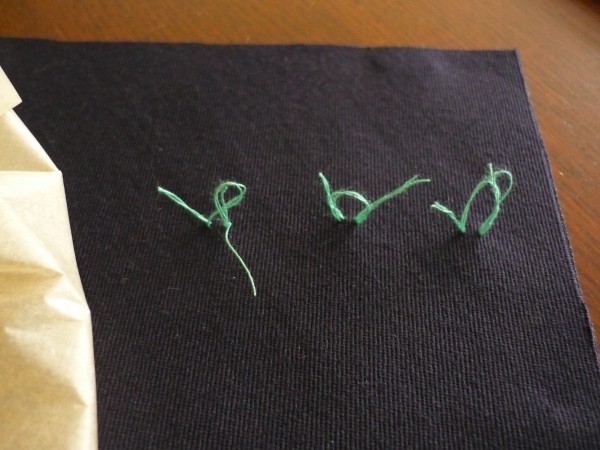 Peel apart the two layers of fabric.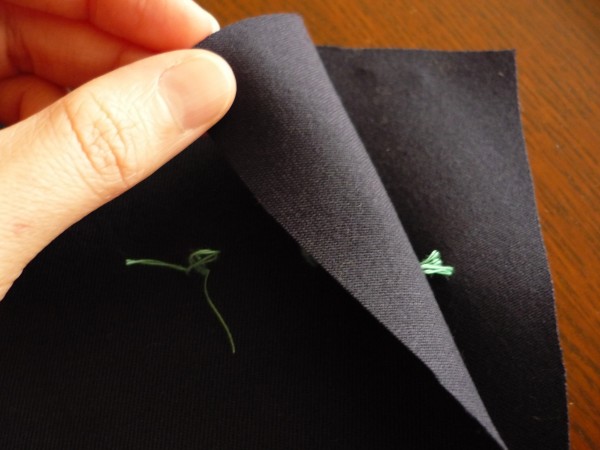 Spread the layers apart, as shown below. You can see the thread tacks are holding the two layers together.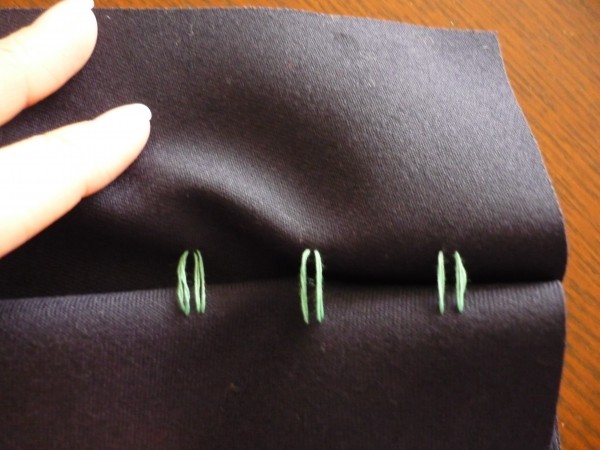 Snip through the middle of each tailor's tack. You'll end up with a cute little tuft of thread on each side of your fabric.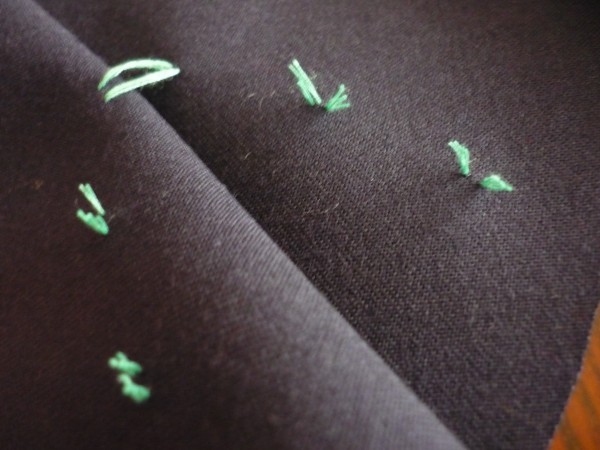 And voila! Tidy little thread-markings, showing on both sides of the fabric, that won't stain or permanently mark your fabric, or fall out like pins do.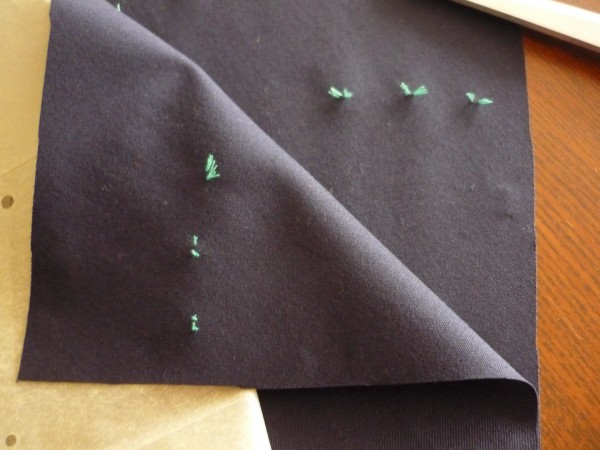 Tailor's tack tip: keep a hand-sewing needle threaded in a bright contrast colour. Then when you need to make a marking, it's all ready to go! It seems simple, but just knowing I need to go find a spool of thread and a hand-sewing needle makes me not want to bother.
On the Vogue Bolero, I used both methods. I couldn't use my handy purple fade-away marking pen, so I pin-marked the darts, and tailor-tacked the pleats.
Why? Well, the markings for the darts are really only in place until I stitch the dart, so they only need to last as I walk from the dining table to the sewing machine.
The markings for the pleat on the sleeve need to last as I sew up seams, press, and man-handle the bolero until it's just about finished, so pin-markings would fall out for sure! I needed a more permanent method of marking. (Plus, I wanted an excuse to write about tailor's tacks and add them to the Sewtionary, which I'll update shortly.)
What's your favourite marking method: are you a lazy speedy pin-marker like me, or a devoted tailor's tacker? What else do you use for marking?