Another baby step of progress on the Seventies Wrap Coat project! Here is the first tailoring technique I've applied to my Wrap Coat. We're adding a back stay to support and stabilize the back of our coat. This will prevent strain across the shoulders as well. And I'm guessing it will also keep loosely woven fabrics from stretching out and sagging. We only need this stay across the back of our shoulders, not all the way down the back. I picked this step next, because it seemed easy enough to do in a short period of time and didn't require any of the other coat parts to be sewn yet.
Let me show you what I did! It's easy to do, and I bet it will make a huge difference in the quality of our coat projects.
First I did it wrong, then I did it right. (Would you believe I wrote up this whole post and then realized I did it wrong?!) The instructions in the book are clear enough but basic, and I tend to glance at the photos and then forge my own way ahead. And not all of the steps are illustrated with photos.
So let's get started with making and attaching our Back Stay!
You'll need:
your back pattern piece
your back coat piece, cut out of fabric
muslin
pen/pencil – something to write on your pattern with
marking pen or chalk
ruler or tape measure
First, take your back pattern piece. Measure down 9″ from the back neck, and make a mark on your pattern piece.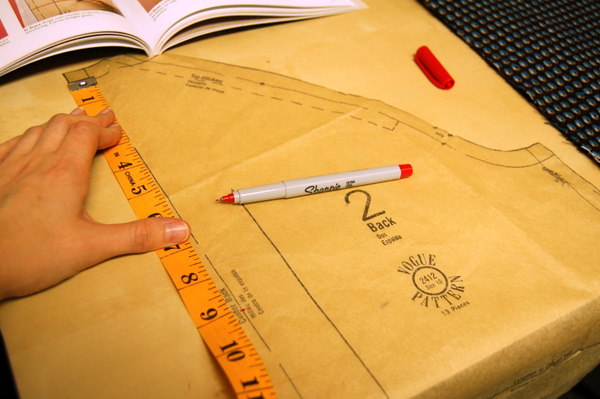 Now, we'll make a second mark, 3″ down from the armhole. We'll join these two markings to create the pattern for our back stay!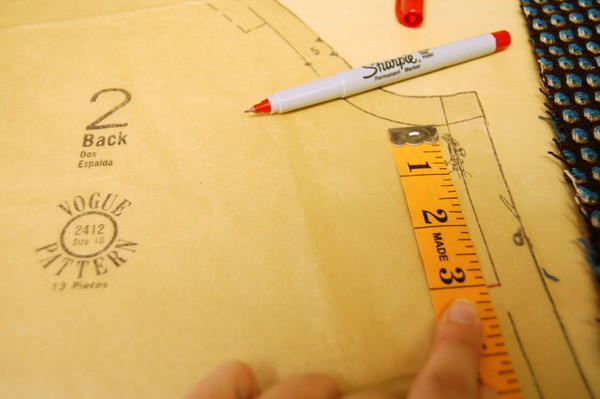 Now, we'll connect these two lines. Extend each line as a straight line, towards the middle. This will make it easier to eyeball the curved part.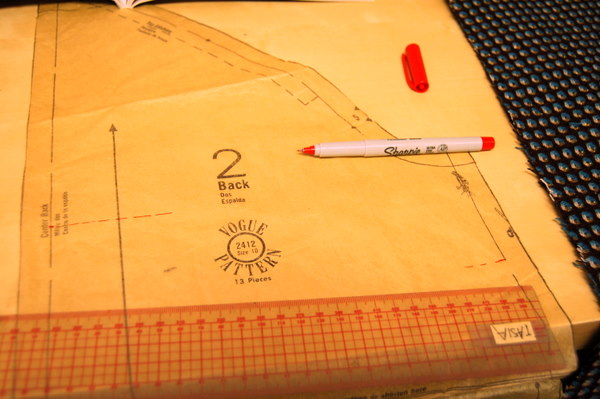 Next, we'll sketch in a curved line between these two straight lines. It doesn't have to be perfect – aim for it to look somewhat like this: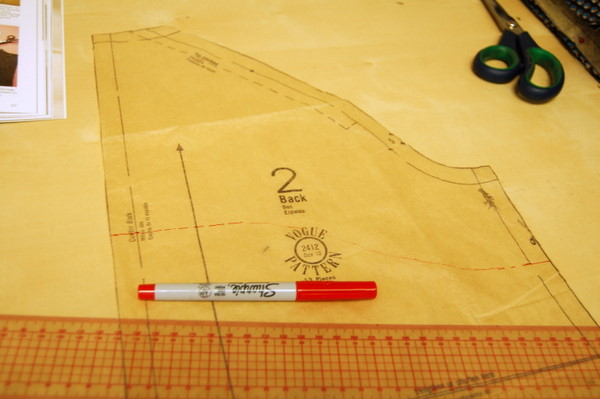 This is our back stay pattern piece! We'll use the upper edge, armhole, and centre back edges of our pattern piece, but cut it short along this new, curved line.
For the back stay, we'll use muslin. You could use any stable sew-in interfacing for your project. It needs to be stable, and not stretch, so it can properly reinforce this area. Place the top of your back pattern piece over the muslin, and pin it in place.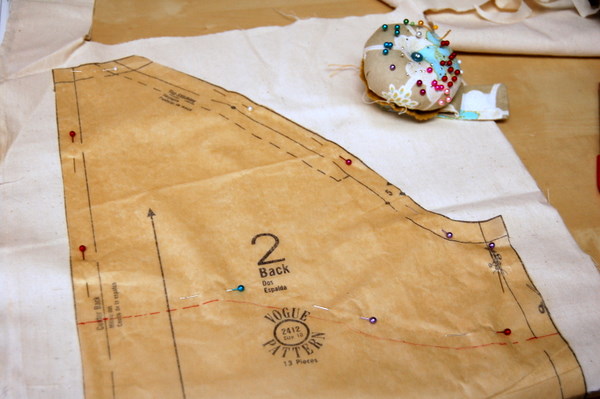 Cut out around all edges, except for our curved lower line. To transfer the curved line to the muslin, I used my fade-away marker and drew on top of the pattern piece. The fade-away ink went through the tissue and left a faint line on the fabric. You can use any method to transfer this line – either by lifting the tissue and marking the line or using a tracing wheel.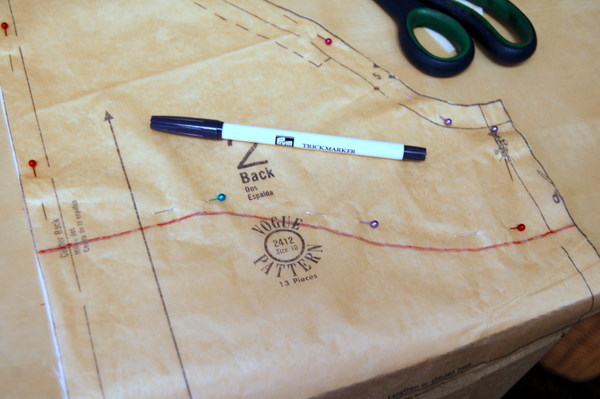 I'm supposed to pink the lower edges of the back stay, so that the line doesn't show through as a ridge on the right side. (Like a panty-line. We don't want a curved back-stay-line across our backs!) I don't own pinking shears though, and my coat fabric is thick, so I'm hoping it will be fine without.
The last step is to baste the back stay to our fabric pieces – and this is where I went wrong!
Here's what I did: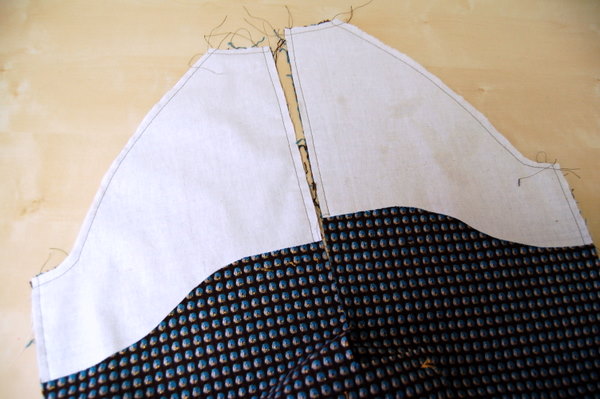 Wrong! You're supposed to sew the back seam first, on both the stay and the coat, and then baste the stay to the coat pieces. Oops! I was confused by the next step, making a raglan sleeve stay, which is attached before any seams are sewn. (More on that later!) If your back is cut on the fold, then you're fine! It's only if you have a seam in your back stay, that it needs to be sewn first and then attached.
Here's how the back stay should be attached:
First, construct your jacket back by sewing all seams and darts. Then, sew the seams in the back stay. Overlap the centre back seam allowances of the back stay and stitch in place. Trim extra seam allowance.
To make sure your overlap is accurate, mark the seam allowances along centre back. On one side, mark a second seam allowance – that will be where the raw edge of the overlap ends up!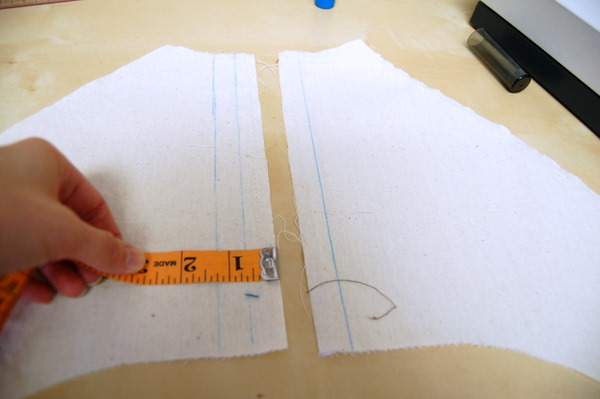 Now, overlap the two pieces, with the seamlines on top of each other, and the raw edge along the second seam allowance line.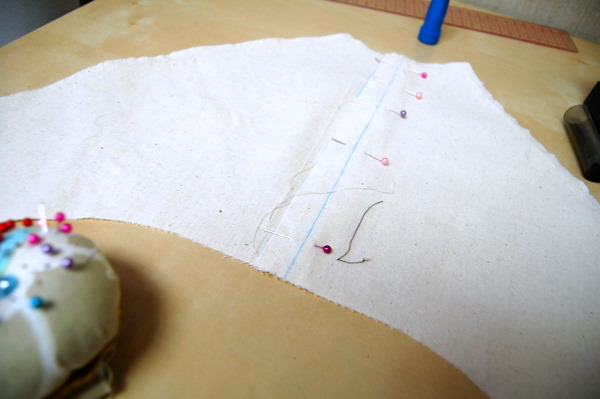 Sew the overlapped seam using a zigzag stitch.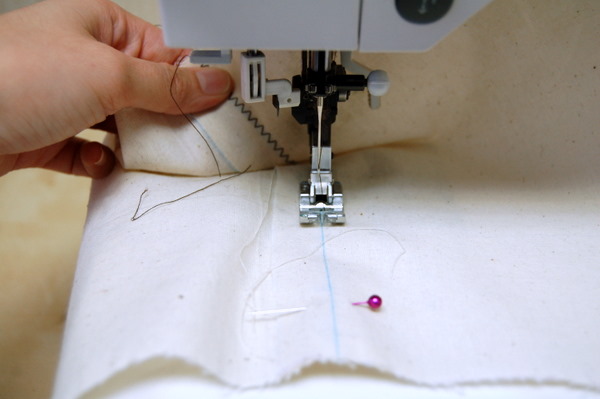 Trim extra seam allowance off to reduce bulk.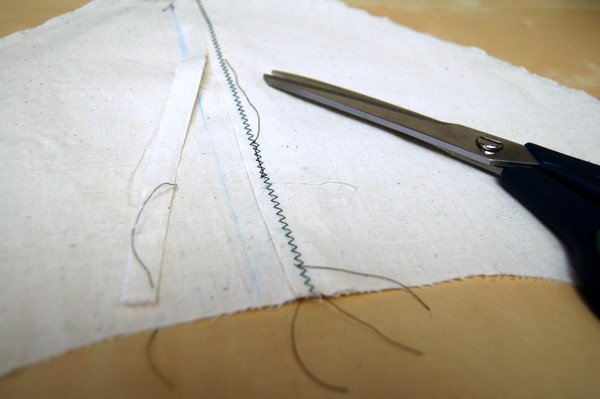 Now we put both parts together!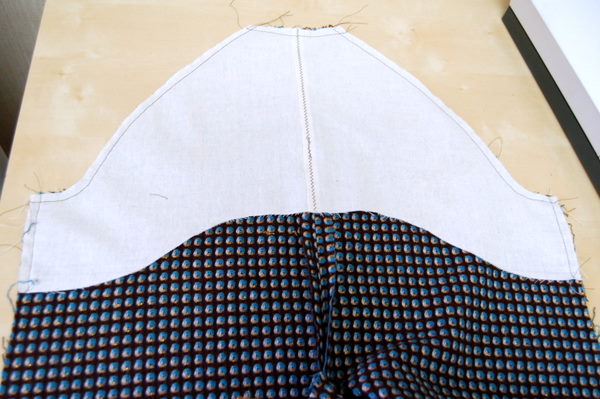 Baste around all edges of the back stay except for the curved lower edge. In my Tailoring book, the example is a regular coat with set-in sleeves, not raglan sleeves like mine, and they also leave the shoulder seam open. So if you're sewing a coat with shoulder seams, skip the basting along the shoulders too.
I basted about 1/4″ (6mm) from the raw edges, using the edge of the presser foot as a guide.
Here's what it looks like, once it's attached to the coat: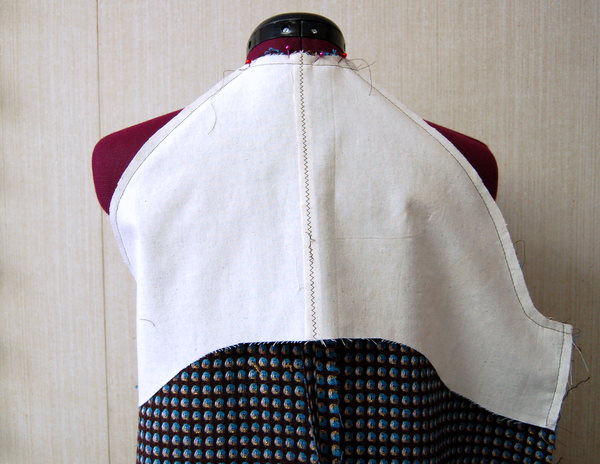 And that's it! That's what a back stay looks like, what it does, and how to add one to your coat project! (And I still have that lower edge accessible if I get my hands on some pinking shears before the coat is finished…)
Have you sewn a coat with a back stay before, and did you notice the difference in the finished product?
Have an awesome weekend, everyone! Relax, sew, stay warm and have fun!