Susan from Knitters Delight (who knits and sews, don't let the blog title fool you) made a lovely Cambie Dress during pattern testing!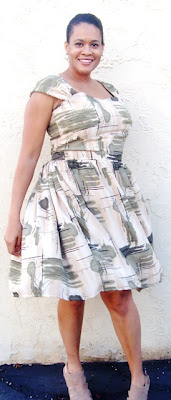 See how gorgeous it looks on her, with more photos here! I love her version. It's extremely chic, modern yet vintage-inspired. I'm a fan of obvious and loud prints, but I really like this abstract print in neutral, earthy-tones too! She's not pear-shaped and yet, this dress pattern works wonderfully on her. I love that she's smiling in her photos!
Already you can see how different my dresses, Scruffy Badger's dresses, and Susan's dress look – but they were all made using the same pattern!
See more Cambie Dresses here! (Get the pattern here.)