Life's just not the same since my machines moved to the office. I can't sew at home anymore! All of my sewing takes place at the office now. It's nice to get home, and have a completely relaxing night so I'm excited to get back to it the next morning. (Mr Sewaholic certainly appreciates that I'm not looking over his shoulder at my sewing machine and dreaming up my next project.)
So I bet you are wondering what I do with my evenings now that I'm not sewing? What about those times where you just have to make something and keep your hands busy?
Well, guess what – I've taken up knitting! I armed myself with knitting needles, a Ravelry profile and lots of YouTube videos, and got to it!
I picked up a bunch of inspiring although mystifying vintage knitting books, plus three sets of needles and two balls of yarn for less than $10! From the styling, the books range from the 1940s up to the 1970s. I've already picked out a few favourites even though I have no idea how long it will take to get to this skill level.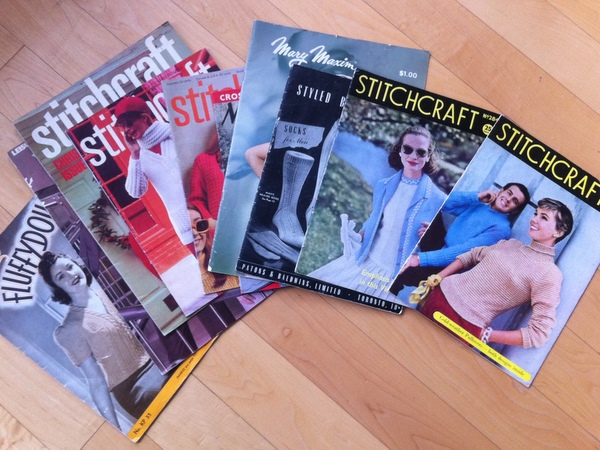 Then I started my first ever knitting project, which totally bombed. It was a sweater, with just too many new techniques for a beginner to master! (Yarn-overs were what did me in, I think.) It looks nothing like the project photo in the bottom left corner and looks even less flattering when I try it on.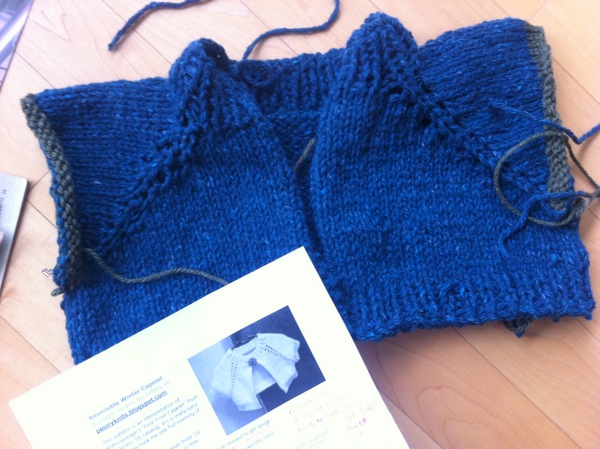 The good part about knitting is that you get to go backwards! You can't un-cut fabric but you can undo a knitted thing. So I un-knitted the whole thing and will try again. (Later.)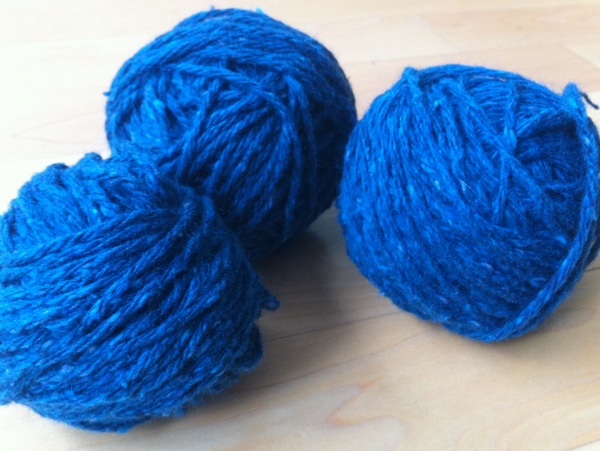 So I knitted up a quick and easy knitting project with fat yarn! I'm guessing this is the knitting equivalent of a simple A-line skirt.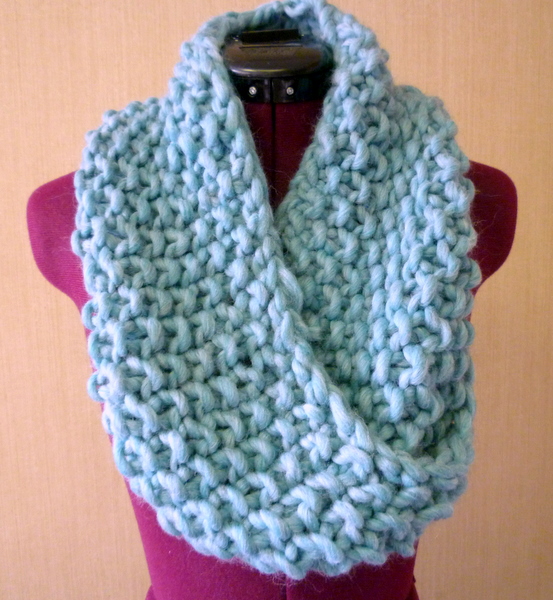 Pretty! A success! Warm and cute and cosy. I gave it to my sister as a present. (Knitting seems easier to make and give away, as compared to sewing!)
Who else knits? Can anyone suggest the next project after neck-loops, that's not making a sweater? There must be something in-between that I can puzzle through.
Anyone want to host a knit-along for total beginners, so we can go from making neck-loops to whipping up cute vintage sweaters?