The reason for the post title? Many of you responded to the question 'Is there anything you'd NEVER sew?' with 'never say never!' I love that attitude! And why not? Once you learn the basics of sewing, you can make just about anything! That's the spirit!
As promised, I wanted to share some of the survey results on my blog. I'm starting from the bottom up, looking at the answers to Question 9 today.
Here's the original question:
What items do you sew most frequently? Is there anything you'd NEVER sew?
Nearly thirty percent of you said "Never say never!" I love that so many people responded with such a cheerful response. It makes me happy that there are other fearless seamstresses out there that are ready to try just about anything! Lots of you said you'd willingly try sewing anything, but you might not sew items you could buy for cheaper, such as tank tops or cheap tee shirts.
Ok, so what did people say they'd never sew?
These all seem completely logical to me! I'd sew just about anything myself, but some things just aren't as much fun:
Kid's clothing. Yes, it's small and uses less fabric, but it's just not as thrilling. Perhaps because I don't have kids myself. Same thing with dog clothing. If you don't have kids or dogs, then you're less likely to be interested in sewing these items.
Swimsuits. Agreed! Finding good fabrics and hardware is key, and suitable padding. Yes, I admit it, there is plenty of padding in my favourite swimsuit. I don't know if I could get quite the same oomph from a handmade suit. But I have made a swimsuit once! It was hideous, but that's only because it was required to sew the same style as everyone else in college, with legs and a front zipper and colorblock paneling. Like a men's wrestling leotard – yuck!
A wedding dress, or special occasion formal wear. Fair enough! That's a lot of pressure and stress. I watched my sister sew a wedding dress recently and though she did an amazing job, it was a lot of work!
Leather. Lots of you had reservations about sewing leather, either due to machinery concerns or just because they'd rather buy leather bags and jackets. Having sewn with leather briefly, I can see why people avoid it! It's hard to maneuver on your machine, unless you have a heavy-duty vintage or industrial machine. And for the amount of stuff I carry around in my purse, I'd want to feel confident that the stitching of my leather purse was strong!
Surprising things you'd never sew:
Pants, or jeans. Fifteen percent of you would never sew pants, or think you'll never sew pants. I agree, sewing pants is scary, especially the fitting part! But never? What if there was a pants pattern designed to fit a pear-shaped body, or an hourglass figure? Is it because finding a pattern that fits is frustrating, or do you just never feel the urge to make pants? A lot of people left comments expressing their nervousness about getting the fit right, and felt they wouldn't be able to sew a pair of pants they were happy with. I can totally understand that feeling, that's why I haven't sewn pants recently! Also, and I also feel this way, some of you prefer to wear skirts. It's not that you dislike pants, but you make skirts and dresses because that's what you wear most often.
Underwear. Ten percent of you would never sew your own underwear. But underwear is so expensive! I don't mean bras, I mean panties. Tiny little scraps of fabric and lace can cost $25 a pair or more! I thought of doing a series on knocking off your underwear one day, would anyone be interested? Or at least trying it for myself and seeing if it's a success first.
Coats. Six percent said never to sewing coats and jackets. Really? Why not? Is it because they're too complicated, or too time-consuming? I have a fantastic coat design that I'd love to use for Sewaholic Patterns, but not if no one wants to sew coats! Some of you live in warm places and never need to wear coats. (Lucky you!) Not even a lightweight trench, really?
Things you love to sew, and sew most often:
Dresses. Me too! Fifty percent put dresses as your most-sewn item. And so many of you put exclamation points on your responses, or ALL CAPS! Love the enthusiasm, and I have to agree! There's nothing like sewing a pretty little dress and sashaying down the street. Even the sewing part of dresses is so much fun – lace trim, ruffles, full skirts! Yes, yes and yes!
Skirts. Yup, me too!  Just as much fun as dresses. Thirty-six percent of you had skirts as one of your frequently sewn items.
Tops, blouses, shirts. Tops and blouses came in at thirty-two percent, just behind skirts in the ranking. So it appears the majority of the survey respondents are just like me, when it comes to our favourite and most frequent items we sew.
A little Polyvore fun, to illustrate the three most popular items to sew: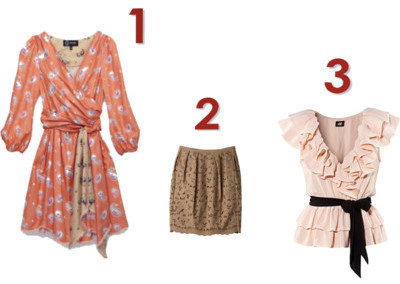 I'm not surprised, as I also love to sew dresses. Are the items you sew most often, the items you wear most often as well? Or do you sew a lot of dresses but wear mostly pants? Or do you sew all of your dresses, because you can find tops and skirts and pants in stores to meet your needs? I'm just as curious about why the numbers are what they are!
Love it or hate it?
Some of you said never to these items, some of you sew them frequently!
Home decor. I feel like sewing all straight lines, and things I can't wear is boring! However, I've sewn pillows because I needed them, and hemmed blankets, and they turned out really cool! But I only sewed them because I wanted the finished product in my house. Utilitarian sewing, perhaps?
Proof of home decor sewing: I made the pillows on the left (love the turquoise!) and hemmed the edges of the blanket on the right.

Purses. Either you make them a lot, or you'd never make them! Seems to be either a love thing or you're just not interested.
Responses that made me laugh:
"I'd never sew carseat covers. Like, for the car's actual seats."
Yeah, me neither now. Back when I drove an old Chevy Malibu, I had visions of fabric-covered car seats. To go with my fuzzy dice. (Oh yes I did! I had white fuzzy dice hanging from my rear view mirror… but I never got around to making the seat covers.)
"I think I've tried sewing almost everything you can sew.  OK I admit, I'd probably never sew a TENT."
I love how I can just picture this person saying this out loud. Emphasizing the word TENT, you know? I can't imagine making a tent either. All those long, straight seams, plus it seems important for it to be waterproof! Can you believe more than one person mentioned tents, when it came to things they'd never sew?
I never expected to receive 700 responses to the survey, that's for sure! I'm still adding up the open-ended questions. Part of me wishes I had done them all as multiple choice, so I had the percentages automatically added for me! Although then I wouldn't get to read the responses in your own words, which are fascinating to read and help put some of the answers in context.
What do you think of the results? Do you think this is a fairly accurate picture of what kinds of things we mostly sew? Anything to add to the comments above?
Have a lovely weekend, everyone! And if you're not already signed up, you may want to join the Sewaholic Patterns Mailing List. Just because there may be something coming up for mailing list members soon. Click here to join!