Happy Monday, everyone! It was a beautiful weekend here in Vancouver even though I spent most of it working, indoors. I really can't complain though, when the view from my window is this gorgeous. Blue skies! Mountains! Not a cloud in sight!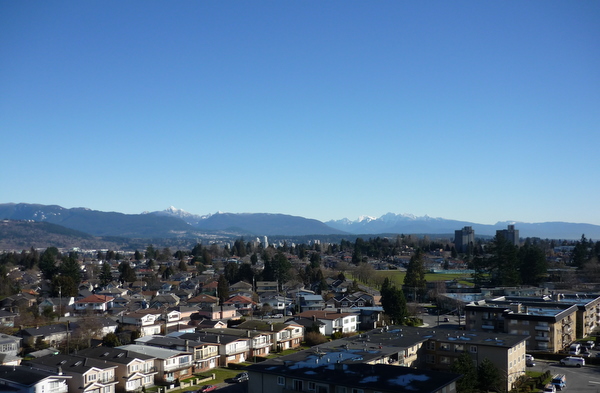 What did I do, instead of enjoying the lovely weather? I worked mostly on my business plan, as it's due this week. I have to hand it in on Thursday, but before that I need to get two people to review it first, so the deadline is sooner than expected. Yikes!  I've also been working on a couple of other exciting things for Sewaholic Patterns. I'm a busy, busy girl these days but loving every minute of it! Thought I'd share some more survey results today. This time, I'll share some responses to where you find answers to sewing questions.
Here's the original question:
Where do you look to solve sewing problems: books, websites, friends, instructors?
Now this one would have been a great multiple choice question, except then I'd miss lovely comments on the Sewtionary and my tutorials. Especially all of the ones who said I write your favourite tutorials – yay!  I enjoy putting them together, so it's awesome that you find them helpful.
Why is this relevant? Besides offering sewing patterns and Sew-Alongs, I'm working to build a resource of tips and tutorials to help answer your sewing questions. One day I'd love to write a book, but in the meantime, the blog IS my book. Sewing can be frustrating when you get stuck, or confused, and don't know where to turn. Especially if you don't have people nearby who sew! My not-so-secret dream is to inspire more people around the world to sew, and if I can help people get through their frustrations, then that's a step!
Online – 96%
Wow! Ninety-six percent of people go online to solve their sewing problems. We're so lucky to live in the age of the internet, where you can Google just about anything! It's no longer important to be a walking encyclopedia, as you can find so much information freely online. And most of you do use the internet as your main sewing resource. Whether it's YouTube, Gertie's blog, Casey's blog, PatternReview, Burdastyle or my own Sewtionary – some of your go-to places mentioned in the survey – there's an amazing amount of great (and free!) information online.
I loved this response, and not just because I got a mention:

The internet! It has COMPLETELY re-injected the itch for sewing. 5 years ago I couldn't have found the amazing communities that I have discovered in the last few months. Sewaholic has majorly inspired me, and has lead to so many great discoveries for projects, tips, tutorials, and general inspiration.
So true! I say this all the time, but the online sewing community is fabulous – full of cool, helpful, friendly people that love to sew. Community sites like Burdastyle and Pattern Review are great for bringing together sewists from around the world. If we could all hang out and sew together, think how much fun that would be!
Sewing by the Book – 73%
It was interesting to see if people still buy and refer to books now that we have the internet. Good news, we still read! I love sewing books, as you can see by the books I got for Christmas! I like both, I feel like there's no such thing as too much information. And there will be tidbits in books that you can't find online, I'm sure! Think about Gertie's upcoming book – she writes a fabulous blog and shares a ton of information online for free, but I'm still going to buy her book!
Hello, Mom! 14%
While the majority of people solve sewing problems from books and online resources, I wondered how many of you called your Mom for sewing help. I know I do! My mother is a fantastic resource for sewing questions and second opinions. Some of you also mentioned calling your grandmother, too. (I counted mothers and grandmothers in the same category for this survey.) Isn't it awesome to have the wisdom of many years of sewing experience available?
A little help from my friends – 12%
Lucky you, to have friends that sew! Several of you have friends that sew, or friends that teach sewing or have their own sewing companies. Fantastic! On the other hand, a lot of you mentioned you are the only one that sews. How many of you are the only one you know in real life that sews?
Instructors, classes and fabric stores? 8%
Only eight percent of you look to instructors for sewing answers, or take sewing classes to further your knowledge. Some of you visit your local fabric store! You must have awesome fabric stores in your area, if you can bring your sewing questions to your local shop! Some of you are currently taking sewing classes, or refer to notes and memories from high school or college courses. I was surprised to read that your sewing machine dealers help with your sewing questions! Although now that I think of it, the place I bought my serger does offer classes, so that makes sense.
Trial and error: 4%
A few confident ones will work through sewing difficulties on your own, testing on scrap fabric or on paper. Several people sleep on it, when they're having troubles with a sewing project, and wake up with the right answer. It makes sense – sometimes all you need is a little time away from the problem to be able to see the solution. I've come up with great ideas in that moment just as you fall asleep, or as you're waking up in the morning. I wonder if there's any scientific explanation for that – sleep equals clearer thinking? Practice makes perfect, some of you mentioned, as many of you are self-taught!
Thanks again for all of the survey feedback! I can't even express how useful this information is for me, for future business planning, and of course, I'll look like a star student!
PS. On a completely different note, want to know what the next pattern from Sewaholic Patterns will be? Mailing list members already know. Check your inbox, or sign up for the mailing list here!