Guess what? I knit another pair of socks! And not just regular socks – bright yellow ones! Yellow socks are so much fun. Sure, they're not the most practical colour, but that's what makes them so delightful. Especially during the cold and rainy winter – these socks will brighten the gloomiest day! (And not just because you can see them from a mile away.)
The pattern is the BFF sock by Cookie A, from the awesome book Knit.Sock.Love. I love this book because all of the socks are modelled with pretty dresses and bright outfits! The photography alone is inspiring, and the socks are beautiful! (If you click through to the book link, you'll see why I was drawn to yellow as a sock colour. All of the sample socks are done in fun colours!) This pattern is one of the easy ones.
BFF stands for Best Friend Forever, as in apparently you could make these socks for your friend. I tell you, these took me over a month to make, there's no way I could give them away!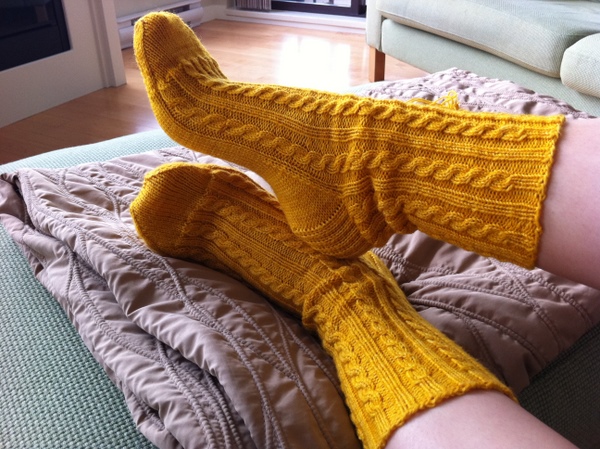 The yarn is Sweet Georgia Yarns Tough Love Sock in Saffron. I love this yarn because it's dyed here in Vancouver, BC! The colours are amazing and the wool is blended with 20% nylon for added strength. (Like we talked about with wool coating fabrics last week!)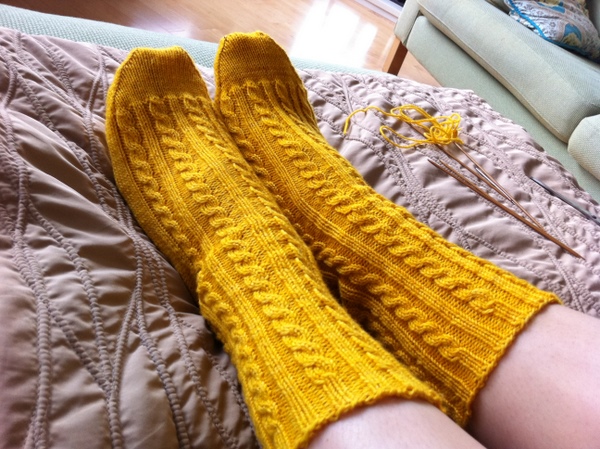 I made the first sock ages ago, but stalled when it came to the second sock. It just seemed like so much work to do the whole thing over again! You'll laugh at this maybe, but I would wear the one finished sock on my foot and let the other foot get cold – that's motivation to finish the second sock!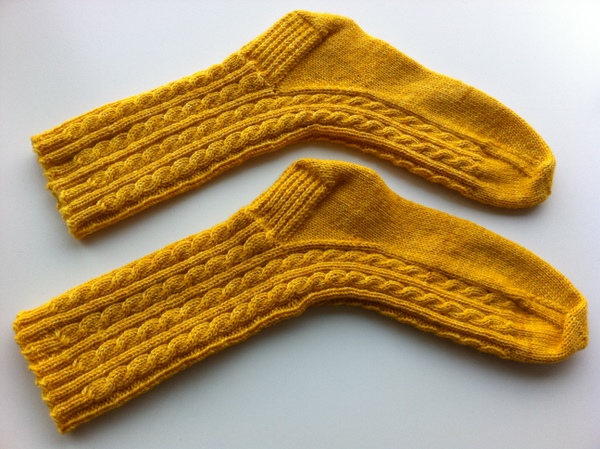 What I think is so cool about knitting socks is the customization. You can make them fit your foot exactly – the right length, the right width, the right cuff height. No more bunchy toes! Socks are mostly one-size fits all when you buy them, so making them is a wonderful luxury!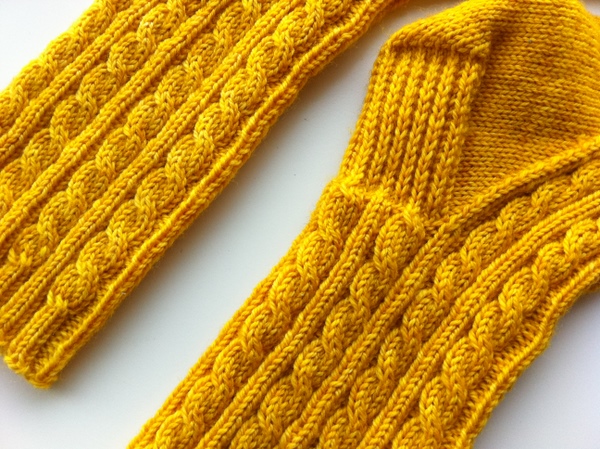 Just like sewing, knitting lets you make your projects fit you exactly the way you want. It's hard to go backwards, after sewing your own clothes and knitting your own socks, knowing you can get a better quality and fit by making it! I'm guessing time is the main factor as to why we still shop sometimes. Or the 'caring factor' – maybe socks are just not interesting enough to make yourself, but dresses and skirts are.
I wish I had more coat progress to share with you – it's been a busy week here!
More sock photos and project details on Ravelry here. Would you wear yellow socks? Do you knit socks, and is it to have a pair that fits your feet properly, or just because they're fun to make?