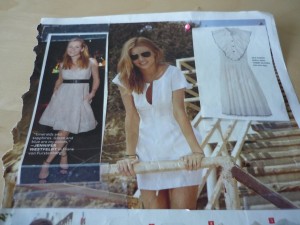 This photographed collage of magazine tear-sheets was made to celebrate white dresses.
See the girl in the middle with the sunglasses? That's what I want to look like when I'm on vacation – a casual white dress, sunglasses, and tousled, imperfect beach-babe hair. The white dress is going to get dirty, guaranteed, but this girl doesn't care. She's on vacation someplace fabulous.
So I found an organic cotton pique in white – the perfect casual yet chic fabric for the beach dress – and modified a classic shift dress pattern by adding a centre front zipper.
It's cut out and half-sewn, but I ran out of white thread! As soon as I get more I'm finishing this one up. No buttonholes and a chunky centre front separating zipper = easy!
Pictures of finished project to follow…