It's probably not sweater weather in most parts of the world, is it? But hey, I finished a sweater!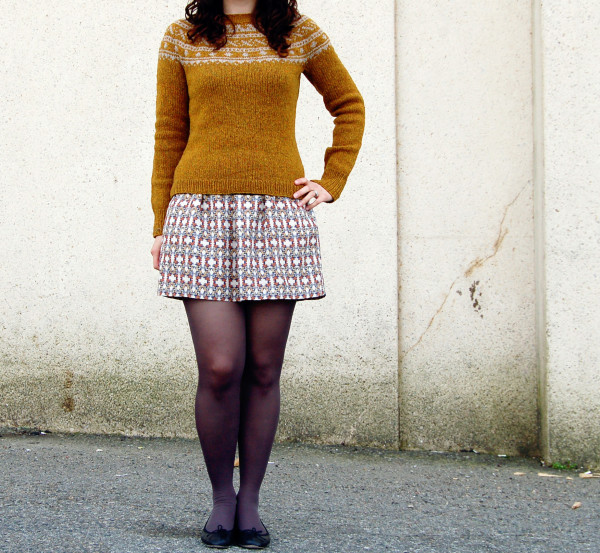 This outfit looks rather fall-like, with the golden yellow wool and tights – they are supposed to be grey but they look taupey-brown here.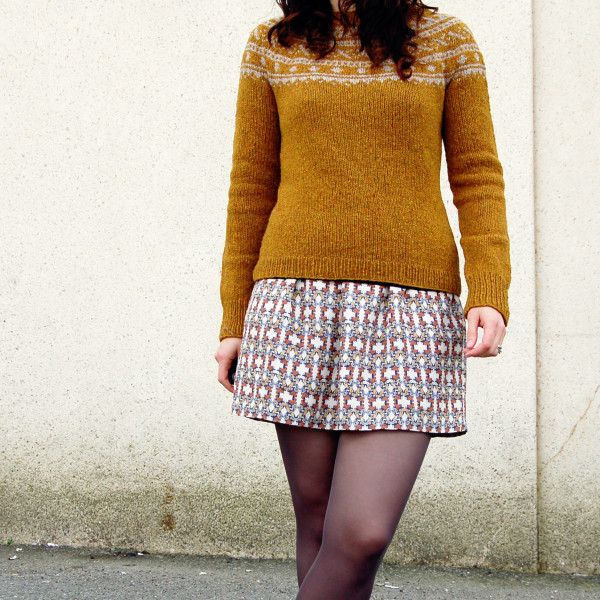 This is the same pattern as this sweater, Sundottir, in a pretty, rustic yellow called Hayloft. Ravelry notes here. 
I enjoyed knitting the first version so much, I started another one right away! I worked on it slowly and finally finished it. I'm still not buying yarn this year, so it worked out well that I had the right yarn in the right amount just waiting for this sweater.
Here's the first version again, for comparison: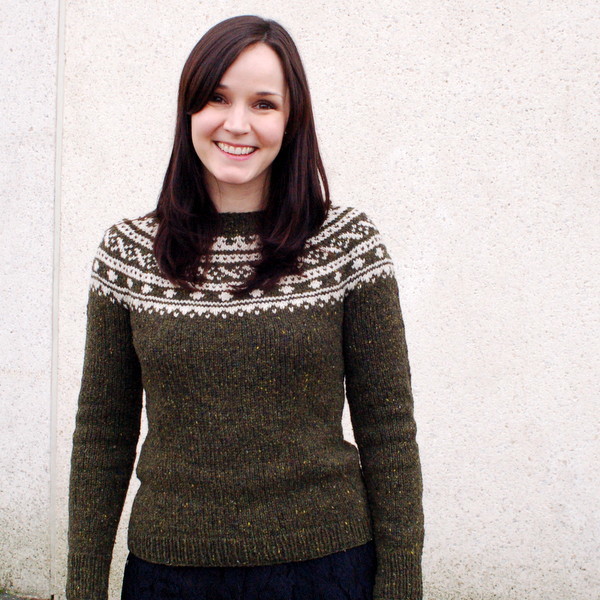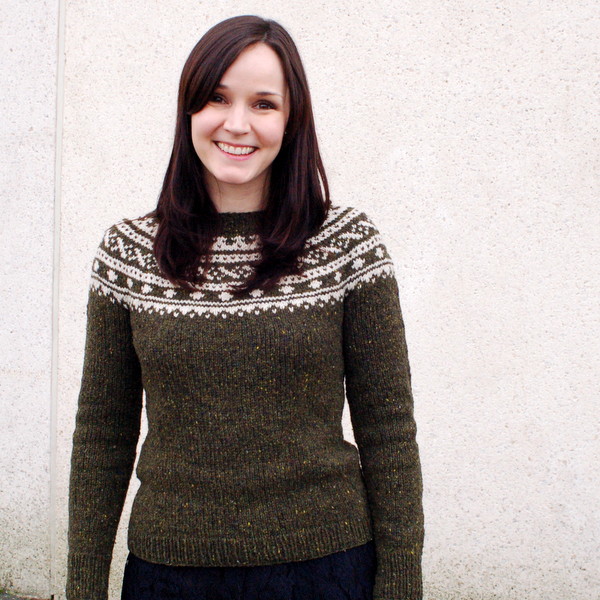 The yoke colourwork in the olive version stands out more, while the yellow version is more subtle.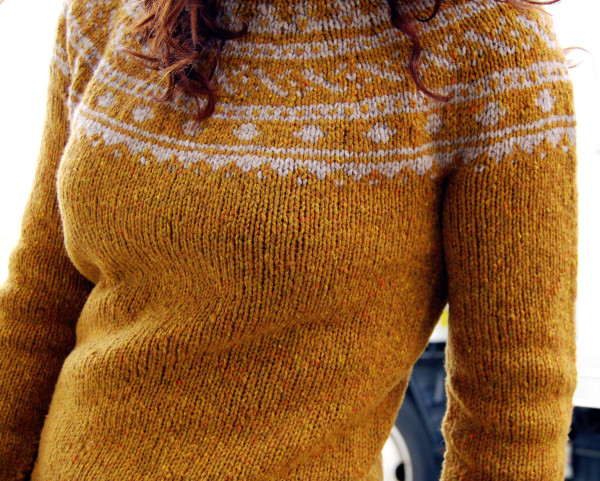 Here's what it looks like, flat: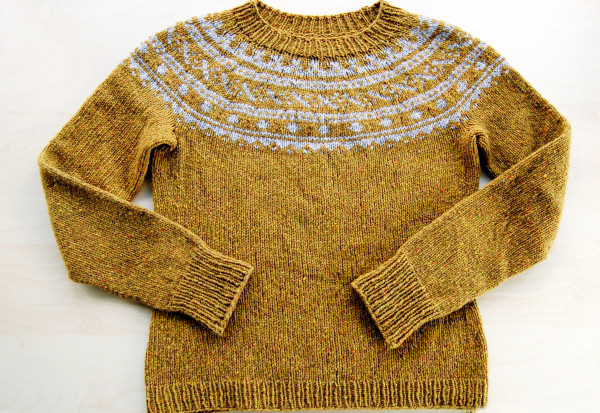 Close-up of the colourwork yoke: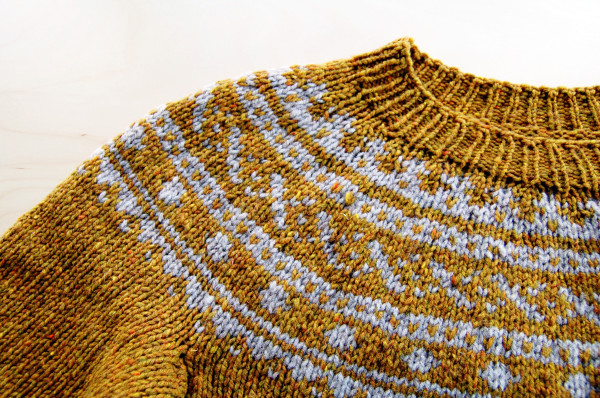 The other colour is Woodsmoke, a light beigey-grey colour. Oatmeal-colour, if you like.
This sweater fits nicely in the front, but there's extra fabric in the back, where my back curves in at the back waist.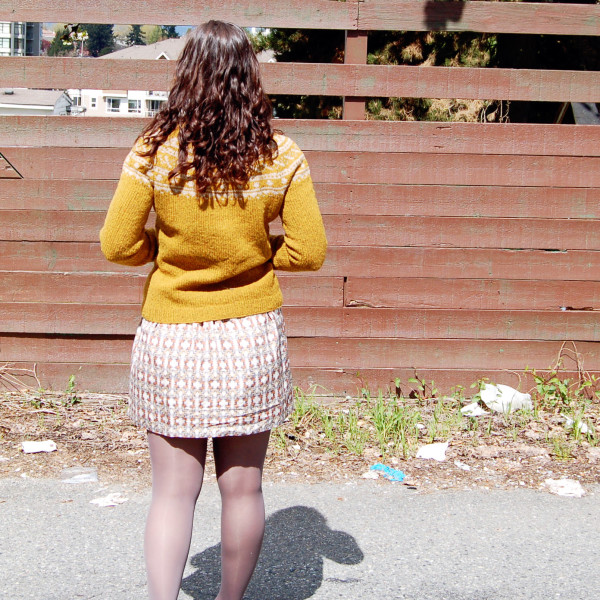 I'm watching Knit to Flatter on Craftsy right now and I've realized that people shaped like me can work extra shaping into the small of the back to avoid this sort of thing. What a great idea! I sort of assumed this is how sweaters are supposed to be, loose through the middle, but we can customize the fit if we want less extra space.
It fits OK from the front and side though, just the back has too much room.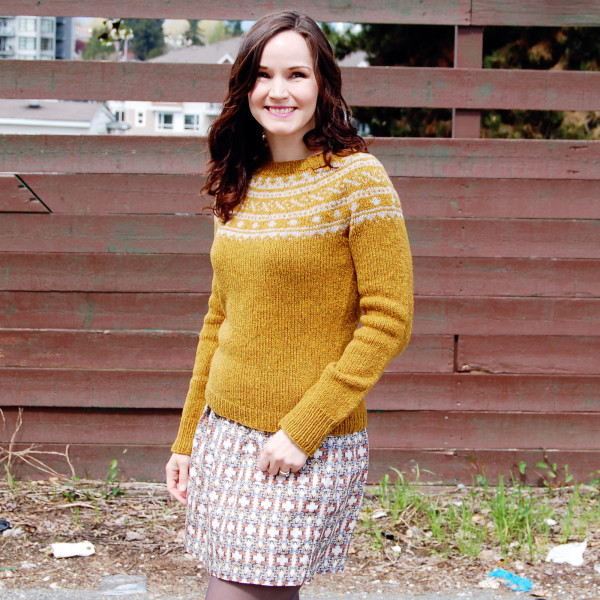 (this fence used to be green – see? I'm glad they painted it brown!)
As I was knitting this sweater at knitting night, I mentioned many times what I was working on, and that I'd just finished making the exact same one. Many people said that they never knit the same thing twice! (And some people rarely make a project only once, as there are knitters & crocheters that make items to sell or make the same project multiple times for gifts.)
For me, if I like something, I'm eager to make it again right away!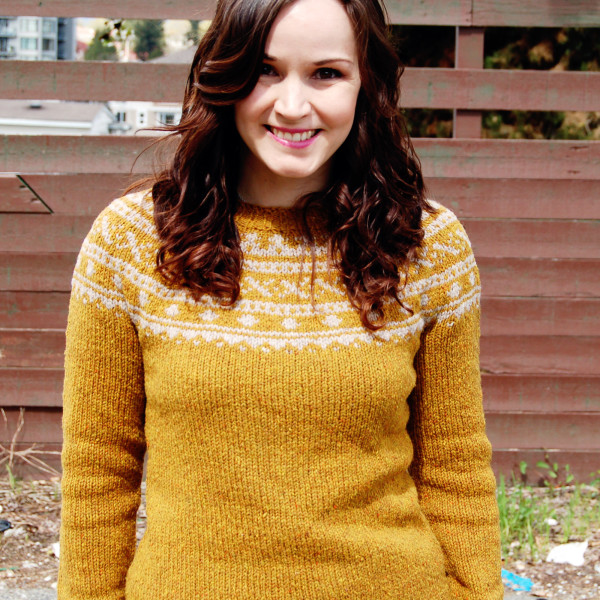 It's going to be very pretty worn with bottoms in navy or denim, burgundy, forest green or grey. When fall comes I'll be ready!