I'm testing the theory that summer skirts and dresses become fall-ready with tights and boots. What do you think – can you tell this skirt is supposed to be for summer? Do I look seasonally appropriate?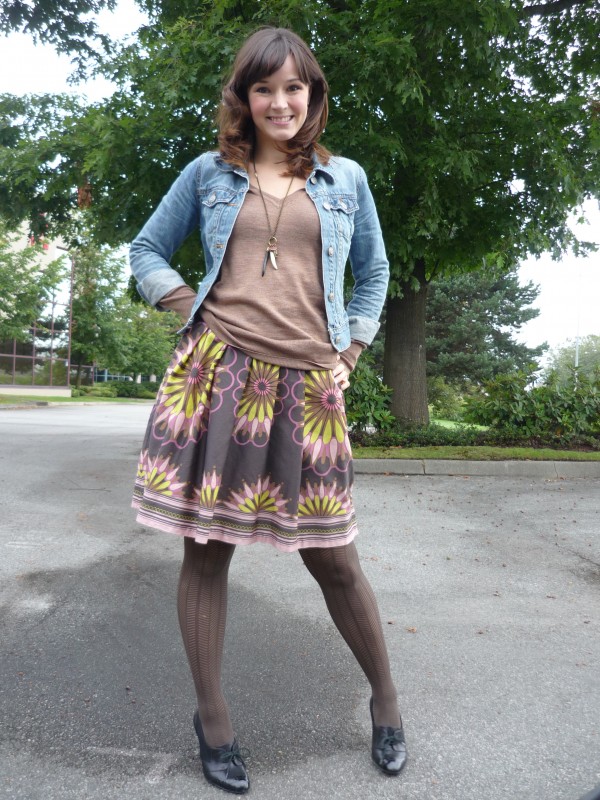 What I'm Wearing:
Self-Stitched Skirt: McCalls 5803, finished back in March 2009
Denim jacket: Old Navy. It started as a Christmas gift of a holiday-printed graphic tee shirt, which I exchanged for this much less festive but more wearable denim jacket, Christmas 2006 or earlier.
Sweater: Merino wool, Gap, purchased last fall.
Shoes: Ellen Tracy, bought at Winners last fall
Read more about the skirt here, or here, or see it in more outfits!
Q&A:
Q. What's the best part of today's outfit?
A. That I feel warm yet pretty, cute yet comfortable. Casual yet still pulled together. I'm feeling right in the middle today and that's just fine with me.
Also, this is a super easy piece to make and work into your wardrobe! Full skirts, or A-line skirts are an awesome beginner project. Fitting a skirt is fairly easy, and the hardest part is putting in the zipper. If you find a pattern you like, it's quick to pump out a few versions of the same style and quickly build up your wardrobe. I could dress it up with a cream silk blouse, or wear it with denim like below. Easy, and comfortable! Bonus if it has pockets, too.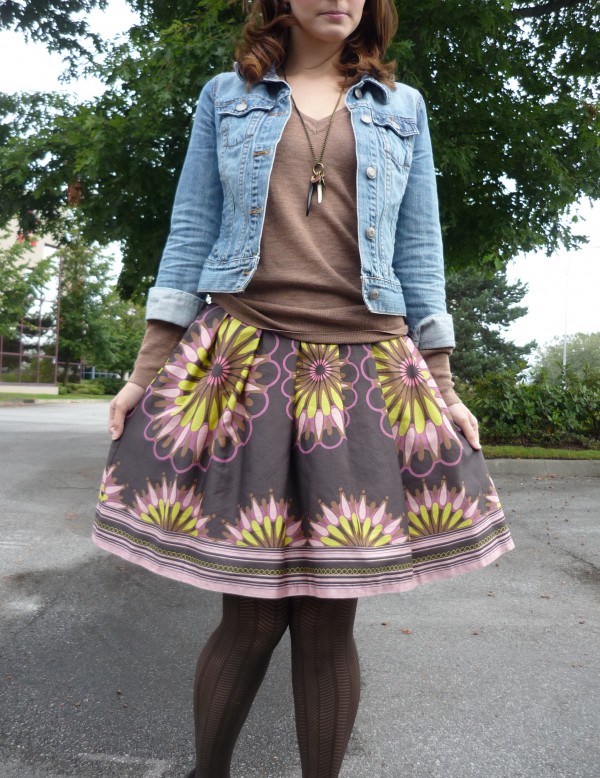 Q. Where did you go today in your Self-Stitched outfit?
A. Work, dinner, and home. (Makes me sound dull, time to stop answering this question!)
Q. Any exciting plans for the weekend?
A. Actually, yes! Tomorrow is the two-year anniversary of my first date with Mr. Sewaholic. We're going to spend the day together, and finish off with a dinner date and hopefully a walk in the park. I'm looking forward to it!
Have a great weekend everyone, and happy sewing!