Again, we're testing the theory that summer skirts and dresses become fall-ready with tights and boots. This one's a bit of a stretch, I think. I like how the photos turned out, but in real life I find the skirt a bit summery and bright. What do you think? Would you have packed this skirt away by now?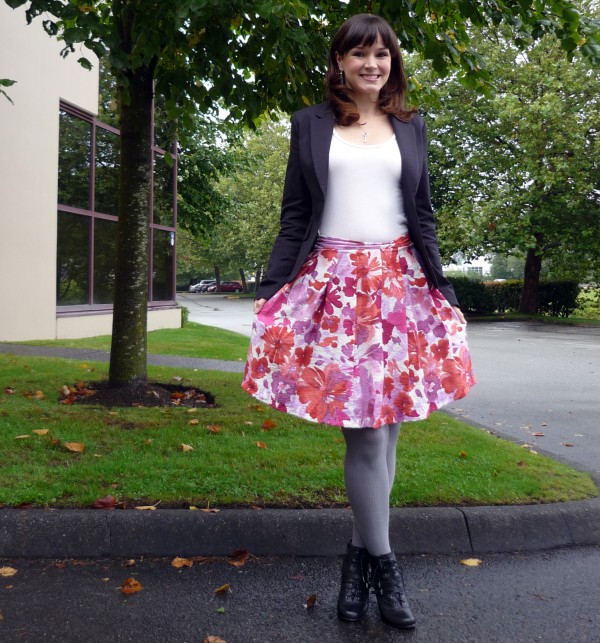 What I'm Wearing:
Self-Stitched Skirt: McCalls 5803, finished back in March 2009
Blazer: H&M, bought in 2007. (Proof that lower-priced clothing can last, if you take care of it..)
T-Shirt: Forever21, bought ages ago and these days it should never be worn without a jacket!
Shoes: Dolce Vita, Winners
Read more about the skirt here, or see it in more outfits!
Q&A:
Q. What are your thoughts on today's outfit?
A. Honestly, I got dressed in a hurry this morning! It was a definite Monday, in that I wasn't fully prepared to start the week yet and even getting out the door on time was a struggle. Add in the challenge of putting together an interesting and new outfit including something I made, just slowed me down some more. This is the result of less-than-perfect outfit matching.
So, my thoughts are:
Wear ankle boots with matching tights for a longer leg line. See how the black booties and grey tights together make me look a bit stumpy? Yeah, don't do that. It works the same with nude pumps and bare legs – the same colour all the way down elongates the leg. (Do as I say, not as I do.)
When wearing tights, don't wear rings! The less potentially sharp edges to catch and snag your tights, the better.
If you're going to layer, make sure your underneath layers are equally as nice as the top layers. What I mean is – don't wear a scrubby t-shirt under your nice blazer and plan to never take it off. That's the day that the office will actually be warm!
When trying the summer skirt in a wintery outfit, try to tie in similar elements. The first time I tried this look, I had a cotton skirt with a jean jacket and tonal brown tights. Better! Today I have a flippy floral skirt with a black blazer and grey tights. Too much contrast.
If it weren't Self-Stitched-September I'd probably keep these photos to myself and take some better ones another time. Sadly, I am forced to share and look critically at what didn't work. Ah well, tomorrow's another day!