Sometimes things don't turn out like we want them to. Sometimes we have a vision, and once the vision comes to life it isn't good. Even if it's well-made!
I sewed up the dress in today's post way back in the summer, after coming in on a weekend to sew for fun. I was feeling the need to make something just for the enjoyment of sewing. With all of the sewing I do for instructions or tutorials, it's nice to make something with no strings attached now and then. It didn't turn out well, but it didn't turn out disastrously enough to make for a good story. So I never finished the blog post about it. (Why blog about something I feel unattached to, when there are more interesting things to talk about?)
Anyways, I thought I would share this project anyways, since it's finished. Proof that sometimes I make things that are okay, but not exactly as I hoped.
In the first post I drafted, it's like I was trying to convince you (and myself) that I liked it. I edited out the 'it's bold but I like it anyways!' lies out of here so it would be more true. Can I tell you a secret? This dress is still hanging in my office, unworn.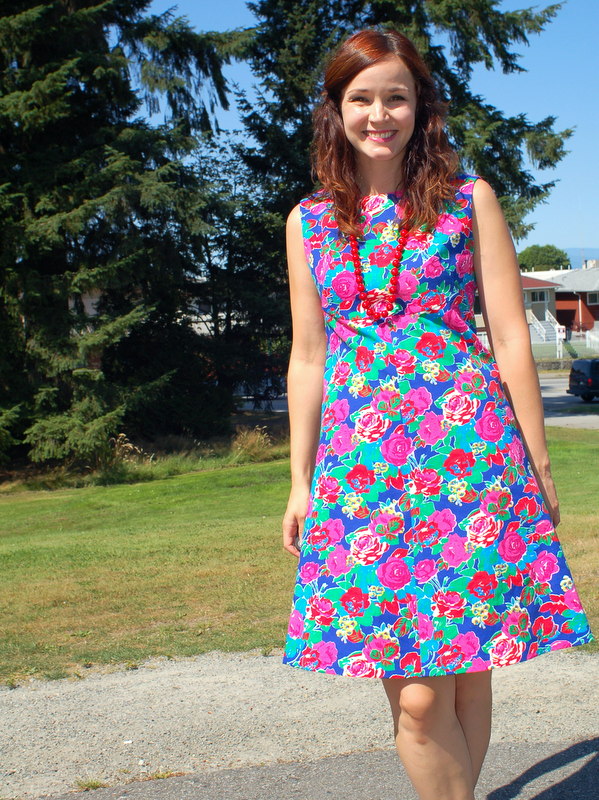 Pattern is Simplicity 8498, from 1969. The design lines on the front are simple and flattering, but unfortunately you can hardly see them at all in this fabric!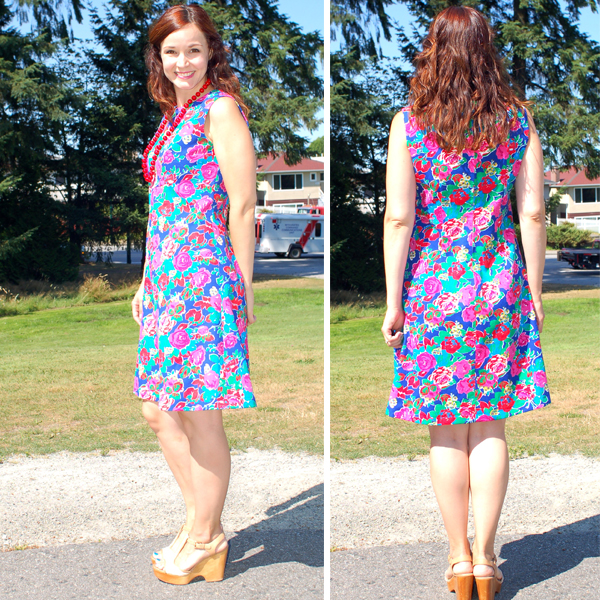 (looking at these photos reminds me of how hot it was this past summer!)
I did some nice finishing techniques on the inside. The facings are trimmed with bias tape, and to make them look more professional I stitched them with a small stitch length. I think it looks rather nice! (You can see the interesting design lines better on the inside-out photos.)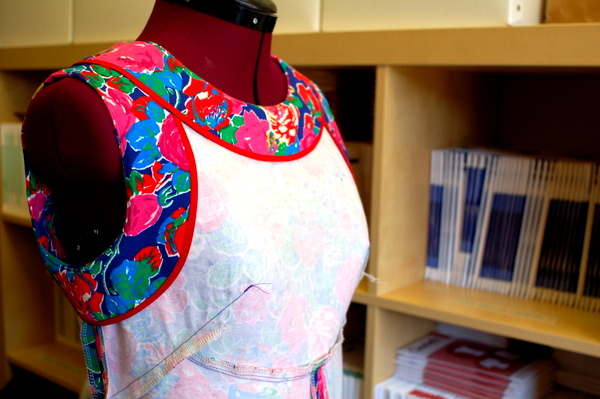 Personally, I like when there are two separate facing pieces for the armhole and the neckline. I know many patterns do the all-in-one facing but I like sewing these type of facings better. I like that I can understitch completely around  the armhole or neckline, instead of understitching only as far as I can work the facing under the machine. (Simplicity 3965, the pattern I made three times, has these type of facings too.)
I had just enough to add bias tape to the hem, too!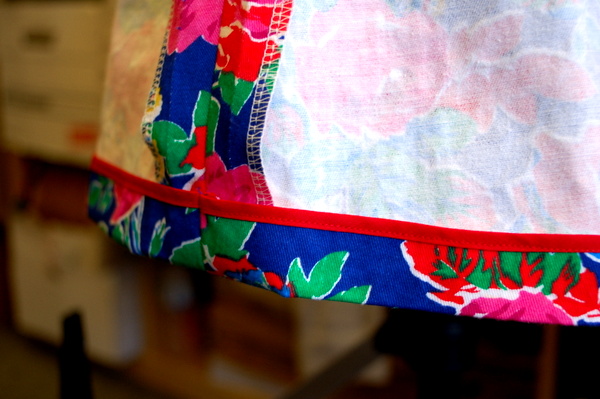 It's been a while since I've done a hand-picked zipper, and it's still my favourite zipper technique. (Want to know how to add a hand-picked zipper to your projects? Click here to read a tutorial.)
The fabric is a cotton twill I bought ages ago on sale. The only modifications I made were to shorten the dress by 3″. I had added extra ease at the hip, but in this A-line style I didn't need the extra, and took the seams in after the dress was sewn.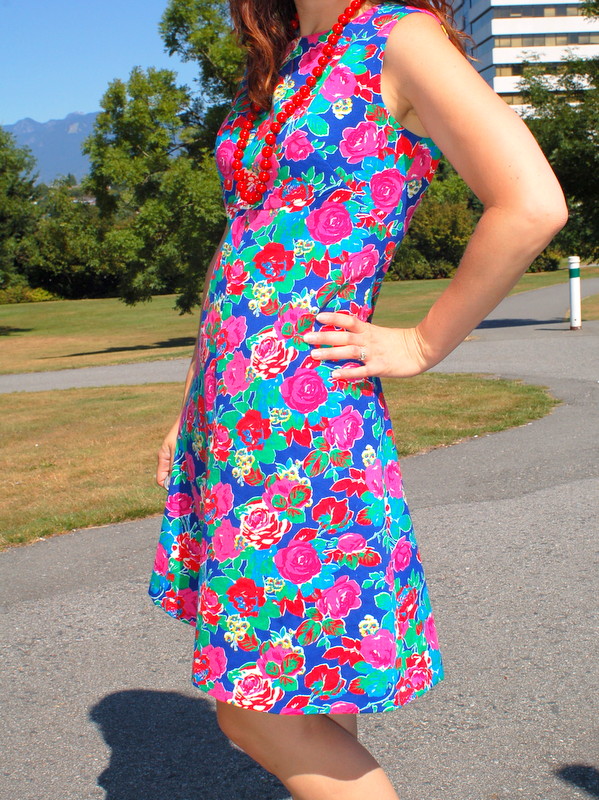 Here's the pattern cover. (Notice that they're all illustrated in solid fabrics? Hmm… the pattern is giving me a hint that I clearly ignored.)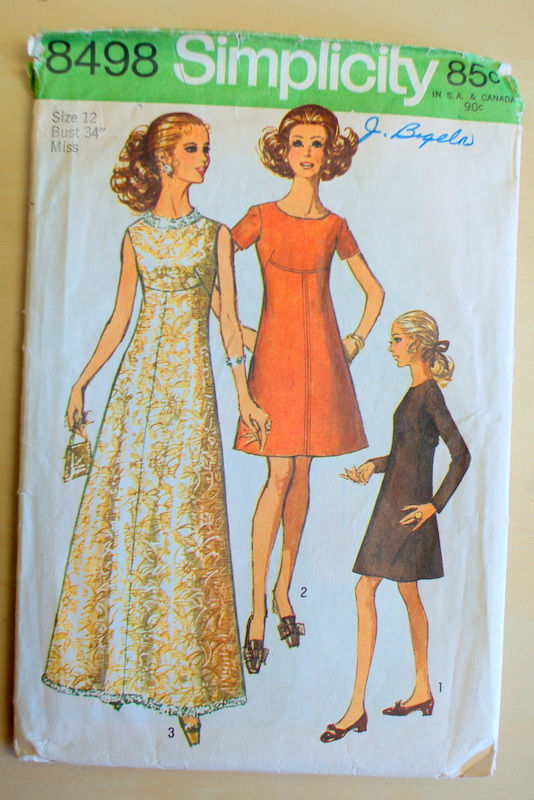 I love the golden brocade maxi version, with the sequin trim! Look closely, there's sequin trim along the hemline as well.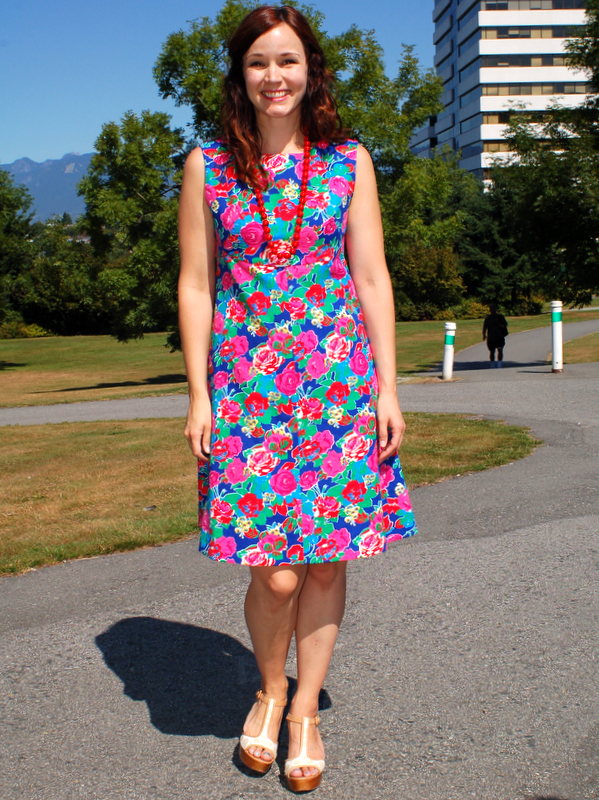 For a test dress, this version turned out all right. But here's the thing – normally, things I love get taken home and worn right away. I've even worn sweaters I knit before the buttons are even attached. (Partly out of love, partly because I really need sweaters!)
So what don't I like about it? For one thing, the fabric isn't quite right. It's way too stiff – closer to the weight of a heavy denim – and feels like it could stand up by itself. It's way, way too bright for my liking, and I usually like bright! It looks better in these photographs than it does in real life. And it's pretty much a summer-season only dress, it looks garish and showy in the fall and winter.
It's also a little loose on me, partly because of the style, and partly because the heavy fabric makes it stand out from the body like a board. I've changed shape a little and now it's definitely too loose, but not softly draping loose, which would be pretty, but thick and tent-like loose.
And lastly, it lacks the things I like about dresses. I like fitted waistlines, full skirts, pockets for practicality. I can't belt it and I'm not certain it feels like me. This pattern design is pretty, but different from my usual style, which means that it's going to be less likely to be worn if I don't absolutely love it. (It's kind of like if you never wear dresses, or bright colours, and then try to jump into dress-wearing with a brightly coloured, bold printed dress. Too much change!)
So what did I learn from this project?
Identify what you like about a pattern, style or garment, and stick with it! I liked the simple, clean lines of this dress pattern, which are best shown in a solid fabric. The illustrations are all done in solid or textured fabrics, no prints. I immediately envisioned a simple, navy dress where you can see the elegant seaming, but decided to make it in floral cotton twill instead. Compromising on your original vision means it won't be the dress of your dreams. (Which can work out into a pleasant surprise, but it could backfire too.)
If a garment doesn't feel like 'you' you'll never wear it. And sometimes even when things seem like they're adding up – interesting yet subtle pattern details, a bright print, a colourful dress – the finished product might not have the right look and feel. When you're just learning to sew, it takes practice and experimentation to get really good at matching a pattern with the right fabric. Sometimes even if you're experienced, the stars don't align and the project bombs. (It might even be worse if you're more experienced. Beginners are more cautious when selecting materials. I look at a scary-bright fabric and never-used pattern and think, maybe I could make it work!)
Fabric hand and drape is very important. Not only is this fabric stiff on its own, but it's the type of print where the ink sits on top of the fabric, creating an even stiffer hand. Too-stiff fabrics can make your projects look homemade rather than handcrafted. I think that might be my biggest issue with this dress, it doesn't look elegant or sophisticated, but stiff and homemade.
If at first you don't succeed, learn from it and try again! Am I giving up on this pattern? Absolutely not! It has the potential to be gorgeous, in the right fabric. Again, I am going to focus on what I liked about the design at first glance – the interesting seaming – and focus my project on that. (And maybe some sequin trim.)
Have you made a less-than-perfect project, and what did you learn from it? Did you ever come back to the pattern a second time with better results?
Have a wonderful weekend, everyone! Here's hoping all of your creative endeavours turn out just like you want them to. Happy sewing!