This is not the post I hoped to write about my last summer sewing project. It does bring up an interesting question: when do you decide to call it quits on a project?
The original plan was to sew a white sleeveless Granville Shirt, in the white cotton on the right of the photo. I wrote about wanting a white sleeveless Granville after making the printed one, so I wrote it into my summer sewing plans for 2015.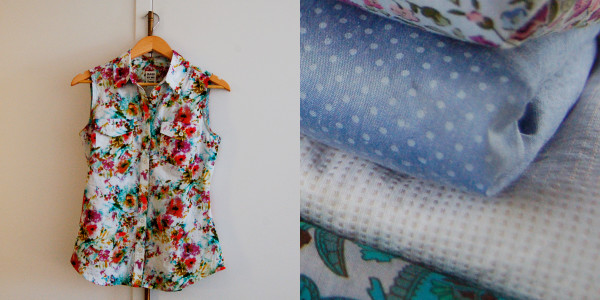 I was sewing on a Sunday, and I'd already been working on one project that I wasn't super pleased with. No worries, I thought! I'll put it aside, and sew up the white Granville shirt I've wanted for a while. (Everyone is making white sleeveless shirts. I love Handmade Jane's version in swiss dot!) I love the pattern, I know it fits, and I know I'll enjoy having a plain white version of my favourite shirt.
Here's where things started to go wrong.
1. Not enough fabric. I knew I didn't have a lot and that's why I planned to make it sleeveless, but there wasn't even enough to fit all of the pieces of the sleeveless version. There was a stain in the middle of the fabric, and I'd already washed it so it must be permanent.
No big deal, I thought. I'll cut extended front bands instead of using a separate piece. I'll skip the pockets. I'll use something else for bias tape, maybe plain white cotton or purchased white bias tape. It's not perfect but it'll do!
2. Sub-par fabric. As I started cutting and sewing the fabric, it was looking too much like paper towel for my liking. It was stiff and papery, wrinkled easily and didn't press well. I bought it in the nice shirting section of our local fabric store, and I focused more on the appearance and texture than scrunching it in my hand to test for wrinkles. Don't be afraid to handle fabric in the store, rub it across the back of your hand to feel its softness, grab a handful and scrunch it up then release to see how it reacts.
I figure, maybe it won't be so bad when it's done. At the very least it'll be a good layering piece right? A crisp white collar popping out of a winter sweater,  that'll be great! Can't go wrong!
3. Here's the deal breaker: I sewed two left fronts. That's it, I called it quits here. If it weren't for the first two points I might have unpicked it and started again, but I was already not crazy about the fabric as I started working with it. Life's too short and free sewing time is too limited to persevere on something that's not going to be awesome. It would be one thing if it was just a challenging project, or if I knew with a little effort I could get it back on track. In this case, I decided to call it a wash and move on.
How do you know when to throw in the towel on a project that's not going smoothly? What makes you decide to keep going, when it isn't turning out like you hoped? Do you feel better knowing that everyone has projects that don't turn out, even people that sew all the time like me?
Hope your weekend is full of sewing success stories!