Happy Monday, everyone! My first summer sewing project is complete! Having a plan worked. I made a realistic list, then scheduled time with myself to sew. Because of this I've actually accomplished something in the time I hoped to finish.
Here it is, Julija's Skirt! (Named for the shop in Antwerp where I bought the fabric.)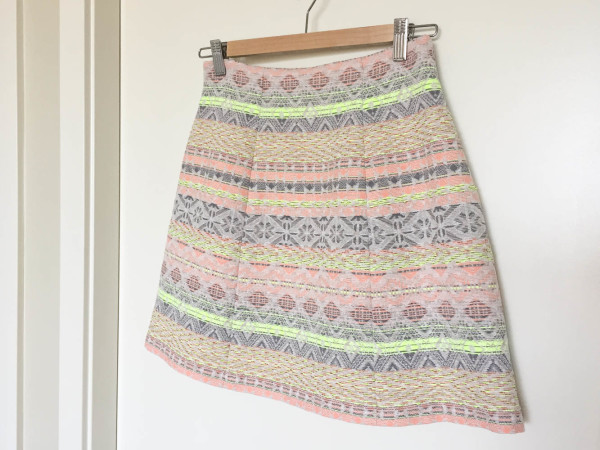 The pattern is the Anemone skirt by Deer & Doe, which I made here. I liked the A-line shape and the fit, and removed the peplum flaps to reduce bulk.
Project Planning
For this fabric, I wanted to choose a pattern that showed off the stripes. I love the look of a straight or pencil skirt with stripes, but knew that I'd want a little more movement for cycling. The Anemone skirt pattern is great for stripes because the hemline is reasonably straight due to the panels. Instead of the A-line shaping happening at the side seams, each panel flares out equally so the hemline isn't a curve from centre front to side.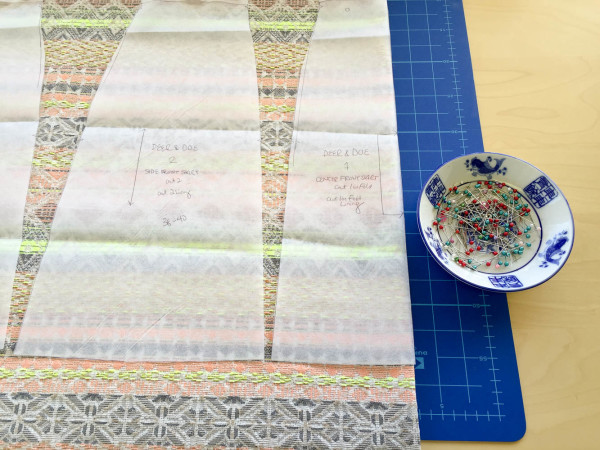 I lowered the waistline by 4cm as the original design is extremely high-waisted.
I meant to lengthen the skirt, in fact I'd planned to lengthen the hem by 2″ (5cm) total. To save time I didn't lengthen the pattern piece but planned to make my cutting line 5cm below the pattern edge.
I cut one piece with the lengthened hem, then the phone rang. When I came back to cut I happily cut straight across the pattern edge on the next piece, instead of 5cm below the line! As a result, it's a miniskirt. Tip of the day: don't take breaks while cutting, or answer the phone!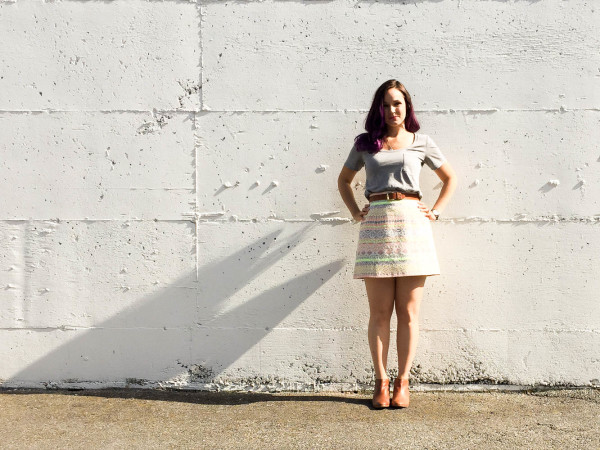 So it's a teeny bit short for my usual tastes. Awesome if you are standing, less awesome if you plan to sit or if you drop things. It'll be better to wear with tights in cooler weather.
I cut each piece as a single layer, then realigned it with the stripes on the bottom layer.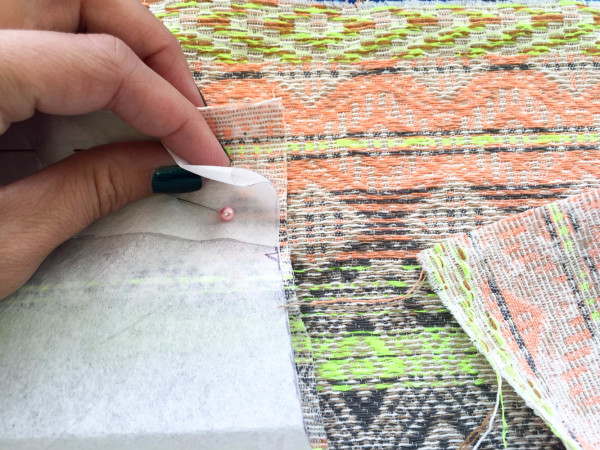 Because this fabric frays a lot, I preserged all of the pieces before sewing the seams. To ensure I didn't cut any off and make the skirt smaller than intended, I dropped the blade on my serger. That way it serges as normal but doesn't trim anything off.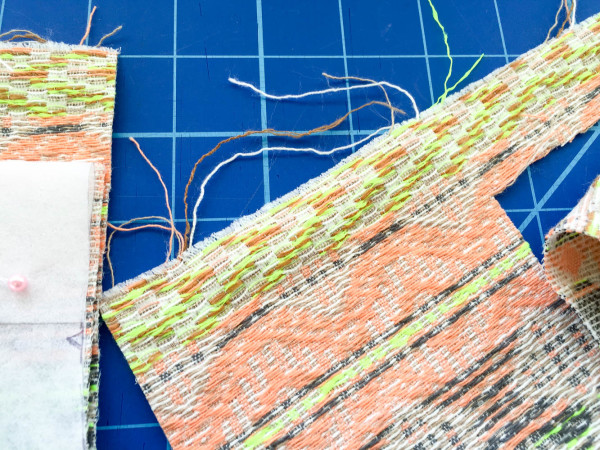 I didn't notch any of the notches – usually I clip 1/8″ to 1/4″ (3-6mm) into the seam allowances – but not on this fraying fabric. I left the pattern pieces on top of each piece as long as possible to identify which was which, and worked with one set at a time. I didn't worry about lining up notches but focused on stripe alignment instead. I basted each seam, checked the stripes, then sewed it permanently.
When working with a fabric like this, file your nails and keep your hands smooth if possible. All of those long floats that make it so beautiful are easily snagged!
Another change was to sew a regular zipper instead of an invisible one. It's hard to line up stripes on an invisible zipper insertion, and with this many stripes crossing the seam I wanted it to be perfect. I inserted the zipper into centre back before sewing the skirt panels. The instructions want you to do it the other way around.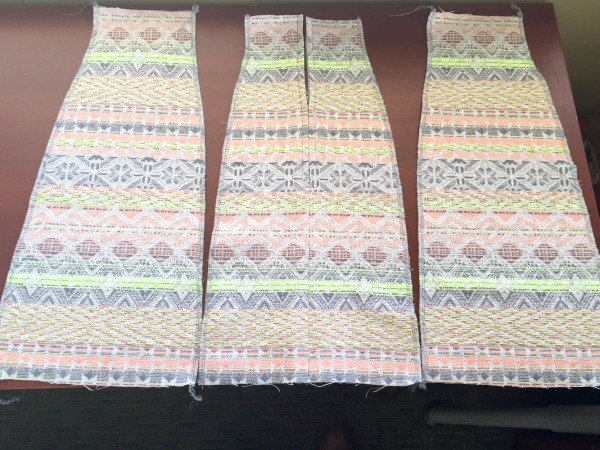 Super glamorous storage facility photoshoot. I like taking photos here because it's relatively empty and the white walls are simple, but sometimes the blue doors get in the way. I liked this photo because of the sparkling sun and also because it looks ordinary. This is real life, exactly what I wore this day, doing regular things.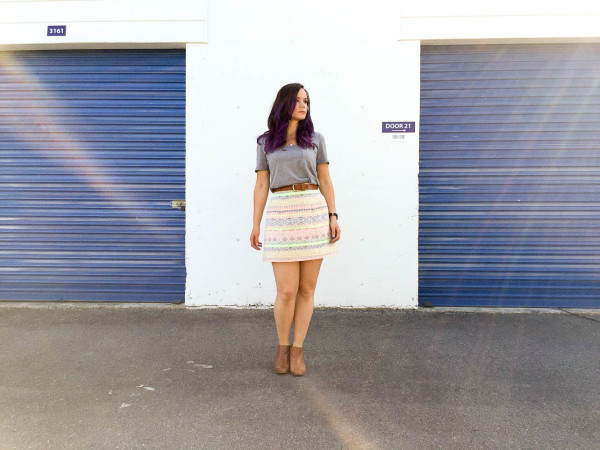 I think it's better with a belt. The waist is still high, but not as extreme as the original pattern design. It has enough ease that it stands away from the body like a slight bell.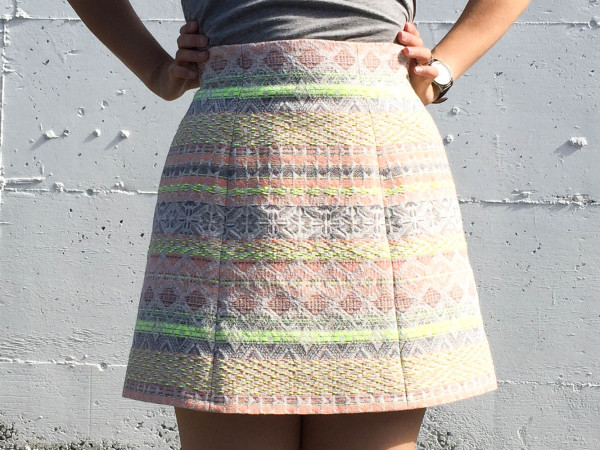 My one complaint besides the slight shortness? The fabric motifs aren't centred at front and back. Now, I centered the piece over the fold, and aligned the centre back edge evenly from the selvedge. If the fabric had been woven with the design centred along centre front fold, I would be fine! But it isn't. So double check the centre fold of your fabric is along a nice-looking centre mark of the pattern. Not much I can do now, especially working with a small amount of fabric, and you can barely see it.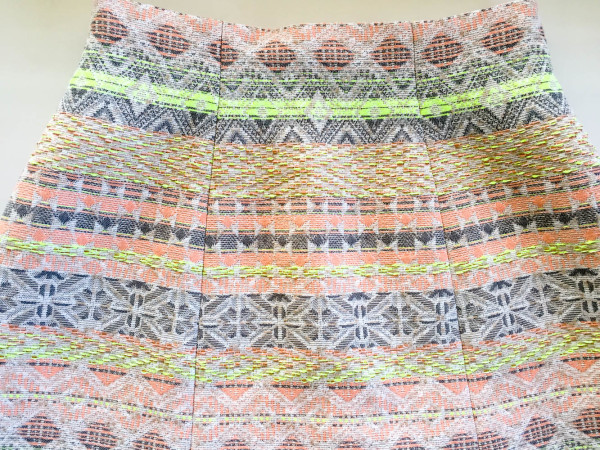 Actually, now that I've added the last photo to make my point, I can see the diamond along the neon yellow line is centered, and so are the zigzags below it. So maybe that's just the nature of this fabric. Some striped sections line up, some don't. Same with the back in the photo below, the zigzag line below the neon green stripe nearly continues across the back seam.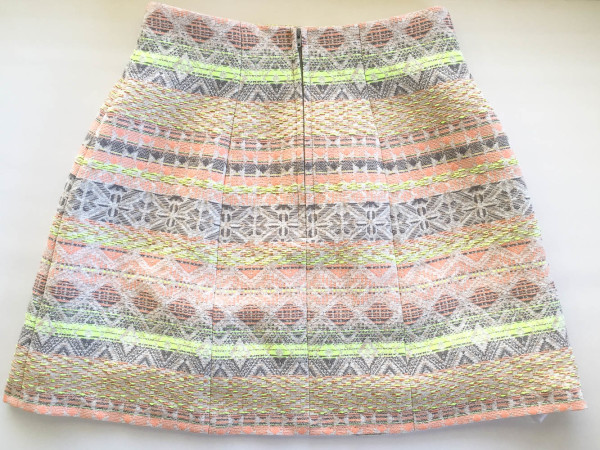 It's one of those picky things that only people who sew notice or care about! You don't really see anything out of sorts on the finished garment.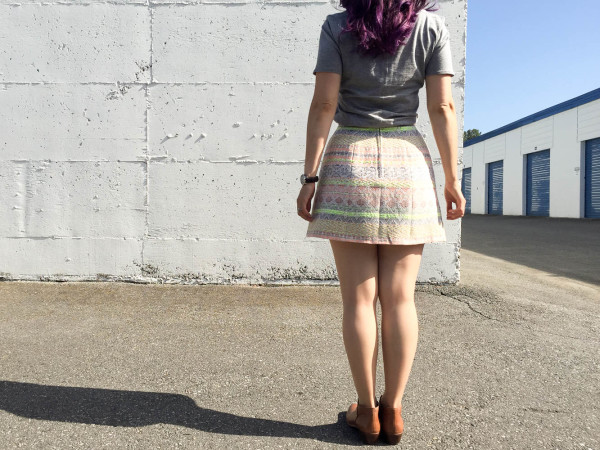 Bikeable? Yes, but it's a bit precious and special to me. It's possible and if I do wear it cycling, I'll be careful. The beautiful woven fabric has long floats that snag on everything, and if it's catching on my hands and nails while sewing I'm sure it won't hold up to getting on and off a bike seat.
Verdict? A+, would sew again. I turned something I liked the first time around into a garment I truly love. I thought about what I didn't like as much the first time: the wing-like peplums and the extreme high waist, and adjusted it to suit my tastes.
I also thought about what I'd wear on top and knew I had grey and white tops to match with. I have plans to knit a grey sweater, and I love the neon colours with denim blues.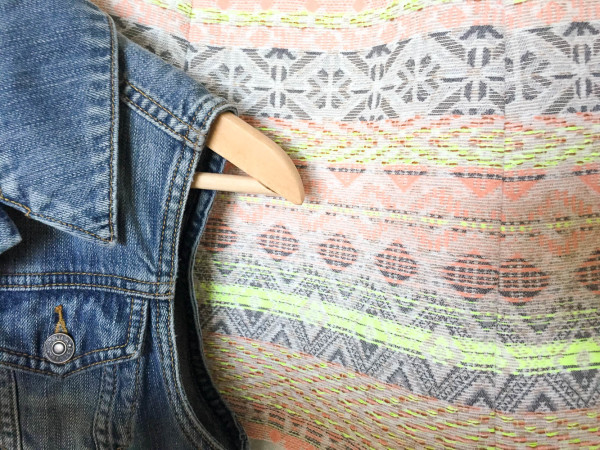 That's my goal with personal sewing projects this year: plan carefully, decide what I need from my clothing in terms of fit and serviceability, and plan how I'd wear the final garment. And then, sew! It's easy to get caught in overplanning and overthinking. There will always be things you could improve for next time, but you don't get to the next time if there is no first time!