Like most people in Vancouver, I get excited about summer here. We have what feels like a short summer, but when it arrives everyone's in a better mood. People are happier and friendlier! Or maybe it's all in my mind and that impression is due to my own improved mood.
Either way, bring on summer!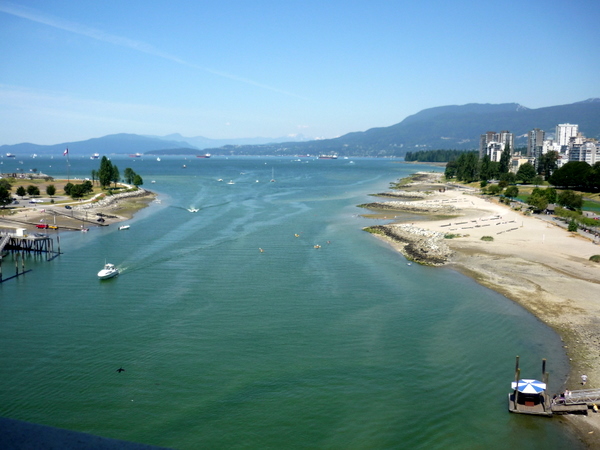 (a view of Vancouver from the Burrard Street Bridge)
I'm pumped about sewing summer projects. I'm only planning a few, because if I make a list too long nothing gets done.
I'm working on blocking off time for sewing projects, like in this post about balancing creative pursuits. I love sewing, and I want to give myself time to sew for pleasure, so it can be a hobby as well as something I do for work. It's useful to sew patterns other than Sewaholic Patterns as market research. I also appreciate the work of other designers and pattern companies. There are so many great ideas out there!
My top three summer sewing projects:
1. White Sleeveless Granville Shirt
I really like the sleeveless version of the Granville I made here, and would love one that's more neutral and goes with everything! (In fact when I re-read that post, I'd even mentioned wanting a white sleeveless one at the bottom of my notes.)
A sleeveless shirt is a great transitional piece as it works under sweaters and jackets all year round. I like a crisp white collar poking out of a sweater, and in summer, it's an easy piece to wear with jeans or colourful skirts. My white fabric has a bit of texture, so it'll be more interesting than completely flat white. I also find fabrics with surface interest look less wrinkly than plain solids, and possibly more expensive.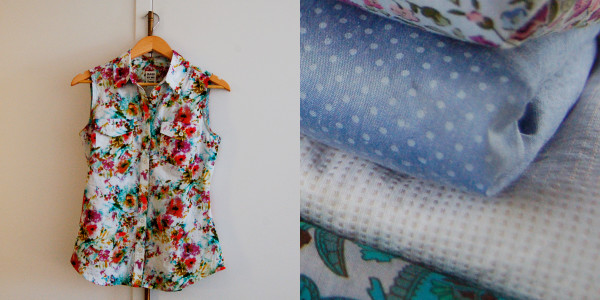 The fabric is in the stack, underneath the blue dots. You can see the beige woven texture, from afar it looks like white but when you get close up you can see the detail.
2. Striped 'Julija' Skirt
This fabric I bought on holiday is too cool not to use right away! I'm thinking a straight or A-line skirt, something simple since I only have a small piece of fabric to work with. Lined so I can wear it with cosy grey sweaters and tights in the fall. Something like this striped skirt below, simple without a lot of detail or seaming.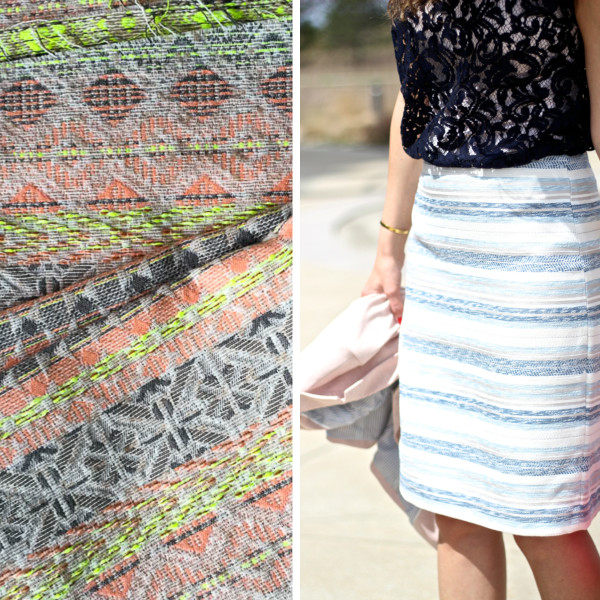 (skirt photo source – lilly style via pinterest)
It has a similar texture and varied stripe pattern to my fabric. I may be drawn to the skirt photo since the same fabric also came in a blue colourway! I'd possibly want more of an A-line, so I can wear it cycling to work.
3. Bleuet Dress
I made a Deer & Doe pattern a while back (the Anemone skirt), and when someone mentioned the Bleuet dress pattern, I looked it up and loved that little bow detail at the small of the back! Is the bow too cutesy for a grown woman? Am I getting too old for big fabric bows? Nope! Hope not anyways. It's the detail that attracted me to the pattern in the first place so I don't want to leave it off.
Whenever I find something I'm interested in sewing, I look for other people's versions of the pattern. This version by Anneke is especially lovely with a hand-embroidered collar!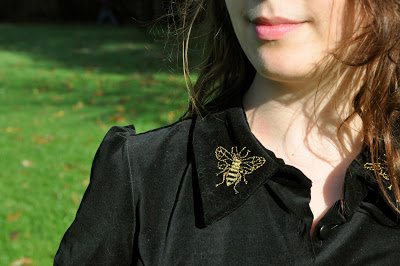 I'm drawn to versions with collar interest, and I really liked Anna from Paunnet's contrast collar dress.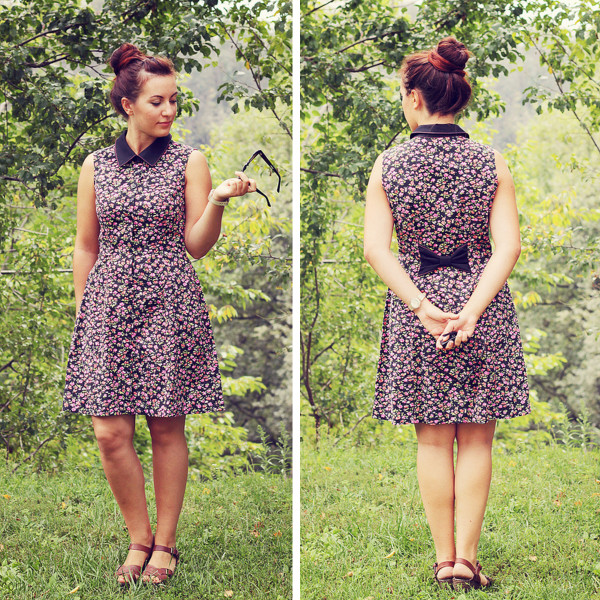 I think I'd like the sleeveless version over the puffed sleeve. One sweet detail at a time! (And I'd choose the bow over the puffed sleeves.) Plus when it gets colder, it's easier to pull on a sweater without the bulk of sleeves.
After sewing these three projects, I'm going to start on Fall projects so I have a running start. Fall projects tend to take longer to sew, like jackets, lined dresses and skirts. If I start soon, I'll be ready when the seasons change.
But first: summer sewing projects! What are you sewing this summer?