If you're a member of Burdastyle, you may have seen the Summer Beach Hat project posted last week. (Model picture to the left.) Cute, no?
I immediately thought, this is the project for me! The sun is not my friend, as I burn very easily. And now that I wear my hair with bangs, I'm always worried they will misbehave, especially in the heat and humidity. Hello, frizz!
So I was pretty pumped about making this beach hat. I have a straw fedora already but wanted another option for the summer… however I'm declaring this project a FAIL.
I may have rushed in overconfidently – after all, my last few projects have turned out well. I can make a hat, I thought. How hard can it be? It just has to fit on my head, no dealing with hips and thighs. Easy, right? Nooo…
Now, I have to admit, I'm new to Burdastyle and this is the first time I've used one of their tutorials. Let me tell you, this one is not for the beginner. Or maybe it is if you know a bit about hat-making first? I'm not sure. I'm not meaning to knock Burdastyle at all, I love the idea of this hat! Just not my finished project.
One important thing to note is that it's a tutorial, not a pattern. There are guidelines to making your own hat but you draft up your own pattern.  No pieces to print and cut out. I knew this, but thought I could figure it out regardless.
Here's my semi-finished beach hat: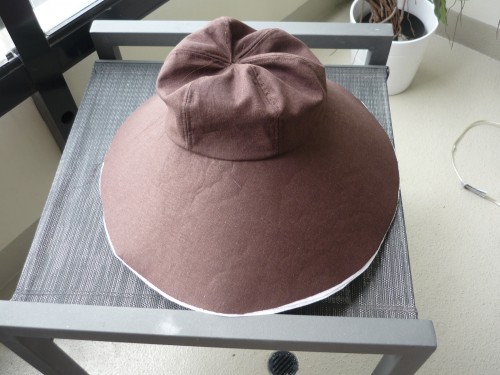 Doesn't it look like a mushroom on top? All of the pictures of me wearing it are incredibly unflattering and I'm making strange faces. Here's the best of the bunch, promise not to laugh! I left it small on purpose: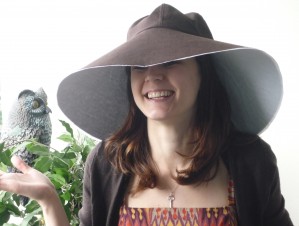 The reason it's so weird on the top is because you have to draft your own crown. Basically, the instructions read "Draw a rectangle, now taper the ends to a point." I'm guessing that this would work better with a couple of prototypes first, to figure out the crown shaping.
When I was describing it to a friend, she mentioned that Strawberry Shortcake has a poufy-on-top hat. But does she have the cone-of-shame attached below?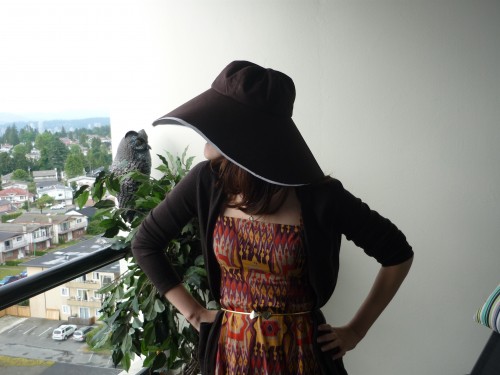 The cone-of-shame shaped brim is because the instructions are rather vague as well. I'm wondering if I missed something, or didn't read properly? I used the recommended fabric (linen) and heavy weight interfacing.
Anyways, I wanted to share the fail project to show I'm not perfect. No matter how long you've been sewing, the occasional project will end up in the trash bin.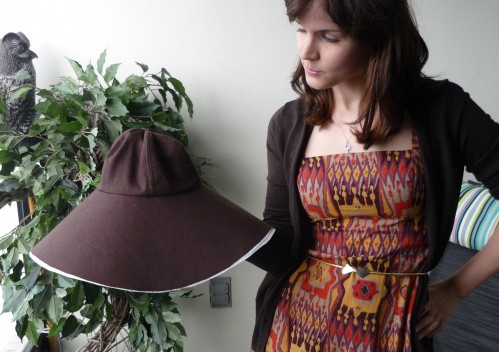 Sometimes it's the wrong fabric choice, sometimes it's fit or style, and sometimes it just wasn't meant to be. Just don't let it get you down! Take what you learned from it, and move on.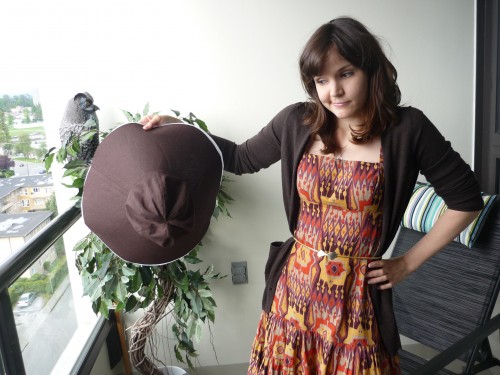 If anyone feels they can rescue this hat project from the trash bin, send me a note or leave a comment. I'll happily mail it to you!
In the meantime, I'll be moving on to the next project…