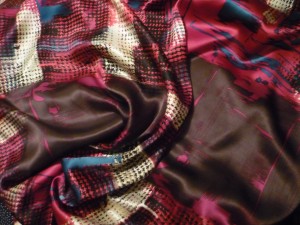 It just keeps on happening to me – I go into Fabricana for just one thing and come out with a new batch of projects to make. Of course, now that I'm preparing for Me-Made-May, I have a great excuse! This time, my 'one thing' was supposed to be seam binding for my floral dress…but look what I got!
It's hard to tell from this dark photo to the left but this is a luscious hot-pink and blue silk charmeuse, with a funky abstract print. Gorgeous! You may notice it's a perfect match to the blue coat I'm planning to make, too. I'm not 100% sure on the dress style but I'm leaning towards Vogue 1161.
I also finally picked up some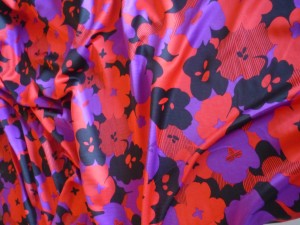 100% wool to make my Beignet skirt mentioned here. It's a dark charcoal-black so I didn't post a photo, but what I did post was the fabric for the blouse to go with it!
Check out this very bold red and purple floral silky print. It's kind of intense, and looks much better in real life than in this photo. Tucked into the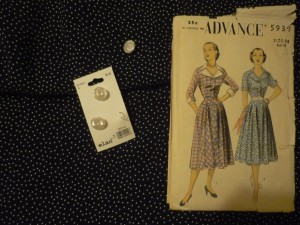 fitted and tailored Beignet skirt, I think it works.
The last thing I got was navy mini-dot polyester, to test out my Advance shirtdress.
I'm not crazy about the idea of long sleeves in polyester, but it had the best drape and weight for the full skirt, and a subtle enough print for the dress.
Oh, and I did remember the seam binding. All in all, a pretty successful shopping trip!