Hello everyone and Happy Canada Day!
I'm heading outside to celebrate – or staying inside to sew, you guess which one's true – and wanted to mention I was able to add back my 'Subscribe by Email' feature.
You can now receive updates on new posts in your inbox! Just click the orange link on the header to sign up, or sign up here.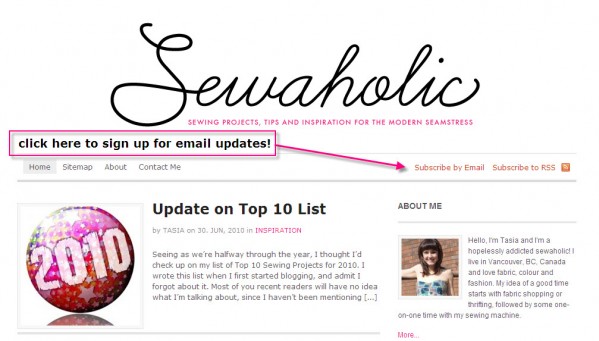 Is this useful? I know there are lots of great tools to subscribe to your favourite blogs – Google Reader, Bloglines, etc. – but wanted everyone to be able to subscribe in their favourite way.
Coming next: the story of the gold brocade, followed by Part 2 of the leather jacket repair. It's a long weekend for me starting today, and I'm hoping for lots of quality sewing time!
Also, I have a really exciting project in the works. No, it's not the Burdastyle book, though a big congratulations to Angie, Brumby and Wanett who were selected to participate!
I'll share more details next week – have a great day everyone!