Here's another knitting project I made: an awesome winter sweater with a traditional colourwork yoke!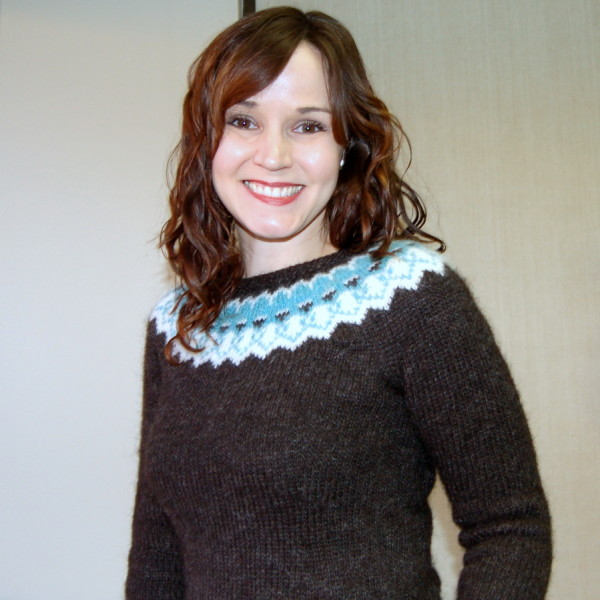 It is scratchy as ever but I feel like this means it will last forever! When I started knitting this, it felt like knitting with steel wool. (Even the grey colour reminded me of steel wool!) It softened as I worked with the yarn and softened a bit after washing. I've already worn this sweater a few times before taking finished garment photos! It is so warm. It's still scratchy, but not bad with a long sleeve tee shirt underneath.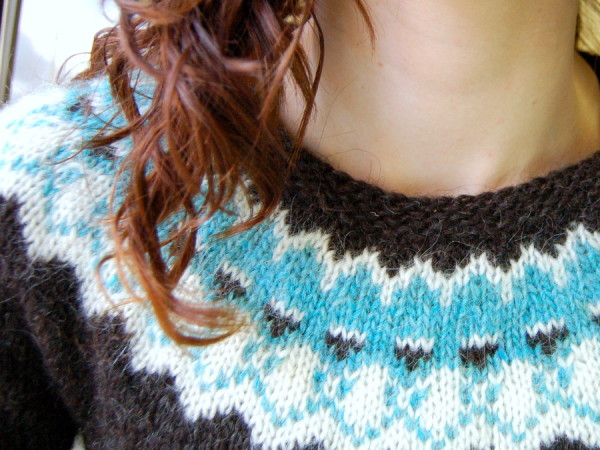 Here's a close-up of the yarn – you can see it's quite hairy!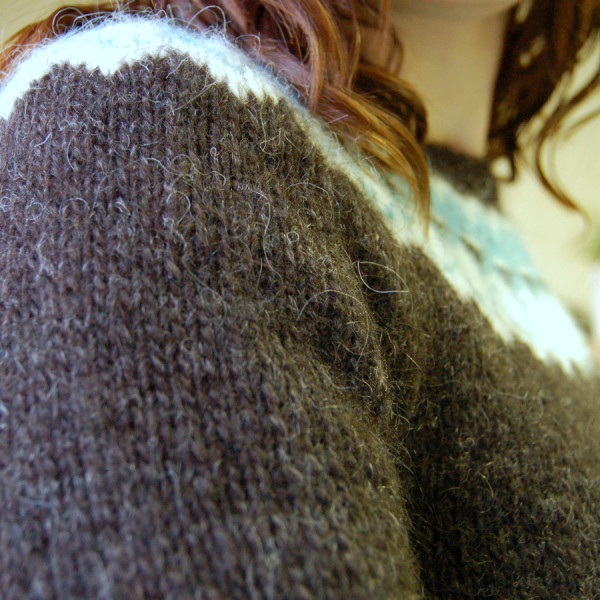 The yarn is from Iceland, making this literally an Icelandic pullover. It's Lett Lopi and I bought it online from Iceland. The shipping was as much as the yarn cost but the whole cost was about $40. Not bad for a pure wool Icelandic sweater.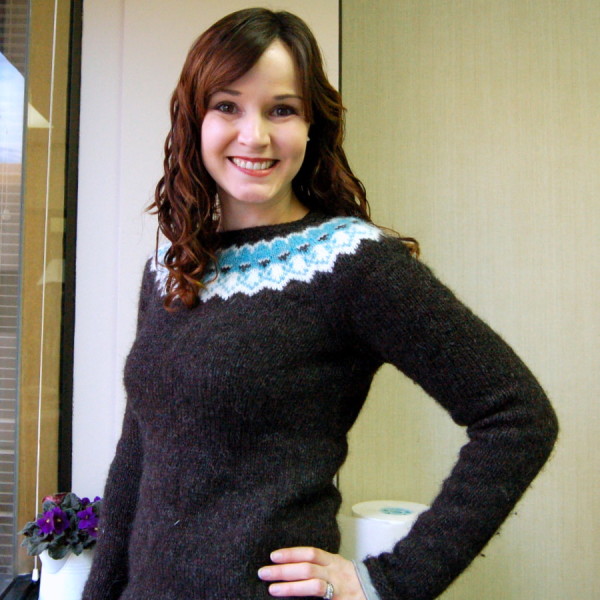 This was one of those projects that as I worked on mine, I was super eager to see everyone else's finished projects. Ever have a project like that? I kept checking to see other finished Strokkurs posted on Ravelry. (My Ravelry notes are here.)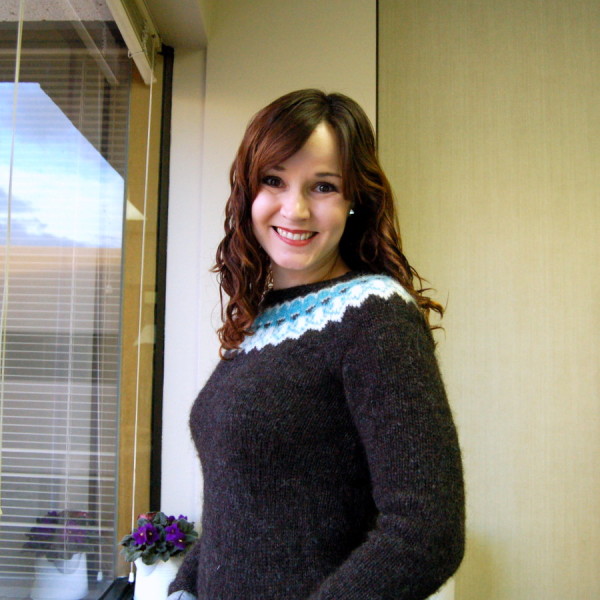 This is also the most-worn sweater of all the sweaters I've knit this season. When I want to be warm, guaranteed, this is the sweater I wear. I've worn it hiking, cycling and to work. It fits really well, it's long enough for pants but still looks good with skirts, and the neutral grey works with jeans, black, charcoal, everything! (Plus a little hint of turquoise, my favourite colour.)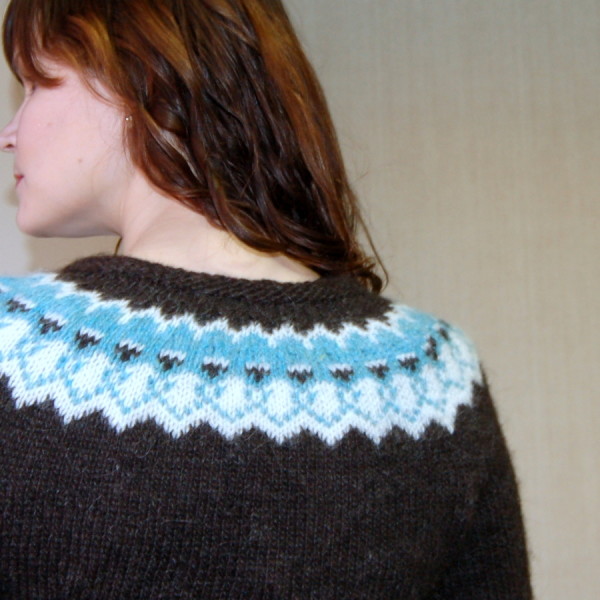 Mine ended up a little more snug that Ysolda's modeled sample. I liked the relaxed fit of hers but I am even happier with the slim fit of mine. I like Ysolda's logic about knitting a shorter yoke so there aren't bubbles under the arms, and raising the shaping up above the natural waist. I like that it's seamless and I like that all the yoke knitting happens at the end, so the whole time you're looking forward to getting to the FUN part.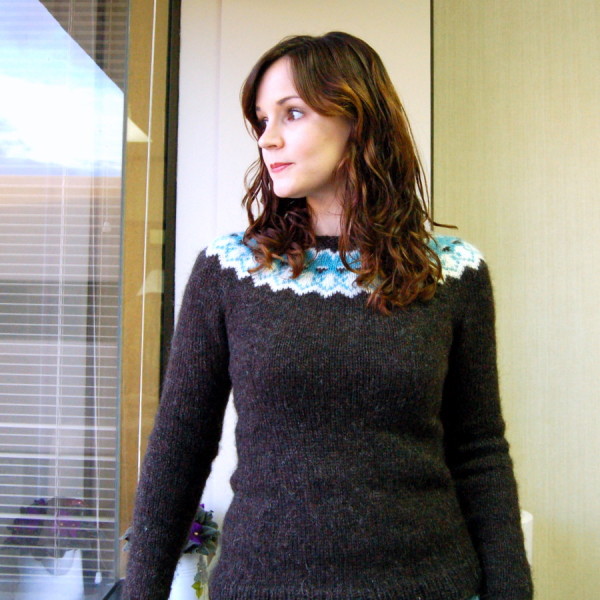 I love this sweater so much. Even when I take it off, the sweater itself stays warm. I'd totally make this one again! Maybe in browns and taupes? Forest green? Orange??
Really, there's not much to say except that I loved this sweater pattern when I saw it, I loved knitting it up and I love the finished result. It's the trifecta of project success: loving the design, loving the knitting process, and loving the finished result. Got to love those projects that you thoroughly enjoy from start to finish!