One of the reasons why sewing is so fantastic: you have a chance to change your mind before you cut. Before the scissors hit the fabric, you have the option to change patterns, change views or make a completely different garment! You're not fully committed until you start.
For the Strictly Ballroom dress, a Vintage Vogue reissue pattern from 1943, I made a few last-minute changes after the muslin, before cutting the fabric. Speaking of fabric, I found the perfect material for this dress last week. It was on sale too!
Here's my fabric choice: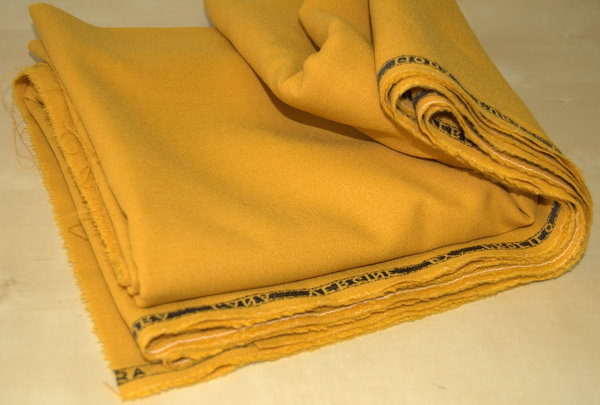 I went with a solid-coloured wool crepe in gorgeous golden mustard. (Marigold, I've also seen this colour called, which sounds so pretty!) This fabric is from Fabricana's clearance section, for 70% off. I'm guessing  it's because of the bold colour, as the fabric itself is lovely!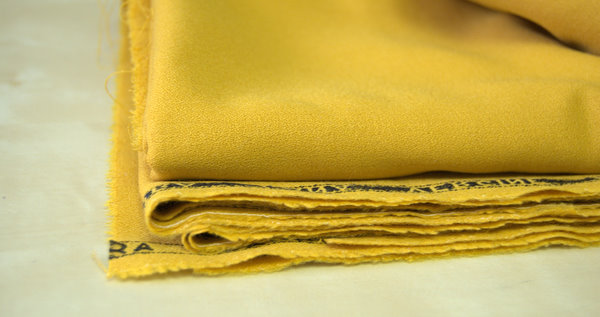 Before cutting, I decided long sleeves would be better for Fall. That way I will be warm, and not have to search for a sweater or coat that goes well with marigold yellow!
I usually only sew one sleeve into my muslin, so I can quickly cut and sew in a long sleeve for comparison. Alternately, you could just measure the sleeve width and length, and compare it to your body to save time. Do I take the chance, or sew up a muslin sleeve? Speedy me says go for it, but my cautious side says to make the muslin sleeve. Especially as I already make a little math error on the muslin adjustments!
Have a great weekend, everyone! Look for Lonsdale Sew-Along prep posts starting on Monday!