Is it summer yet, where you live? Here it's starting to slowly get warmer, but the wool sweaters aren't packed away quite yet. Good thing, as I just finished knitting a cosy wool pullover with a huge collar!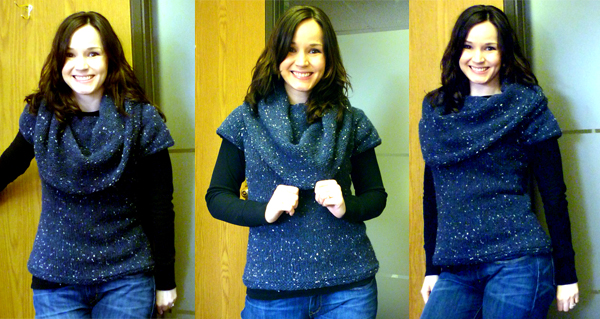 I've called it the Starry Night Sweater because it sounds pretty. (Much better than the 'oh crap, it's snowing again' sweater.) The yarn is flecked with little touches of white on a deep midnight blue base, just like a starry night sky.
The yarn is Peace Fleece, in the colour Siberian Midnight. Which is an interesting company, started in the early 80's to bring peace between the USA and Russia through trade. (They explain it better than I did – read more about Peace Fleece here.) If I'm going to spend money, I'd prefer to support small businesses, companies with inspiring missions, or similar values to me. This is the kind of sweater that lasts forever, and from what I've read it gets softer with each washing. Which is great as it's scratchy, rough and coarse right now! Not as shiny and soft as my First Sweater. Quite the workhorse sweater, perfect for cold winter nights! (Or cold spring nights, or evening bike rides…)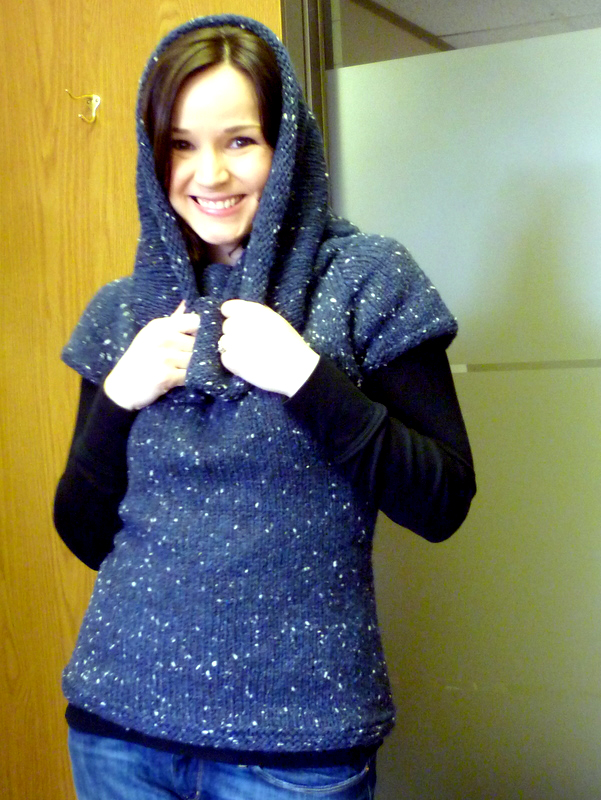 I'm not used to having to wear a long sleeve top under a sweater but this one's just a little too scratchy to wear on its own. It's easy to wear with jeans but I think it would be even better with a skirt, boots and jacket. Something to 'pretty it up' a little, and balance out the roughness of the wool and casual sweater-over-tee look.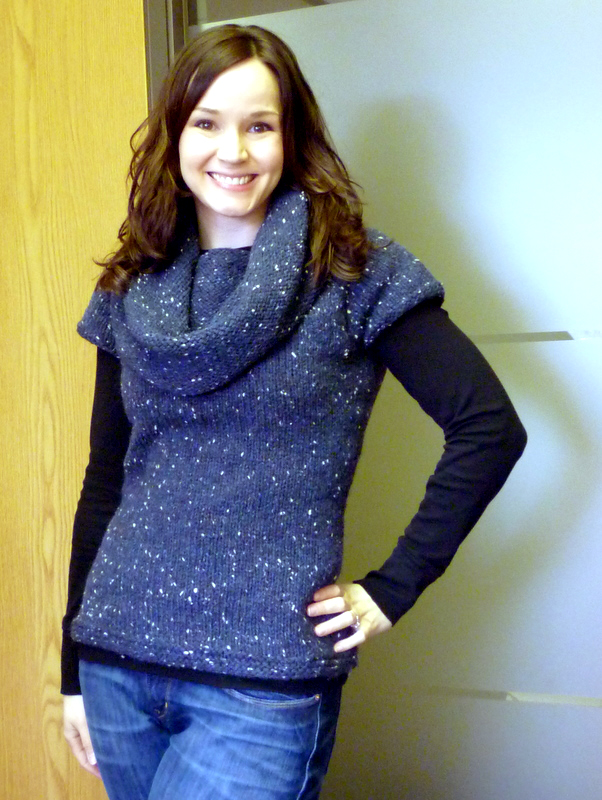 Pattern is Idlewood, a simple top-down raglan pullover. (Look, real knitting terminology!) Top down means it starts from the top, and goes around and around until you get to the bottom. For this pattern, it starts at the top edge of the collar, and goes around and around and around and.. well, you get the idea. It's a lot of plain knitting, which makes it great for watching movies. The fit is really nice and it would be easy to add long sleeves for an even warmer sweater! It looks great under jackets with the collar worn over top, like a scarf.
This is my third sweater and I'm already planning another version of this pattern. (In a soft coral colour, maybe? Pretty with taupe and white and summery neutrals…)
One by one, I'm knitting up a wardrobe's worth of lovely hand-knit sweaters. It's slow but incredibly rewarding! Just like sewing, I value clothing items more when I've made them by hand. Have a great weekend, everyone!