I'm so ready for summer, or at least for spring! This rayon printed fabric totally puts me in a spring mood, with its splashy coral and hot-pink floral design. Love it!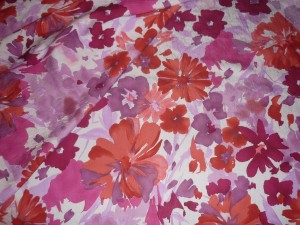 I saw it and instantly thought 'summer dress' with white leather artsy cut-out high heeled sandals- shoes I already own (from my friend's wedding last year).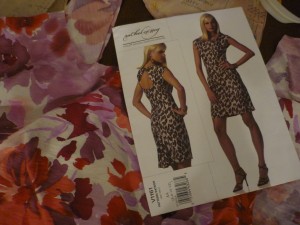 Just to be safe – since I didn't know what pattern I wanted to make, I bought 3 metres. Once I finally decided on Vogue 1161, I realized I would have enough fabric left over to make a skirt too. Since I was so happy with the first version in the border print fabric, I decided to make McCall's 5803 again.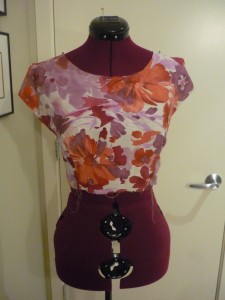 Both styles are cut out now, and I'm tag-teaming the sewing on both projects at once. It's pretty efficient so far, plus I'm sewing and serging with white thread on both. I do as much of the pinning as I can before I need to sew, then as much sewing as I can before I have to press, then all of the pressing at once – and repeat until both projects are done! Does anyone else do this too?
Look how cute the silhouette of the bodice is! So flattering and I've barely started – hope this turns out as well as I imagine it will look!