Speaking of socks yesterday, here is what I'm working on right now…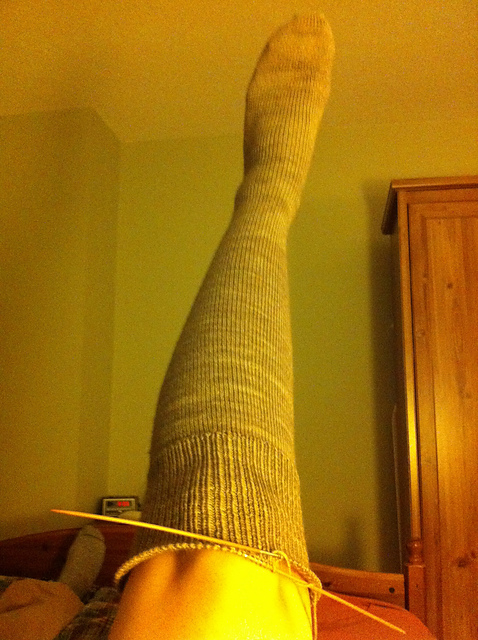 Knee socks! Yes, I'm knitting over-the-knee socks. I started these on December 1st and this is where I am at. The ribbing at the top of the socks is twelve inches of 1×1 ribbing. (In the photo, that's about five inches of ribbing so they are going to be super high and slouchy!)
Non-knitters, you guys might be thinking, how cute! While knitters are likely feeling my pain and boredom of knitting twelve long inches of tiny ribbed stitches. Twenty-four inches if you count both socks!
These socks fit my curvy calves perfectly. I'm knitting the foot size 8, and the calf size F (second largest calf size.) There's no denying that I have muscular calves from all the cycling, and I love them most of the time, except when it comes to buying boots. Even when it comes to buying knee socks, so many of them come as straight tubes, from the ankle to the top cuff. I don't know about you but my legs are not shaped like straight tubes. Being able to customize a sock so it fits my ankle and my calf snugly is wonderful!
The best part? I started both socks at once, so the second sock is close behind. As of today I have eight inches of ribbing on one sock, and three inches on the other. (I bought two sets of the exact same needles, and started both at the same time, knitting like this: one toe, second toe. One foot, second foot. One ankle, second ankle.)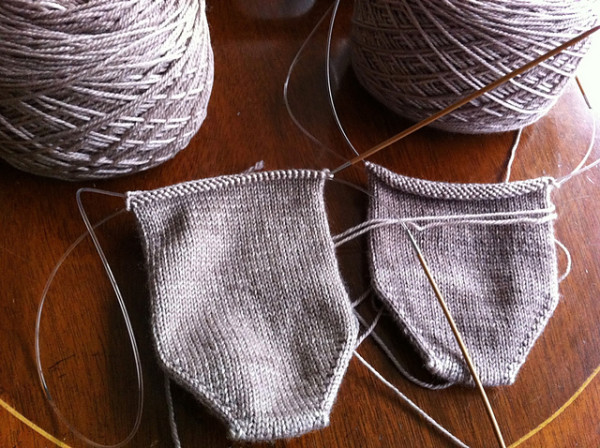 (Colour is more accurate in this photo – tumbled stone by SweetGeorgia)
You might not see these socks completed for another month but I thought I would share them anyways! (Mostly so you could cheer me on about the twelve inches of ribbing and tell me it will be over before I know it.) Ravelry project notes here.
The key to knitting knee socks is to knit them both at once. If I was in the final stretches of the first knee sock and hadn't yet started the second one, I can't imagine how hard it would be to cast on the second sock. It would seem like a monumental task, not to mention I'd be dying to work on something new!
I take these socks with me everywhere and knit ribbing where I go – I knit ribbing in the car (while I am the passenger of course), I knit ribbing on the train, I knit ribbing while my computer is booting up. My next project is going to be completely ribbing-free. (Maybe. That might be hard to do.)
So that is what I am working on in my knitting world!
In my sewing world I am writing (and drawing) the instructions for my next pattern. The instructions are a bit lengthy so it's too early to start talking too much about the new design or you'll be bored by the time it launches!
I'm also trying to squeeze in some dress sewing for fun. I loved this post on the Coletterie about the projects we don't start. Know why I have hardly any UFOs from 2012? Because I was excellent at buying fabric and not so excellent at actually starting the projects in my mind. Sarai's post is about only working on one project at a time, and I admit I frequently work on several things at once, but she does have a point. I am making myself finish these knee socks before working on anything else! (Except when my hands need a break from all that 1×1 ribbing yet still want to keep busy. Other than that, it's one project at a time!)
Have you made knee socks before? How many un-started sewing projects do you have in your sewing room, and are you disciplined enough to work on one project at a time?