Well, that happened really quickly. We're totally sold out of the Renfrew Top pattern!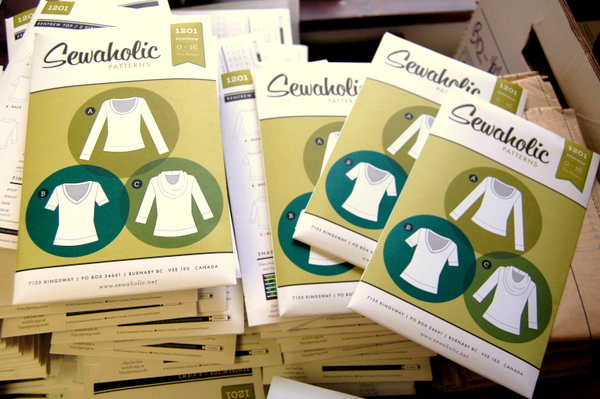 This is both good and bad news. Good news for me, because it's exciting to see them sell so well! Especially since we've been talking a lot about sewing with knits and sewing this exact pattern, sales have been really good on the Renfrew Top. More patterns are in production as we speak, although I thought I would have enough patterns to last until the new stock arrived!
The bad news? I won't have more until approximately November 15th.
I've left them up on the pattern store site with 'Sold Out' so you can't place an order until they're back in stock. (Saves me from having to give you a refund when I'm not able to fill the order, leaving you disappointed.)
But I want a pattern right away!
No problem! Try ordering online from one of the many retailers stocking Sewaholic Patterns. Here's the list. Depending on where you live, this might even be a faster option for you. There are retailers in seven different countries now!
Will you let me know when they're back in stock?
You bet! Just leave a comment below and I'll scoop up your email address to add to the list of people to notify. I estimate the Renfrew Top patterns will be back in stock around the 15th of November, so look for a note from me then!
That's all! I wanted to let you know that the Renfrew patterns would be in stock again shortly, in case you saw the SOLD OUT label and wondered. Let me know if you have any questions, and leave a comment if you'd like to be alerted when they are back in stock and ready to ship!