Do you find yourself focused on making one type of thing at a time? In my knitting world, I'm focused on socks right now. Socks, socks and more socks! I can't get enough socks. It's part of my quest to only wear beautiful, handmade things and have a "closet full of awesome." (Thanks to Tanit-isis for that quote, it's been stuck in my head for a long, long time and something I aspire to with every sewing or knitting project.)
Here are some socks I've finished recently!
Monkey socks.  Probably the most popular sock pattern in the world, with over 15,000 pairs posted on Ravelry. (I think I've been able to share my Ravelry projects publicly so if you aren't on Ravelry you might still be able to click the link and check out the project. I hope it works!)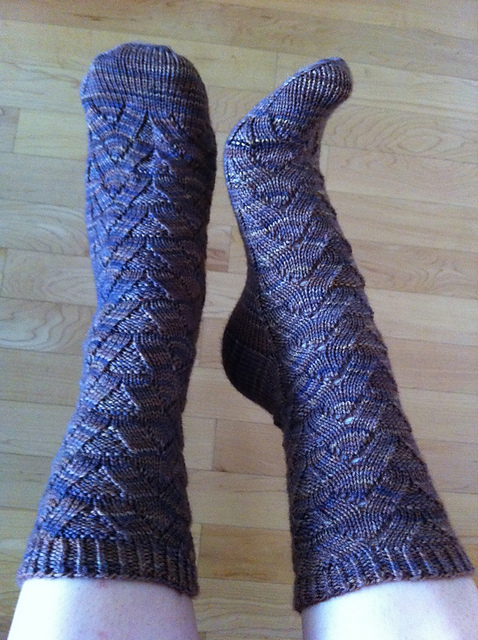 BFF socks again. Made with free yarn from Eat.Sleep.Knit's yarn lotto! You buy yarn online, and in the box they include a scratch ticket where you can win store credit or yarn. Free cashmere and wool socks are always welcome. Here's a link the first pair I made last year, in yellow.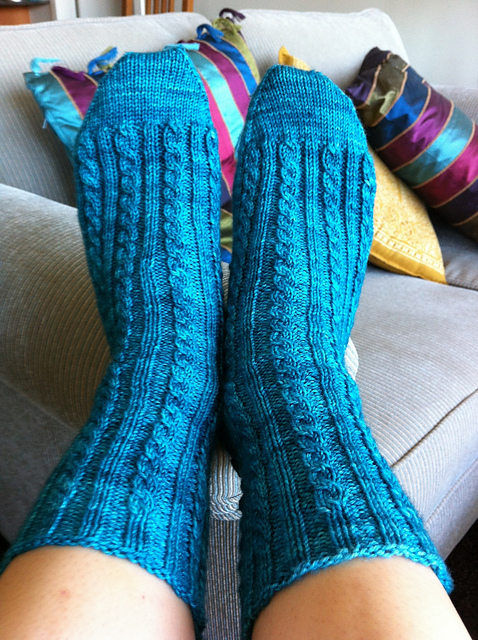 Hermione's socks. (A car salesman once told me I looked like Hermione. Is that a compliment or not?)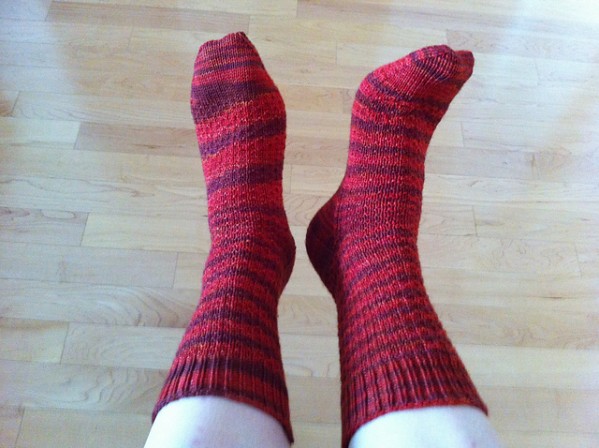 Why knit socks?
Cold feet, of course! My new office is lovely but very cold. As soon as September hit, I could feel the turn in the weather and my feet began to freeze in sockless shoes. I could feel it while riding my bike, but I started switching to my wool socks and it made all the difference. They say if your feet are warm, the rest of you will be warm. (Same goes for cooling off your feet I believe, probably why dipping your feet in a cold pool is so refreshing.) I don't know anywhere where I can buy wool socks in pretty patterns and bright colours, and I love that I can make them fit my feet and legs exactly the way I want.
Wearing gorgeous, hand-knit socks makes me take better care of my feet. Weird, but true! I was knitting the Hermione socks while waiting at the ferry terminal, and when it got time to try them on I was so embarrassed to pull them up over my scratchy heels. (Hey, I get busy and forget to be on top of these things. Don't we all?) As soon as I got home I spent a little time pampering my feet, and try to keep them soft and moisturized so they're deserving of the socks.
As a knitting project, socks are small and easy to take with you. Great for waiting rooms, lineups and other boring occasions where knitting is appropriate.
Knitting and wearing beautiful socks is like wearing gorgeous lingerie. Sure, no one sees it when you're out and about. Sure, you could just buy something cheap from a department or discount store. Sure, making it is not the most economical option. But doesn't it feel so great to know you're wearing something amazing in secret?
Socks are always useful, even if you pick a crazy colour or something that isn't in perfect alignment with your wardrobe. I've been thinking a lot about what clothing I want to wear and what suits my lifestyle and the woman I want to be. A bit heavy, perhaps, but I love how clothing presents an image of ourselves to the world. See me in jeans and a sloppy tee and you might think certain things about me. See me in a pretty dress and cute but sensible flats, probably you'll think something else about who I am. With socks, no matter what, they'll keep me warm and work wonderfully in my winter boots. Even if they're orange striped!
Next up, knee socks. I'm thinking either the German Stockings from the Knit.Sock.Love book or perhaps the Delicious Knee Socks. Have you made either of these? (Is knitting knee-length socks the most tedious thing in the world as I suspect it might be?)
In other knitting news, I attended Knit City here in Vancouver last weekend – very exciting! I met Jane Richmond, the designer of the striped hats I've made for Mr Sewaholic and my green hat here and my yellow hat here. I also bought her new book and got her to sign it! (I may have started one of the projects from the book the very night I got it, too…)
I've also just finished a very detailed, very beautiful cardigan that's nearly complete except for buttons.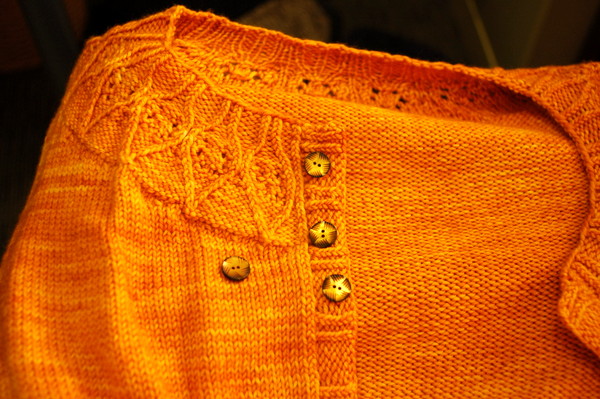 Thanks for listening to me share my knitting excitement here. I know this is meant to be mostly a sewing blog but it's all part of the world of making stuff and developing new skills. And of course, being able to make beautiful, one-of-a-kind clothing that's a joy to wear!
Have a lovely weekend, everyone!