Remember this white dress? Probably not, as it was back in March, but I thought I'd post about this little piece of unfinished business, just to wrap up a loose end.
There are many conflicted views on posting works in progress, unfinished projects, or total failure projects. On one hand, it's nice to know we're all human and nobody turns out ONLY perfect things. Certainly not me – hello Beach Hat!
On the other, talking about potential projects can sometimes doom them to failure! Or at least, it's a good excuse as to why things fail. Some people never talk about the things they're going to make, just in case they bomb.
So anyways, here's the original inspiration photo:
And here's how the dress turned out: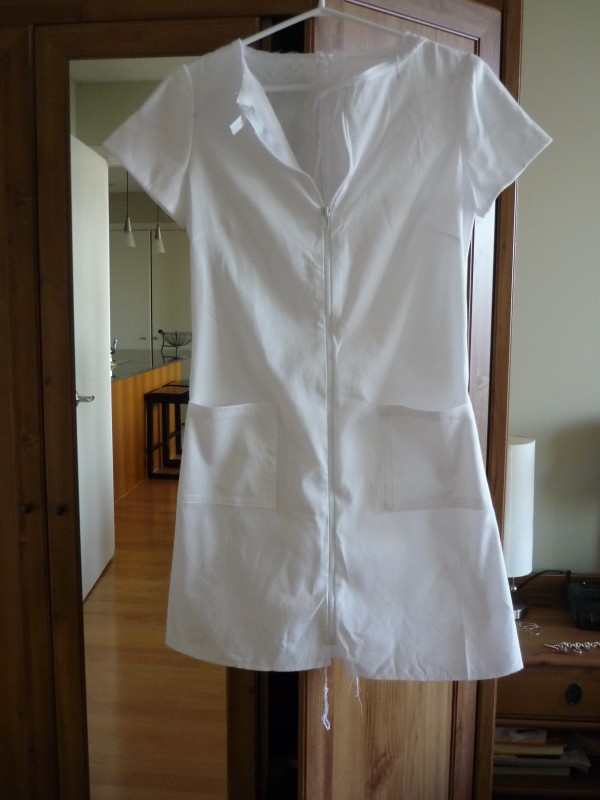 This is a lesson that not everything turns out like it should. This dress should have been totally cute, just like the model in the professional photograph! Sadly, my work-in-progress reminds me of a nurse uniform, and not in a sexy way.
What my half-finished dress really reminds me of is the white dresses they used to wear at Safeway. I actually wore the white old-school dress when I worked at Safeway, because I thought it was cooler than black pants and a polo shirt. You know, the thick polyester 70's style dresses with red piping along the seamline? I even got a set of the red flared polyester pants and the tunic-style version of the dress. (Which totally made me cooler than the other clerks in their polo shirts, right?) So unfortunate there are no photos of that time in my life.
Anyways… I was originally too embarrassed to even post a picture of this sad half-dress, but figured you would be curious.
What's your theory on writing about works-in-progress? Do you post about planned projects and half-finished projects, or not? And if not, is it because you think it's not that interesting, or because you're afraid of 'cursing' the finished project? I'd love to hear your thoughts!