A new sweater!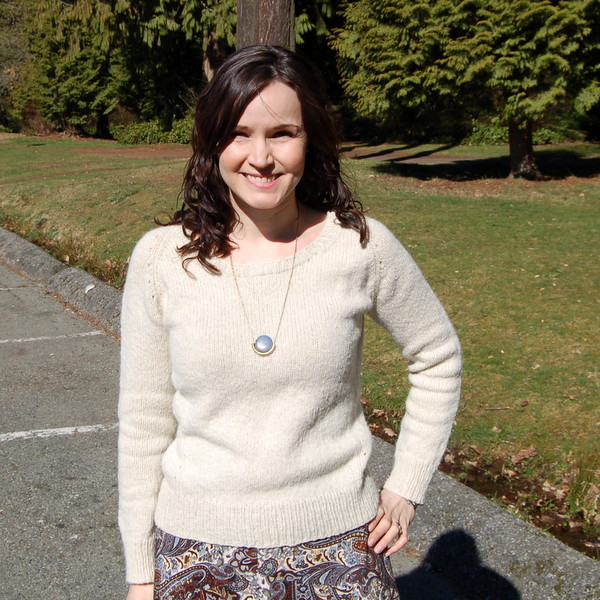 This is the sweater you can barely see in the photos of my Quilted Hollyburn Skirt.
Pattern is Beeline, Ravelry notes here. Since making the Blank Canvas with a slightly roomier fit, I've been gravitating towards comfortable, relaxed fit sweaters. I would have ignored this pattern before in favour of a slim fit, but now I want the wide scoop neck and loose fit. I've been on a wide neckline kick for a while and love the idea of a warm sweater that still shows a little neck and skin!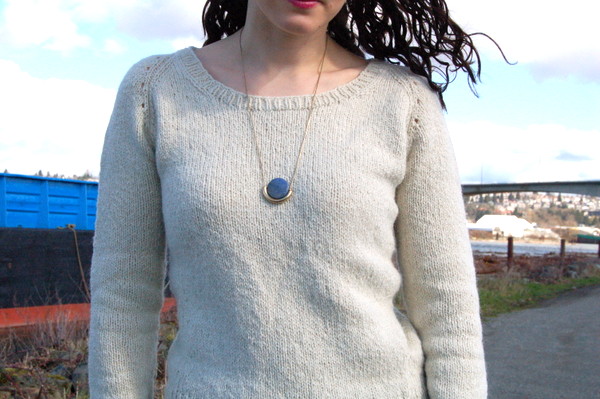 Yarn is Owl, from Quince and Co. The colour is Snowy, that's where my rather uncreative name for this sweater comes from. I've wanted a basic cream sweater for so long, but tend to buy bright colours of yarn and knit colourful sweaters. This is going to be the most wearable sweater I've ever made!
I'm wearing it with the Gabriola Skirt, a great way to bring this skirt into Fall or Spring. Just add a denim jacket and boots.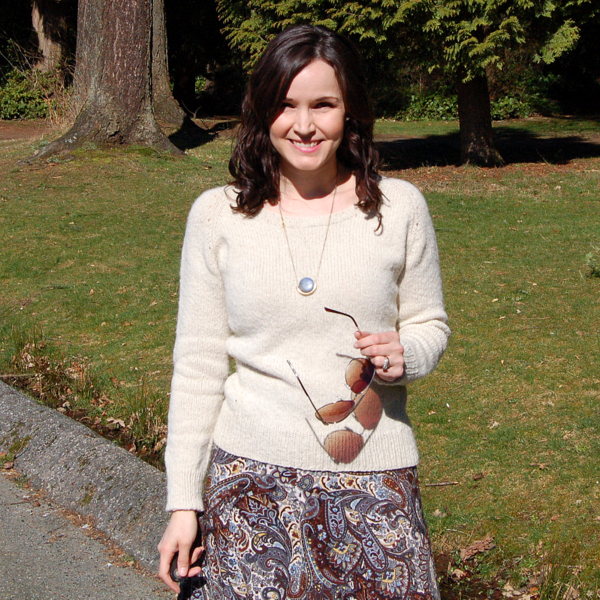 Here's the back view. You can see there's plenty of room through the back, it's a little creased from sitting in a chair. I wonder if there is a bit too much room in the back now that I see these photos.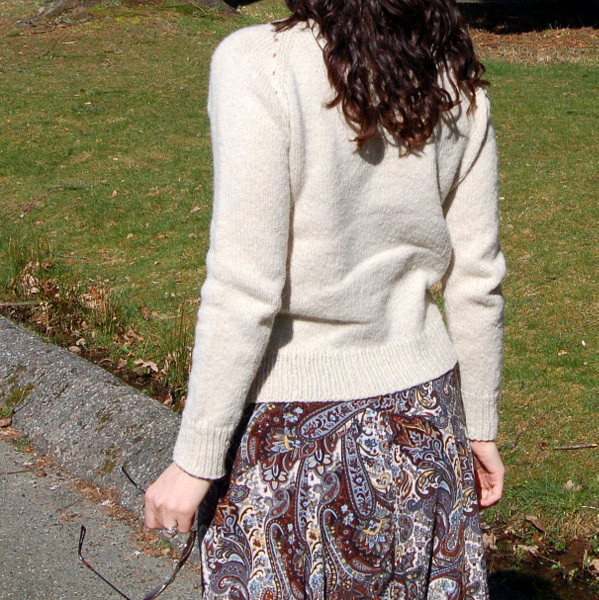 This will be perfect with my yarn-felted Hollyburn Skirt, worn over the Simplicity 8498 dress, pretty much any skirt or dress. Even my favourite Twin Spruce Dress! Also great with olive cotton pants or jeans. An ivory sweater is such a great 'cake' piece.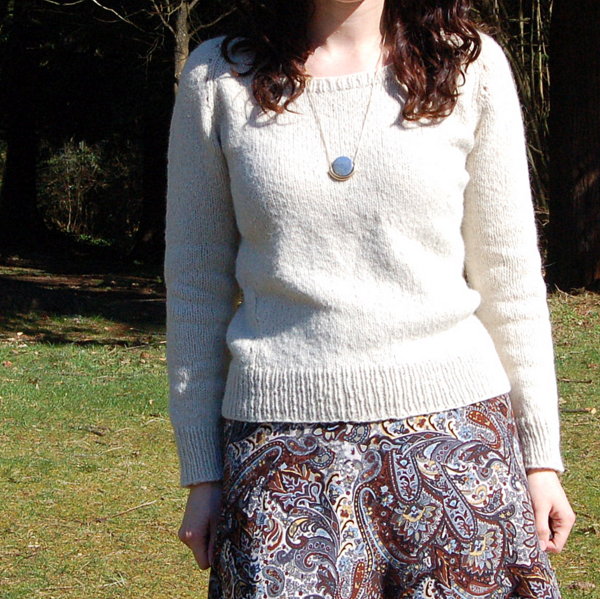 Here are some shots of the sweater lying flat: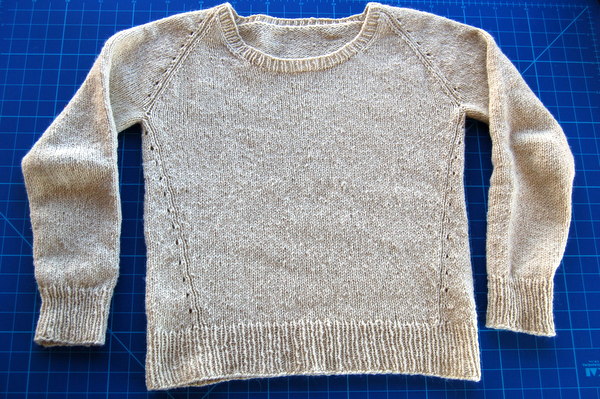 It tapers very slightly from bust to hip. In the pattern, you have the option to taper it or knit it completely straight. There is no shaping to bring the sweater in at the waistline.
The eyelet and seam detail wraps from the side to the front. (You can see it on the body in the photo below. It's simple but interesting!)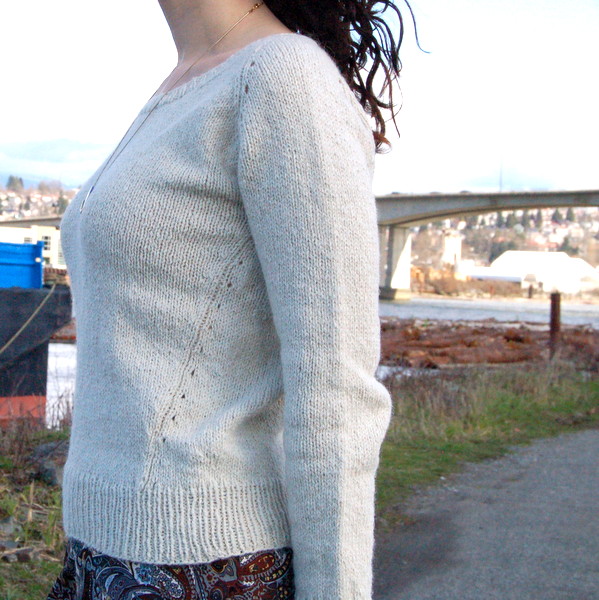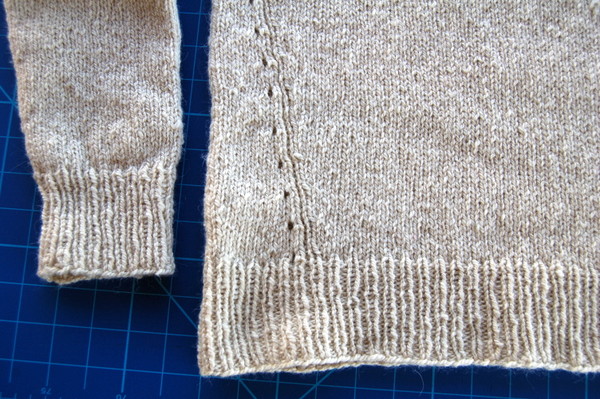 The yarn is a little bit fuzzy and fluffy, I've tried to capture the effect in the photo below. This was my first sweater knit with this yarn and I really liked working with it. It feels similar to Brooklyn Tweed Shelter in that it's rustic and woolen-spun, but not as light and seems just a little bit stronger.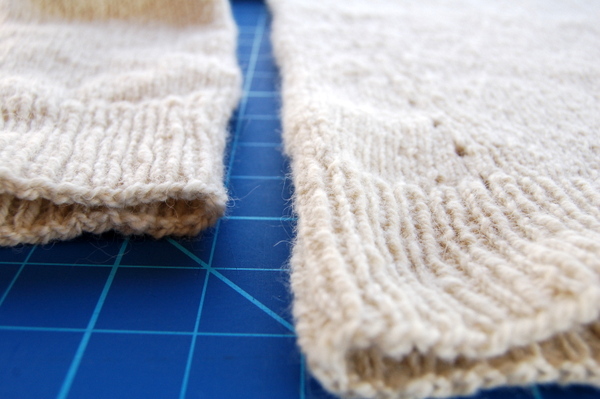 I took photos in a bunch of different locations as I drove around doing errands. Some of the ones that didn't work out in colour looked pretty cool in sepia. (Or I think so anyways.)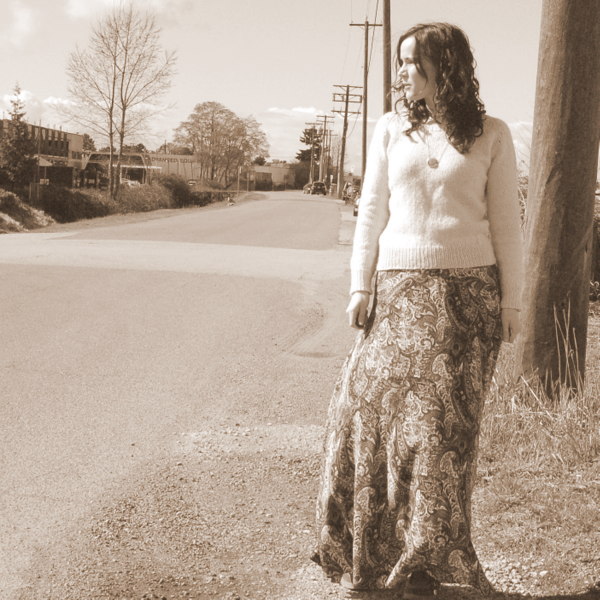 Personally, I think everyone looks nice in black and white or sepia!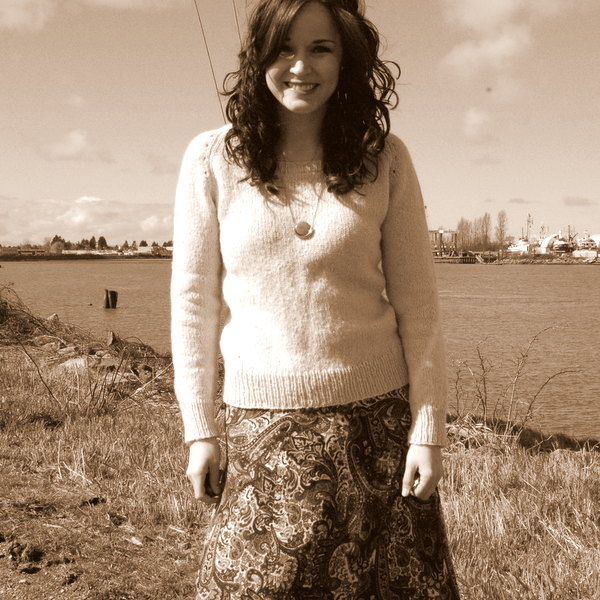 So moody.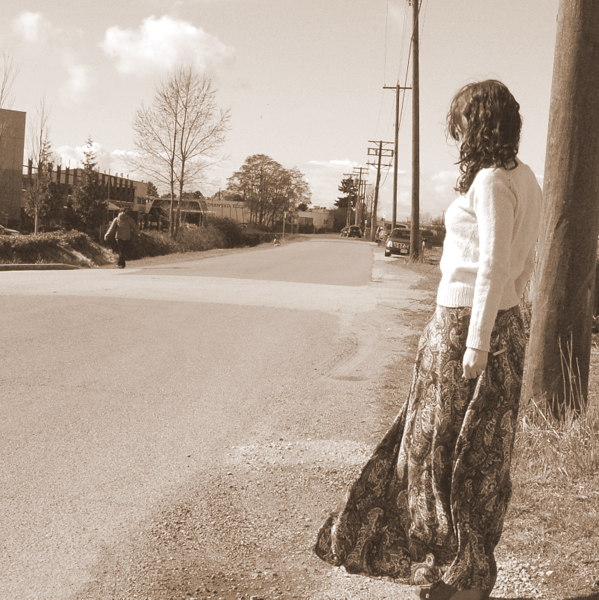 I enjoyed knitting this sweater and I like everything about it: the creamy ivory colour that will go with everything, the wide neckline, the subtle seam detailing. I think it could be a little more fitted through the back if I were to make it again, but I don't want to lose the overall relaxed feel by making it too fitted. Overall, it's a winner!