Hey, everyone! Thought you might get a bit of a laugh at the fortune in my fortune cookie: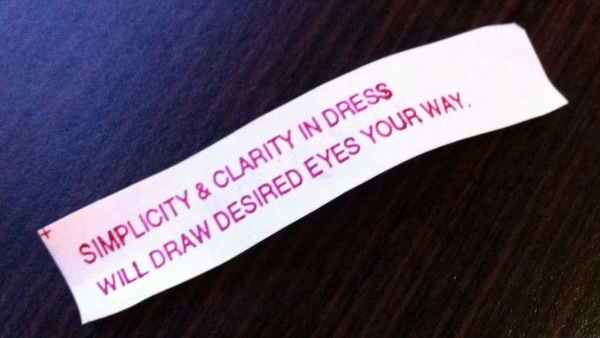 Even fortune cookies somehow know that I sew too much frosting and not enough cake! How appropriate. (I think I love opening fortune cookies more than I like eating them. What it is about a message on a tiny piece of paper that's so appealing?)
Speaking of that blog post, I realized after reading all of the comments on the Frosting and Cake post that not everyone aspires to sew an entire wardrobe. Plenty of you are perfectly happy sewing what pleases you, be it fancy dresses or pretty tops. You don't worry about sewing an equal amount of basics, because you'll just buy those. I forget that not everyone is as sewing-obsessed as me. Or perhaps you love sewing just as much, but you're more realistic about how much time you have to sew, and you want it to be fun!
And while we're talking about sewing and patterns, my next pattern is in the works! We've just finished pattern testing. I saw plenty of beautiful versions of the new design all sewn up and I think you're going to like it. I can't wait to share it with you! It's perfect for summer sewing and carries well into the fall. And it has pockets. That's all I'm going to say for now!
A quick reminder to sign up for the Sewaholic Patterns mailing list for all kinds of good stuff: special deals, sales, and new pattern alerts. Pre-sales, too! Your email address stays top-secret but you stay in the know. Mailing list members hear everything first!
Have a great day, everyone!