It's probably no longer sweater weather in many parts of the world, but here we'll be wearing sweaters just a little while longer. Which is great as I knit a new favourite sweater!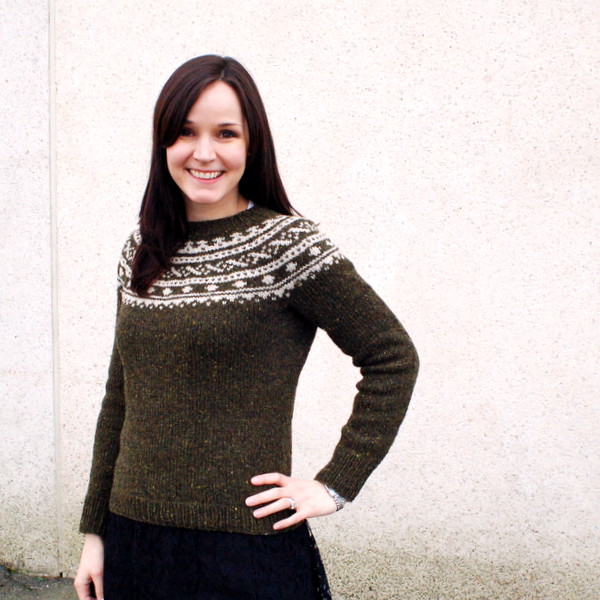 I probably say that a lot, every time I finish something that I like, but this is definitely up there with the favourites! I'm really happy with the fit, the colour, the style, the yarn choice.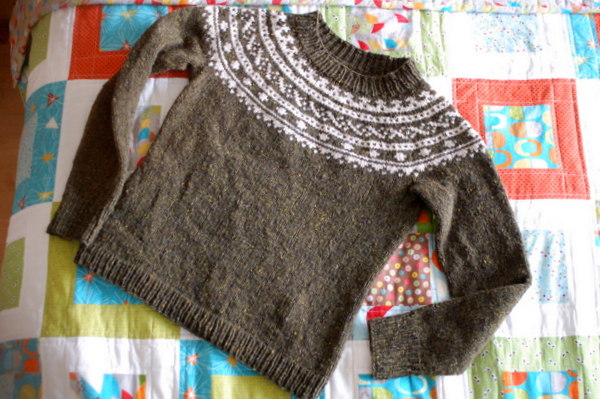 Isn't this a lovely design? Ravelry notes here. The pattern is Sundottir, from Brooklyn Tweed's Wool People, and the yarn is Brooklyn Tweed Shelter, my favourite! I bought the yarn in Portland Oregon, at Knit Purl, one of the select stores that carries Shelter yarn. Such a nice store, they even offered to ship my yarn purchases home for me if I couldn't fit it in my suitcase.
The colour is Artifact, a gorgeous olive-y green with flecks of greeny-yellow and cobalt blue. It's beautiful and rustic, and smells wonderfully wooly.
Here's a close-up of the yarn to show off the tweedy effect and the hints of yellow and blue. Gorgeous!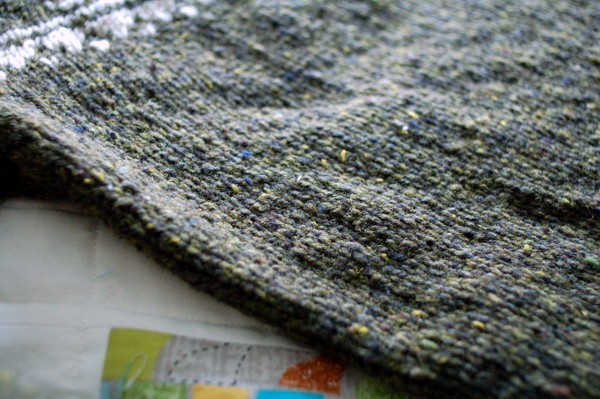 Here's an interview with the designer of this sweater which was neat to read. I like to know the thinking and planning behind a design, but the information isn't always available. Did you know the designer is also a bike commuter? I feel even more connected to this sweater design now!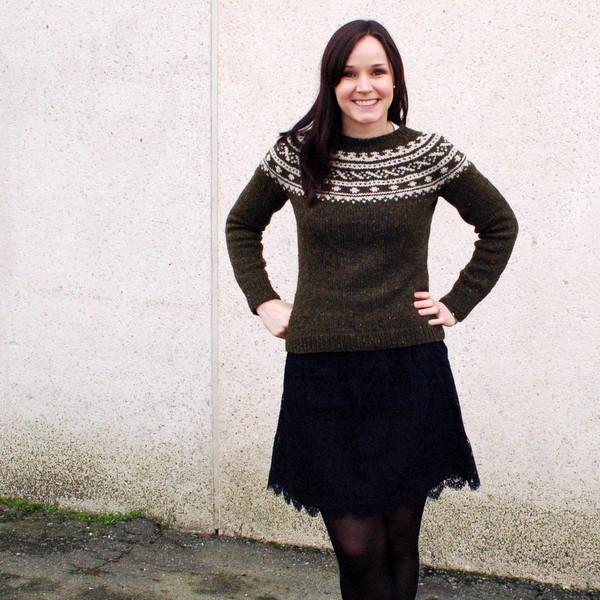 This is a great flattering style on figures with curvy hips, because the round yoke lines draw an arc around the shoulders, bringing the eye up and widening the shoulders. I'm reading a book on designing sweaters and the author recommends yoked styles for pear-shapes, so it's not just my suggestion!
This is one of the first sweaters I've knit where the sleeves are not snug against my arms, which I like. It's probably because I checked my gauge as I knit, and adjusted to larger needles so my gauge would match the pattern. (Novel concept, I know! Following directions gives a better result, I'm learning to go slower and check my work as I go.)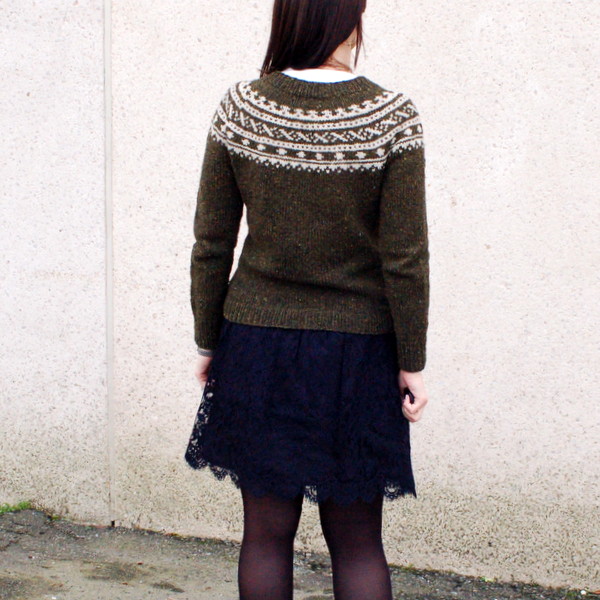 I did make the sleeves longer, because I have a thing about too-short sleeves. I like them to cover my wrists. I'd much rather have to cuff them than have them too short! The good thing about having a few handknit sweaters completed is that I could measure them and find which sleeve lengths were most comfortable, and use that measurement to knit these. That same technique works for most projects –check your favourite skirt length, blouse back length, sleeve length to make sure your project is going to meet your preferences.
However, the sleeves are still just a little bit short for my liking! They're fine, not noticeably short, but I'd love an extra half-inch of length.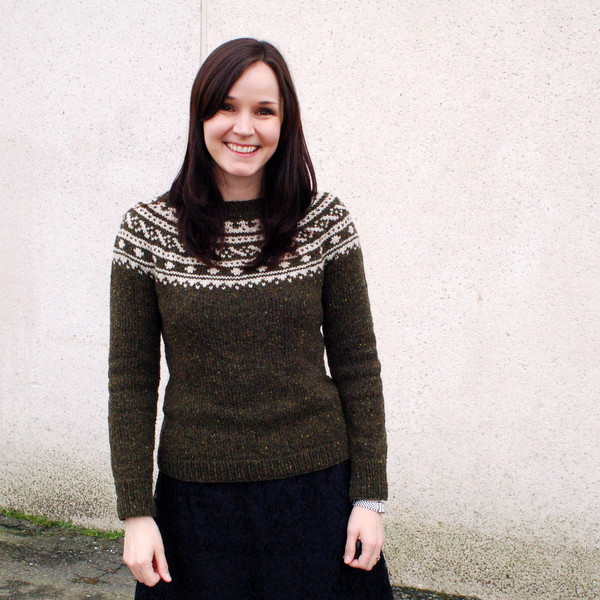 I didn't try on the sweater until the final rows, just before knitting the neck ribbing. And I was thrilled to find that it fit well and it was incredibly flattering. Success! (Success and relief, too. It's great when it works out like that, not so great when you try it on at the end and the fit is all off…)
The fit is slightly loose through the body, but comfortable. I'm aiming to have more ease in my sweaters these days, so they have that throw-on-and-go appeal. Easy, relaxed, warm. That's what I'm drawn to, more so than fitted knits.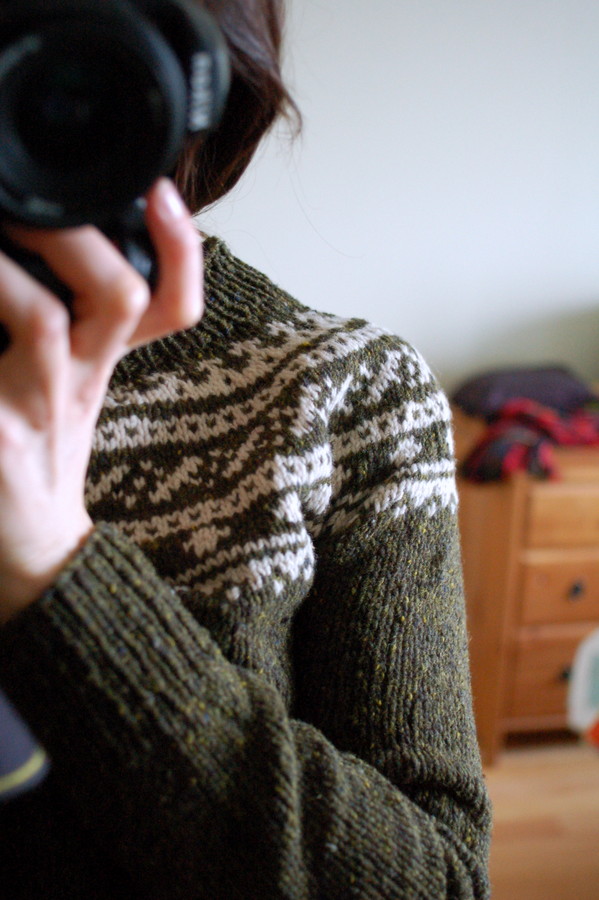 It contrasts nicely with this little lace skirt and ankle boots. The sweater is rustic, the skirt is a little dressy. (I admit this skirt was styled on a mannequin with a lightweight tweedy pullover, so I planned to wear it with handknit sweaters!)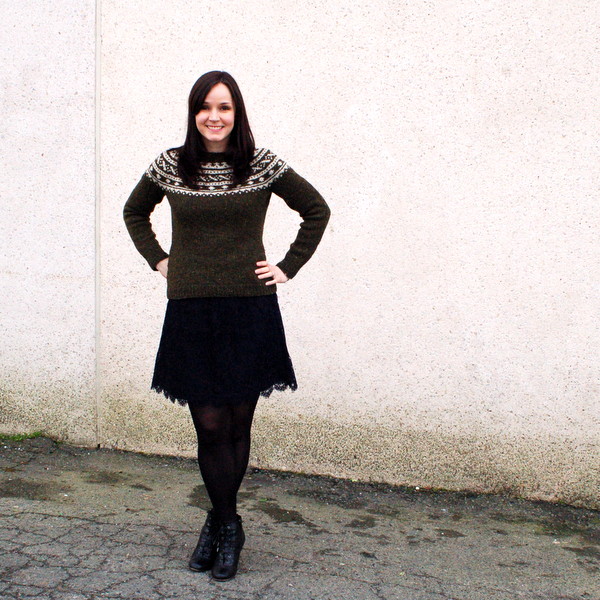 The yoke pattern incorporates rows of stripes, so it knits up quite quickly! Stripes are faster to knit than stopping to alternate colours. (For me, anyways.)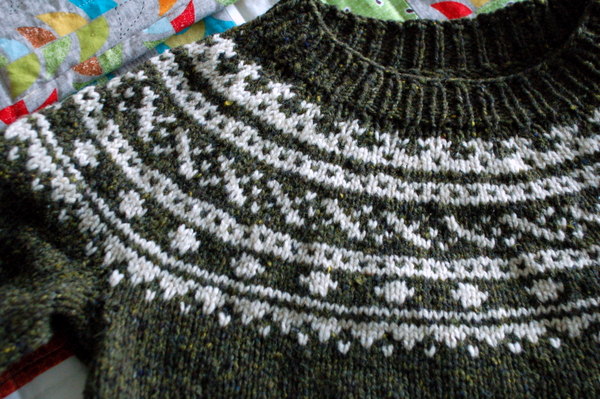 Here's the inside of the colourwork section. If you think about it, there's almost twice as much yarn used in the colourwork yoke, so it will be extra warm around the shoulders! Smart.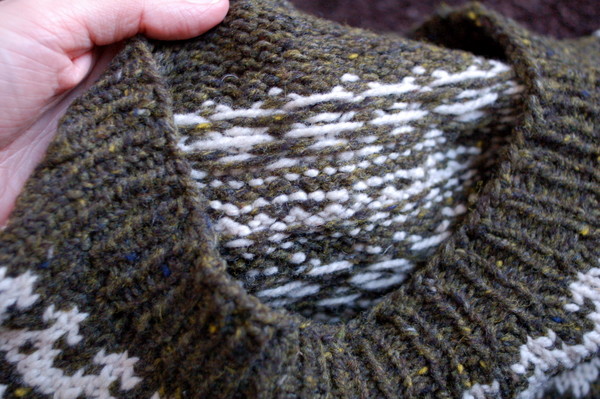 I couldn't wait to wear this sweater. I love the two-colour fair isle pattern, it's simple to knit. Plus, it's easy to tell if the colours will work nicely together when there's just two. A grey and white combo would be nice, too. What colours would you make this sweater in?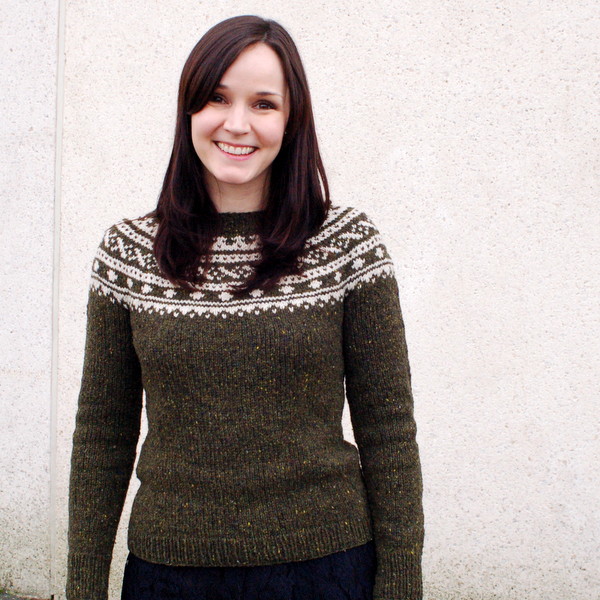 ps. Outdoor photos taken by Corinne – it's ten times faster to have someone else take photos, rather than fussing with the remote and tripod! Thanks Corinne!
pps. This sweater pattern was originally called Skydottir, but the name was changed to Sundottir because of legal reasons, says the pattern page on Ravelry. Just in case you notice other people have made this same sweater with a different name.