I had to include that in the title, because that's the most compelling thing about CustomFit. The size is yours. Not a standardized range, which I understand because I make patterns in a standardized range myself, but a custom-fit-to-ME size.
Let me back up! I'm talking about CustomFit, Amy Herzog's computer software that will take your measurements, your swatch dimensions, and generate a sweater to fit you exactly. I've tried it, finished up the sweater, and thought I'd talk about the experience. (Now that it's sweater weather again and it's more relevant.)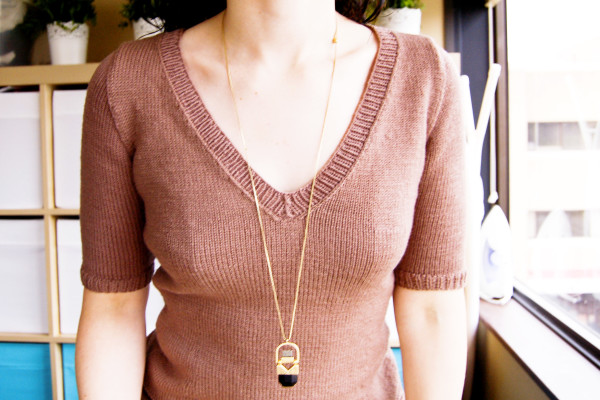 I believe with making clothing, whether it's knitting or sewing, there are two different areas to learn: construction, and fitting. You can sew a straight seam or tailor a jacket, but if you can't fit your garments to the wearer, you've only learned half the skill. Same with knitting. I've learned to construct sweaters, but haven't experimented with adjusting them to my shape or to suit my style preferences. I've really just been following patterns as written.
Recently I'd reached the try-on stage of a sweater I was making, after weeks of knitting, only to find it horribly unflattering with a weird fit in the shoulders. Part of me wanted to keep going, since I'd already spent so much time on it, but I knew it wasn't ever going to be as cute as the vision in my head. And if it didn't look good on me, I'd never wear it. So I ripped the whole thing out. It was beautiful yarn in my favourite shade of green-blue, I wanted to have a wearable sweater at the end of it all!
That pretty teal yarn was the motivation I needed to take my knitting to the next level and learn how to fit sweaters. I've taken Knit to Flatter on Craftsy. I'm reading Sweater Design in Plain English. And then, I discovered CustomFit! What a great idea. Of course I had to try it. I wanted to see how the program worked, and if it would really make me a perfect sweater pattern based on my measurements and my knitting gauge.
The program is super cool. First, you measure yourself. Easy!
Then you knit a swatch. This is the first step that's different than knitting from a regular pattern, you knit a swatch to get a handknit fabric you like, instead of trying to match your rows and stitches to the designer's gauge. I've knit sweaters at loose gauges and do not like the feel. I prefer dense and springy. So I change needle sizes to smaller needles, until I like the tightness of the knit fabric.
Only when you have both your measurements AND the swatch do you get to design your sweater! (I wish you got to start the design process right away, but I get that you need the swatch info for it to be useful.)
This part is super fun. You get to pick your neckline, your sleeve length, your preferred fit (fitted, average, or loose.) You get to specify your V-neck depth. As you choose your options, the drawing changes so you can see what it might look like in a finished sweater.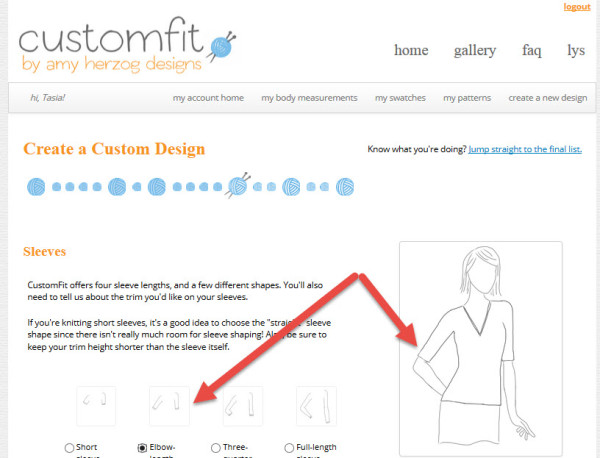 And then, you hit 'go' and pay for your pattern! It's $9.99 per pattern, which is a pretty sweet deal to have a pattern custom-fit to my measurements. (Note: There are other payment options now including subscription memberships, but when I was working on this one there was only the per-pattern pricing option.)
So this is the opposite type of knitting that's popular right now, which is in-the-round and usually top-down. CustomFit is for sweaters knit in pieces, but during a conversation at knit night with a proficient sweater knitter, she mentioned how seamed sweaters are stronger and hold their shape better because of the seams. That seems logical from a sewing perspective, doesn't it? Seams add structure.
Here is my very first CustomFit sweater, and it certainly won't be my last! (Ravelry notes here.) I took some photos when I first made this sweater but I'd picked the wrong choices in bra, skirt and tights, so I took a few more shots with a better outfit.
Front view: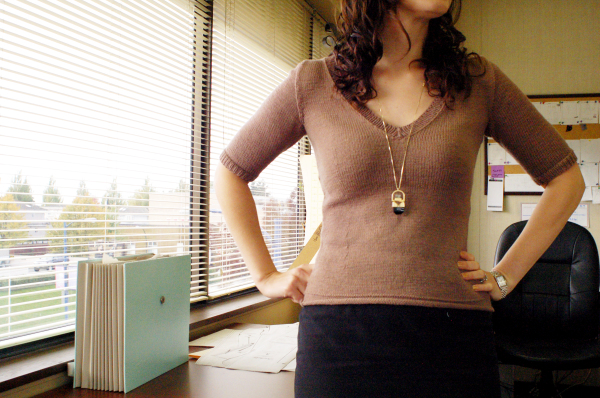 Back view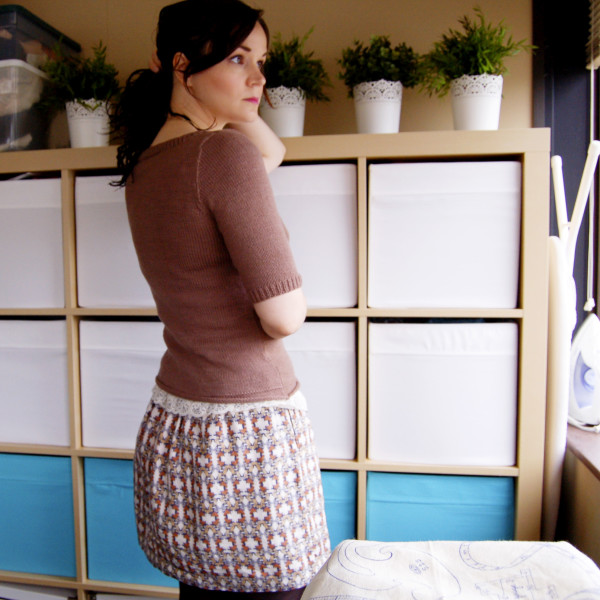 Side view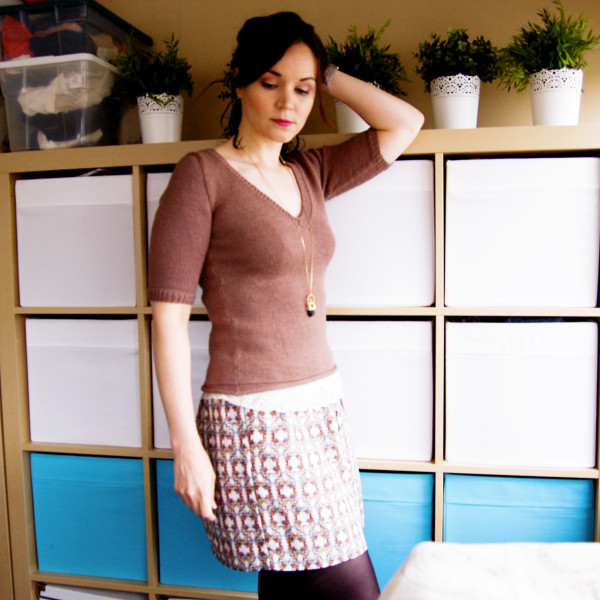 V neck view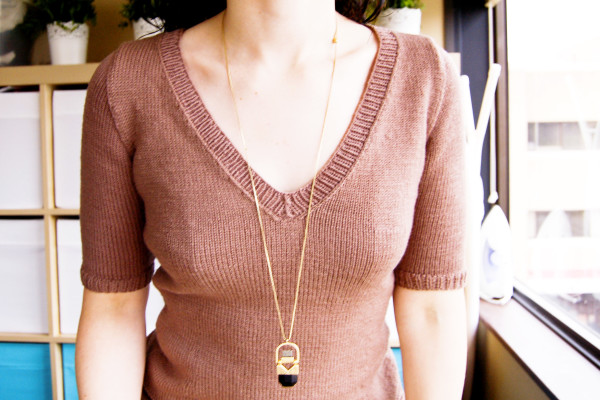 There are not very many patterns for V-neck sweaters. It's wonderful to be able to 'design' my own! This is exactly I want my sweaters to look like. V-neck, flattering fit, 3/4 or elbow-length sleeves.
The only complaint about my design & fit choices would be the length, it does seem just a little bit shorter than I want. Also, I'll stick with ribbing next time. I chose a folded hem to make it flatter and less bulky, but the double layer of knit fabric was going to be thick and bulky so I left it unhemmed and let the edge roll. Because there is no rib to 'grab' on to the hips, the sweater slides up a little. Next time, I'll choose ribbing at bottom.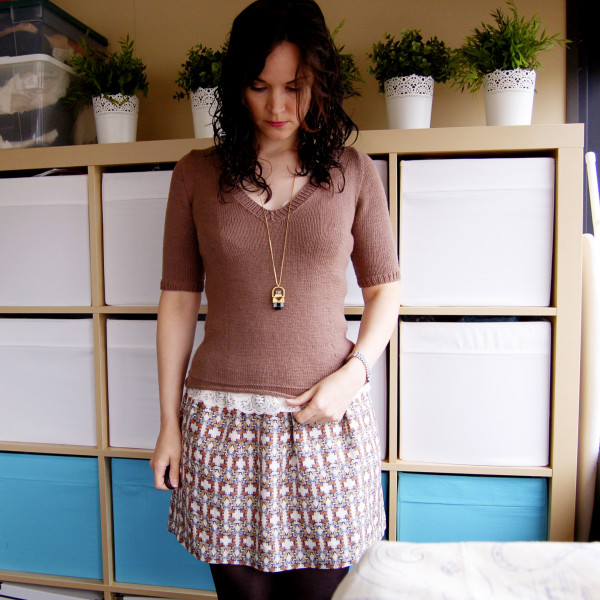 It looks just a little bit lumpy below the waist as I'm wearing tights and a gathered skirt. If I wore it with pants, where there's nothing under the sweater hem, it would probably look smoother. Also, you can see the seams from my bra through the knit fabric. It might be better with a seamless bra, or I could just decide not to care about bra seamlines showing through.
It's much better with a seamless bra.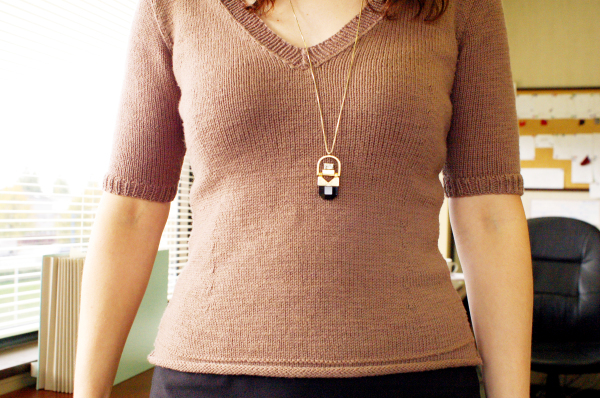 My only complaints about the pattern itself were the brief directions. I did have to look up a lot of things, like how to decrease at the point of the V-neck, and I'm not totally happy with mine. Other people's V-points look nicer. I also took the Craftsy class on seaming handknits, so that helped with sewing up the sweater pieces.
I picked the following design choices:
Close fit
Style: pullover
Length: High-hip length
Sleeves: Elbow-length sleeve
Neck style: Vee neck
Neck depth: 10"/25.5 cm Below shoulders
Finishing:
Hem edging and height: Folded hem, 1¼"/3 cm
Sleeve edging and height: 1×1 rib, ¾"/2 cm
Neck edging and height: 1×1 rib, ¾"/2 cm
The fit of this sweater is slimmer and more shapely than some of my recent projects.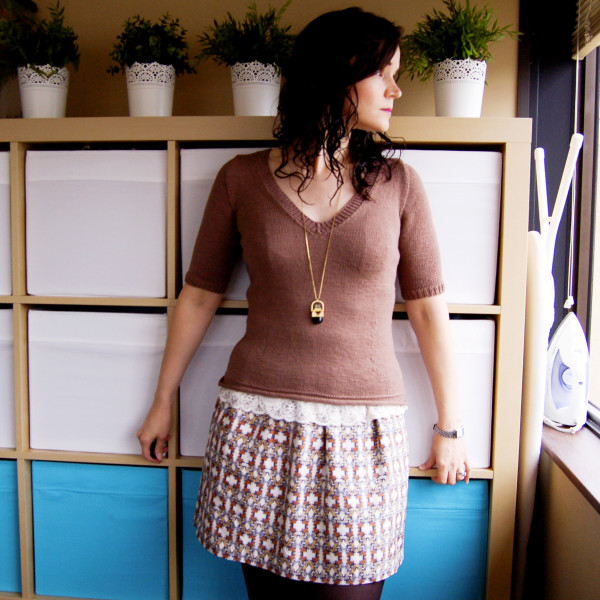 The elbow-length sleeves are recommended for bottom-heavy figures, to draw attention to the waistline. Full-length sleeves widen the hips. (Which is sort of a weird choice to make – look slimmer, but have cold forearms?)
Compare that to my tenty Antrorse and Beeline Pullovers: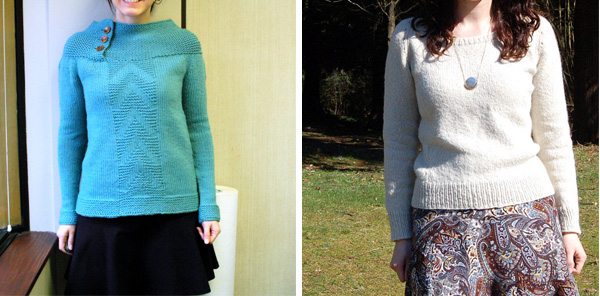 In general, even if I am shapely underneath the sweater, if I wear a loose-fit sweater I sort of look like a box. And you can see the long-sleeve effect drawing your eye to the hem and hips.
And the biggest improvement is through the back. There's less extra fabric at the lower back for a slimmer fit.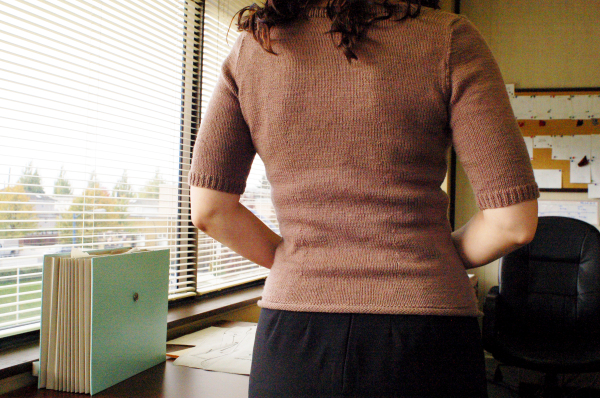 There's a few wrinkles but a fitted sweater is not going to lie completely flat unless you smooth it out every time you turn around. Compare that to a standard-fitting sweater back: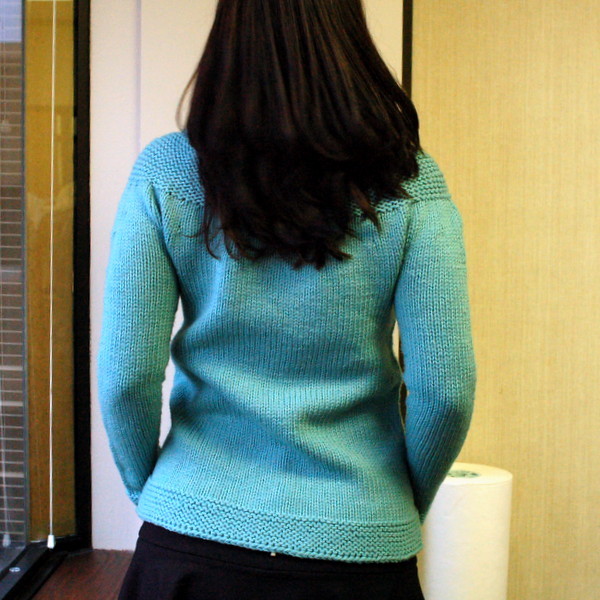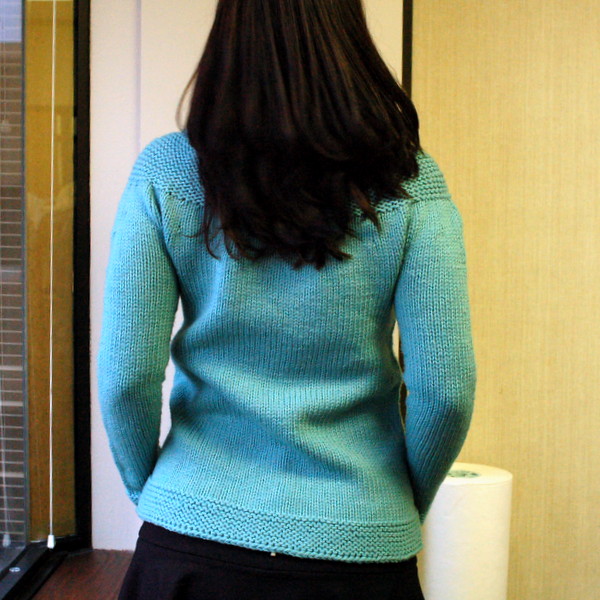 I think this sweater is a teeny bit snug, but I did choose 'close fit.' Choosing an average or relaxed fit would eliminate those slight bumps where the knit fabric is clinging to my hips and riding up a little bit. (Fabric always wants to slip into the narrowest part of your body, and in this case the lower portion wants to slip into my waistline and avoid being stretched over my hips!)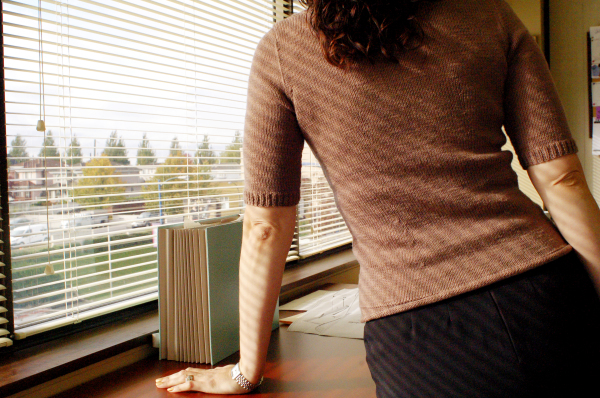 The marketing around this program is brilliant, and I love the idea of making custom fitted garments. I'll gladly pay $9 not to have to do knitting math.
Using the CustomFit program forced me to work on this sweater and only this sweater, because if it worked, I certainly wanted to make all of my sweaters the CustomFit way. And I had to finish one to know if it worked and if there were any measurement changes I wanted to make for #2.
Next up, another custom fit! I started writing this post months ago, so I've actually knit several sweaters using this program by now. My second one was Harrogate, using a CustomFit template with the styling of the Harrogate pattern. That's the other neat thing about the CustomFit system, you can use 'recipes' for the design elements and combine them with a custom fitted pattern for the design you like, but fitted to your body.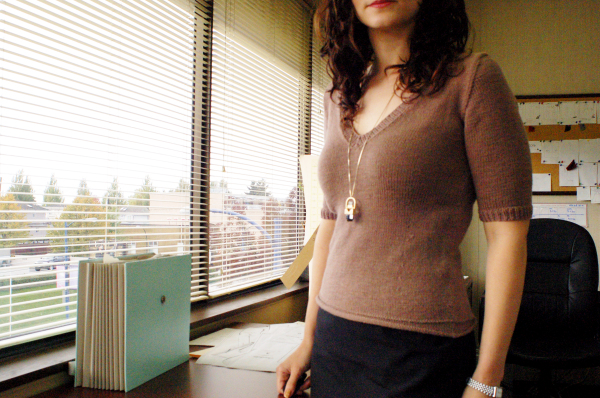 It's true that if you are good at sweater math, you probably don't need CustomFit. For me, I'd rather have Amy's program do the work for me so I can spend my time knitting.The other thing that I've found is that it's inspiring me to try new things with my knitting. I can try out different stitch patterns, and if I like them, generate a sweater pattern using that stitch. I can knit the most flattering styles for me instead of only choosing from available designs. I am looking at ready-to-wear sweaters and envisioning how they might translate to hand-knitting. I've always dreamed of designing my own sweaters but thought it would take a lot to learn how. This way I can 'design' my own sweaters, selecting the style and colour and pattern, but have someone else do the math for me!
Also, I admire what she's doing and want to support that. If this does well, who knows what other sweater-knitting inventions she might come up with?!
Have you tried CustomFit? What do you think of the fit on the sweaters made from the program? How do you feel about seamed vs. in-the-round sweaters?
ps. This is the knitting program Corinne mentioned in her podcast with Lauren from Lladybird here, I think I am the 'friend' mentioned who used it and loved it!