Hey, everyone! Finally, I've picked up the pieces of my Striped Renfrew Top and started to sew. And yet before I even started sewing, I thought of something to write about!
When you're sewing a striped fabric, especially one with a strong contrast between the colours, what colour thread do you use?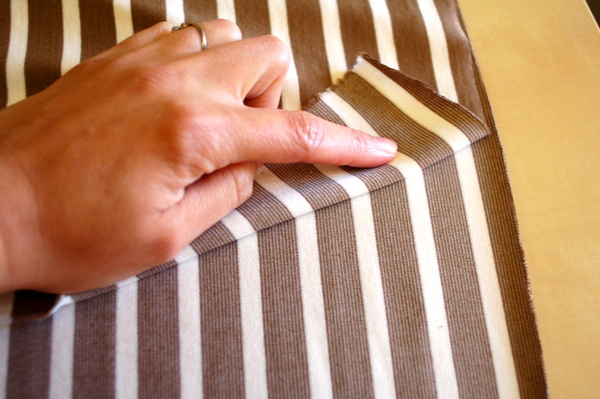 For this taupe and cream, I can choose either taupe, or cream. (Seems obvious, right?) But there are some things to consider when picking your thread colour. Weigh your options, consider all of the factors below and then make a decision!
Some factors to consider:
What colour is dominant? Are there fat black stripes and skinny white stripes? In that case I'd pick black. In my fabric, the taupe stripes are wider than the white ones, so it would be logical to choose taupe as the thread colour.
What colour are you serging, if you're planning to serge as well? I'm planning to serge in cream or off-white, so it will coordinate better with the serging if I choose cream thread.
What does the fabric look like from the inside? Some fabrics are bright and printed on the outside, but all-white on the inside. Perhaps you might want to use white thread then.
Is there any topstitching? If so, what colour do you want the topstitching to be? If there is no topstitching, the colour of your thread is less important as it's just going to be visible from the inside, maybe a little at the seams if they pull apart.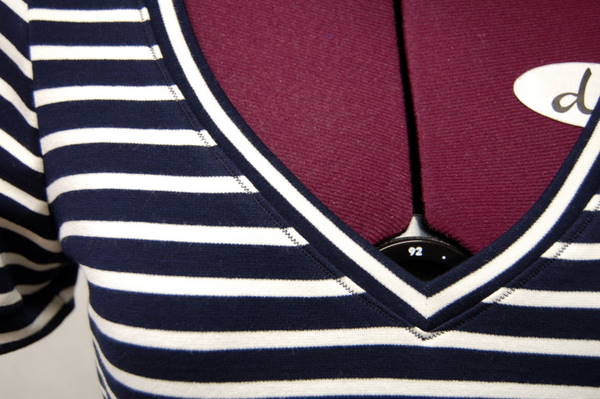 (from memory I thought the topstitching on this shirt was cream, but it's actually navy!)
Do you want to switch between thread colours? Perhaps there's a wide black stripe at the hem but you were planning to use white thread. It might look better if you switched to black thread just at that one spot.
Can you find a good colour match in thread? For my taupe and white striped fabric, I can easily match the cream colour, but it was hard to find just the right taupe. So I'm going to go with the cream thread, because I would rather have matching cream than slightly-off taupe visible for the topstitching.
I know, that seems like a lot of thinking about something as simple as thread colour! I'm an analytical person and I think like this all the time, weighing my options, figuring out the best way to approach something before starting. The more planning at the front end (before starting sewing) the faster the sewing process goes!
Here are more blog posts about the Renfrew Top. (Get the pattern here.)
That is a lot of posts already! I won't cover everything in the making of the striped version, just the things that make it different from the solid, cowl neck version.
How do you choose thread colour when your fabric is striped or heavily contrasted? What factors are most important to you?