After thinking about Fall sewing, and hearing about everyone's fall sewing plans, I had a crazy thought. What if instead of sewing for fall as the fall weather approaches, we started sewing for spring instead? I figure I'm never going to be early for Fall while it's still summer, so if I start sewing for Spring now, think how prepared I'd be!
Would you rather sew in advance for the upcoming season, sew during the season so you remember what it's like to need warmer (or cooler) clothing, or sew completely off-season so you're not rushed?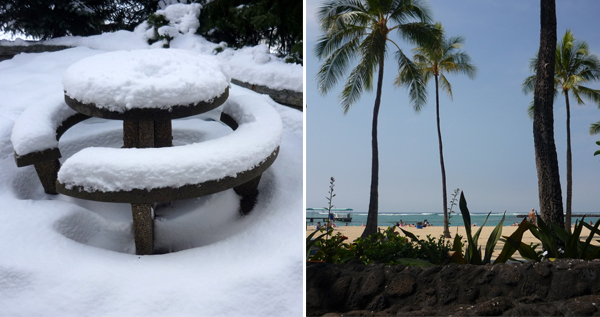 Here's what prompted this post – I accidentally clicked the 'You may also like' links at the bottom of each posts while I was editing a blog post, and ended up on this one. This is what I'd written:
I'm making up Simplicity 3965 first, I love – well, the simplicity of this dress. And because I don't have a purpose to wear it, and it's getting cold and gloomy out, I'm not rushing to the finish line just to be able to wear it. I'm going to take my time and perfect the fit, and sew it with extra love and care.
Ever read your own words and think 'I wrote that?' I actually think this is a great idea. I learned to knit over the summer, when there's no need for wooly knitted things. And therefore, I wasn't in a rush to wear any of the things I was working on, so I could sit back and relax and just enjoy making them! The dress I was talking about back then was the Twin Spruce Dress, which I made slowly and carefully, and then wore happily all spring and summer long.
I also made the Picnic Dress in late fall, and when it came time for summer wedding season, I had a great dress all ready to wear, no rushing to sew something last-minute!
It seems like a good idea in theory. Relieve the pressure of rushing to finish and wear your garments right away, by sewing completely off-season. You might even save money, buying summery fabrics on sale at the start of fall! Kind of like shopping the sale racks at the mall, you'll get a great deal on summer sandals now, but pay full price for winter boots. When I worked in the apparel industry, you're always working off-season. We'd start producing Spring product in early fall the year before, selling next Fall's collection in early spring. You're almost never designing for the season you're in!
So I'm curious – do you sew in advance of the season and start off Fall with a lovely set of sewn items? Do you wait until Fall starts and sew what you need? Does anyone sew out of season? I'd love to hear your theory on seasonal sewing!
PS. In the photo above, the snowy one is taken in Whistler, BC last winter. That's how high the snow was! The second one was taken in Hawaii. No snow there – over 30 degrees and sunny the whole time we were there!