Ok. You guys asked for it, so here it is – my sewing confession. Here are a whole bunch of things I've started and never finished, with reasoning on why it lost my attention and whether it will ever get finished. Be kind, because I like to think I'm so organized and skillful and the master of all my sewing projects, so admitting this is a big step. Plus, you guys really pay attention, and notice when I don't finish things!
So here they are, all of the sewing skeletons in my closet (or drawer, or scrap bin..)
Brown-and-blue wool coat.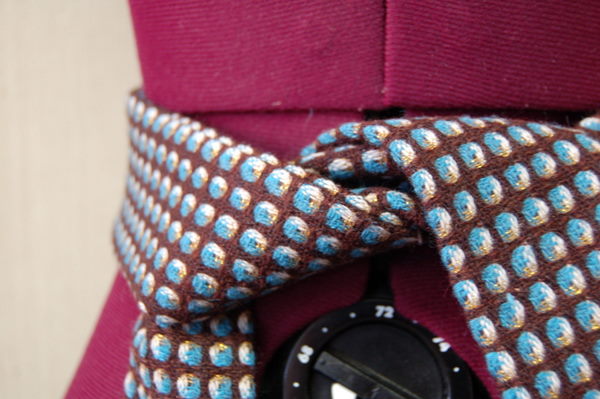 Started: Fall 2011. (link to the last post mentioning it here. Stopped after making the belt and the back stay.)
Why I put it away: Because I was working on the Minoru Jacket, pattern testing for the Renfrew Top and realizing I needed to pick up the pace on pattern development if I wanted to be able to produce enough patterns in 2012.
Love or hate relationship: In the middle, I like the style, but I'm starting to think you guys were right about the bathrobe issue. The fabric is definitely a 'love' though!
Likelihood of it ever getting finished (on a scale of 1-10): 7? Seven seems like a reasonable guess. I like the fabric, I like the colours. It might be too bathrobe-y and for my lifestyle, it probably won't be very bike-able. Which means it will only be worn on the weekends, maybe. There's another good point on choosing sewing projects – know your lifestyle! Investing in killer heels is only good if you have many places to wear them. If you're an on-the-go kind of girl, maybe investing a beautiful pair of well-made flats is a better idea. Same thing with sewing – if you wear a bathing suit once every two years, maybe there's no point conquering the world of bathing suit sewing. And if you're about to embark on a major sewing project like a coat, make sure it suits your lifestyle, so that you're motivated to finish it and so it gets worn when it's complete!
The 'O' Dress.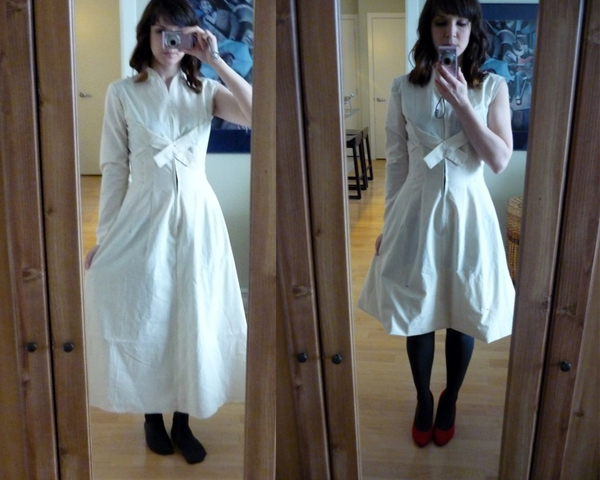 Started: Early 2011 (link to the last post mentioning it here. Stopped after the bound buttonholes.)
Why I put it away: When I moved to the office in May, I packed up a series of works-in-progress that I haven't unpacked since. That and it became spring, and I lost interest in making a long-sleeved wool dress. Things really started to get busy once I got settled in the office here!
Love or hate relationship: Definitely love! It's a great pattern, it was a thoughtful gift from a dear friend, and it's a classy, elegant wintertime dress.
Likelihood of it ever getting finished (on a scale of 1-10): 9! Love it. I just know I won't be finishing it any time soon. I have to be realistic about my time and priorities, and I know it won't be finished during this winter, so there's no point getting started on it again right now. It sure is pretty, and thinking about it again today reminds me of how much I do love that pattern!
Strictly Ballroom Dress
Started: Mid-2011 (link to the last post mentioning it here. Stopped after cutting the fabric.)
Why I put it away: Because I've changed my mind about wearing a full-on mustard yellow dress. I no longer want to wear this project and I have zero interest in finishing it! (Was that harsh? I'm sorry, dress!) After finishing the Lauriel Cardigan, I've determined that a long-sleeve sweater is the maximum amount of yellow I want to wear at one time. A long sleeved yellow dress is just not going to get worn, even if I were to shorten the sleeves it's still too much for my comfort level. I'm not sure what I was thinking!
Love or hate relationship: Hate seems like a strong word. I've certainly fallen out of love with the idea of this dress and I'm pretty sure that I'd never wear it, because that is way too much yellow! Here is a good idea, something I should have done. Are you concerned that a colour might be too much to wear head to toe? When you're at the fabric store, find a mirror, and unroll a little bit from the bolt. Drape it around yourself like a dress. How does it look? Intense, or awesome? If you've already bought the fabric, wrap it around yourself at home like a dress. Does it look too bold? How about a skirt? Drape it just on your lower half to get an idea what it might look like as a skirt.
Likelihood of it ever getting finished (on a scale of 1-10): 1. Likely I will re-purpose the pieces for a different project. Yellow skirt, perhaps? Panels of a dress? A dress bodice? I like all of these ideas better than the original dress, unfortunately.
A handful of Pendrell Blouses.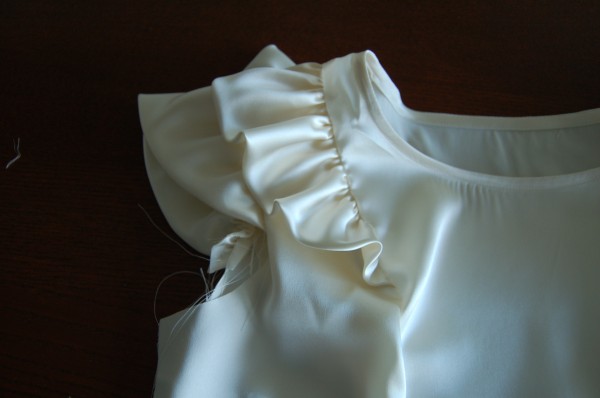 Started: January 2011 (link to the last post mentioning it here. Plus, this sheer version here. Ok, fine, and this version here too.)
Why I put it away: I had a reality check at this point in my life. I thought – and I'm somewhat embarrassed about this now – that starting a business would take less time. It's all right if you laughed at that statement! After all, I worked full-time at a fairly demanding job and still had plnty of time to sew and blog and even start working on my pattern line. After I was laid off, I thought I would have time to still sew fun things as well as run the business. Was I ever wrong! I thought I would have no problem sewing up these three sew-along blouses as well as the one I actually finished. I started school the next week and at the same time, the business got busier, and I realized that I would have to start being more realistic about my time. (Of course, that didn't seem to stop me from starting the other projects in this post, but what can I say, I'm persistent..)
The cream one I believe is actually finished, the sheer one I stopped after cutting and basting the layers, and the lace one I never got the stains out of the fabric.
Love or hate relationship: Indifferent. Again, these are all packed away somewhere from when I moved out of our spare room and into my office.
Likelihood of it ever getting finished (on a scale of 1-10): 5. Never say never, but I have way more interesting things I want to work on than partly-finished blouses! They served their purpose, which was the tutorials for the sew-along. One day I'll unpack those boxes and sift through the UFOs but right now, it's onwards and upwards!
I think that's it! I'm sufficiently embarrassed but happy to get that off my chest. Now when someone asks me 'what ever happened to that thing you were making?' I can refer them here. (Did I forget something? Let me know if I did, I sure hope I caught them all!)
You know what I just realized? All of these are from 2011. Which means, in 2012, I didn't start any projects that I knew I wouldn't finish. So I'm learning! (I'm also learning not to blog about a project unless the odds are good I will complete it. It's annoying, you guys said, when people start talking about a project and then never mention it again..) Progress, right?
Want to make your own sewing confession? It feels good! Here, use my template if you like:
Name of Project:
Date Started:
Why you put it away:
Love or hate relationship:
Likelihood of it ever getting finished (on a scale of 1-10):
It's OK to let go of a project that no longer floats your boat. Life is too short and exciting to focus on the failed projects or the half-finished projects you dread completing. Pass it on to a friend, re-purpose the fabric, cut a dress into a skirt, make a quilt – just don't let it stop you from enjoying your adventures in sewing.
Does this make you feel better about your own unfinished projects? I was reluctant to admit to any of these but here they are, posted for the world to see! I'm not perfect (boy was that hard to type) and I make all kinds of mistakes, weird fabric choices and projects that utterly fail.