Hey, remember this dress? Here's the third post in the Padded Bust Series! First we sewed abutted seams in cotton batting, and then we made padded bra cups by layering cotton batting.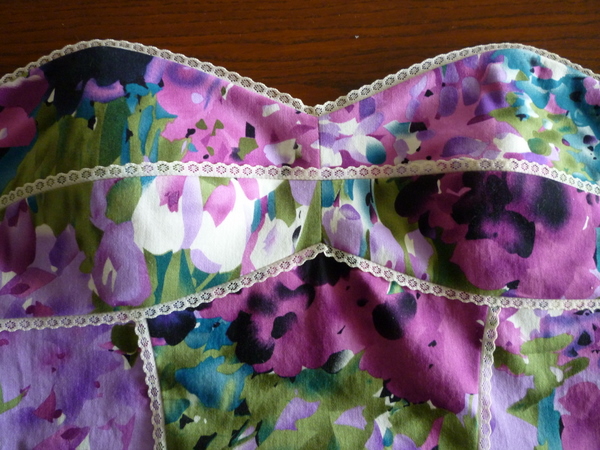 Today I'll finish up the tutorial! We'll sew a muslin version of our bodice, and add plastic boning to the seams. I'll show you how to sew boning to a bodice, how to soften the plastic boning if it's tightly coiled, and how the whole thing came together in the Summer in the City dress.
First, we'll cut a set of bodice pieces out of muslin. In this dress, the main pieces and the lining pieces are shaped completely differently. I'm using the lining pieces, because the shape is more suitable for adding boning. In most cases, your bodice lining and main bodice pieces will be similarly shaped if not exactly the same.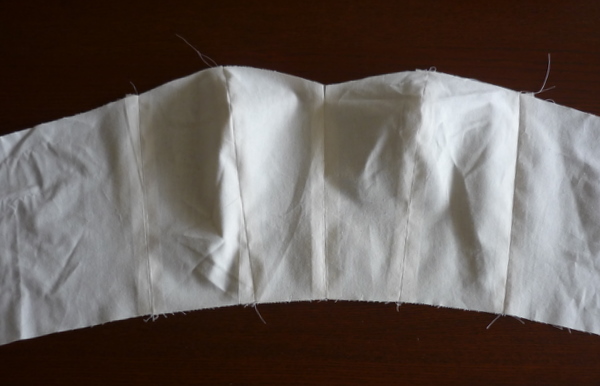 As we do this, put your kettle on, as if you're going to make tea. We'll need boiling water later on!
Now, sew the muslin bodice together along all of the seams, except for where the zipper goes in. In my case, it's centre back. Press seam allowances open.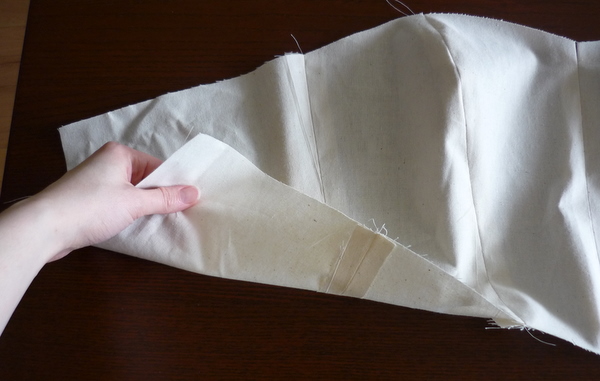 Trim seam allowances down to 1/4″ (6mm).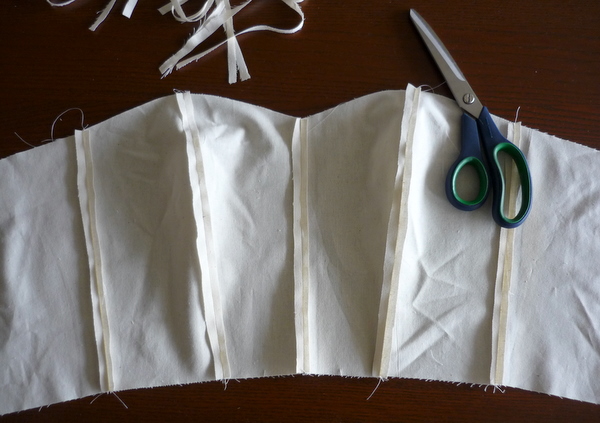 Here's the boning I'm using – plastic that comes in this fuzzy fabric casing: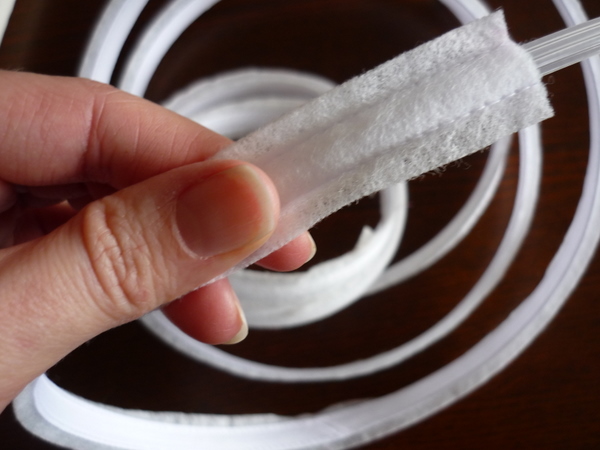 Sorry for the slightly blurry photos – my preview screen broke on my camera so these were taken 'blind!' Mr Sewaholic has kindly lent me his camera now so I can keep on blogging.
Now, take your boning, and measure it off against all of the seams you want to add boning to.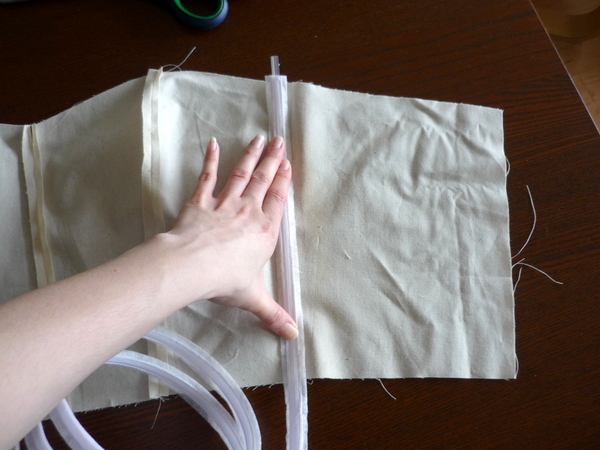 At minimum you'll want to add to both side seams, using 2 pieces of boning. Two pieces will add structure to the sides and keep your dress up.
I'm going to add it to the sideseams (2 pieces) and the front princess seams (2 more pieces) for a total of 4 pieces.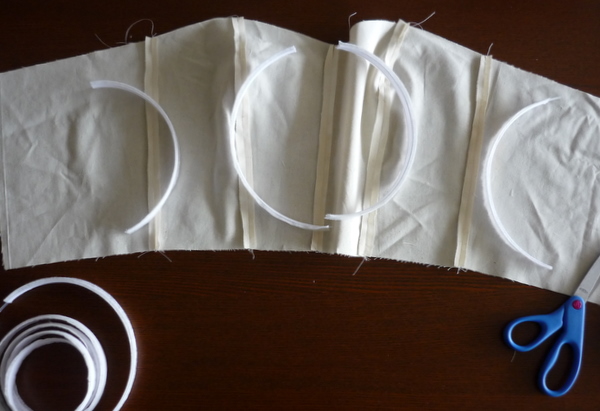 Take the boning out of its casings. You'll have curly plastic strips, like so:
If your kettle's gone off by now, that's great! Fill a shallow plastic bowl with boiling or very hot water, and drop the plastic pieces into the water.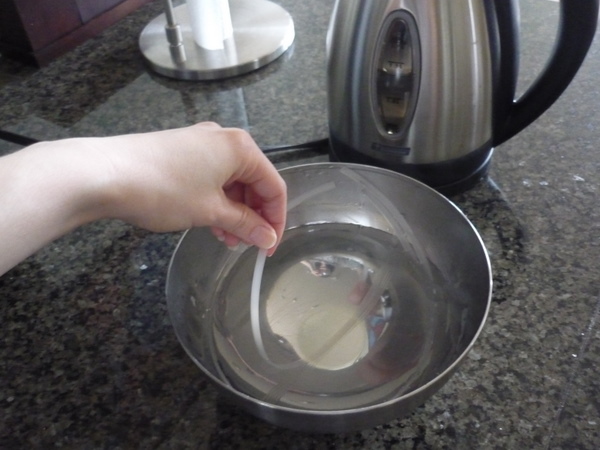 Why on earth are we doing this? Hot water softens the boning and allows you to straighten it out. Otherwise, it will curl against your body. I tried it, and it works!
While you're waiting for the boning to warm up, let's sew the casings to the bodice. Centre the casings along the seamlines, and pin to the bodice.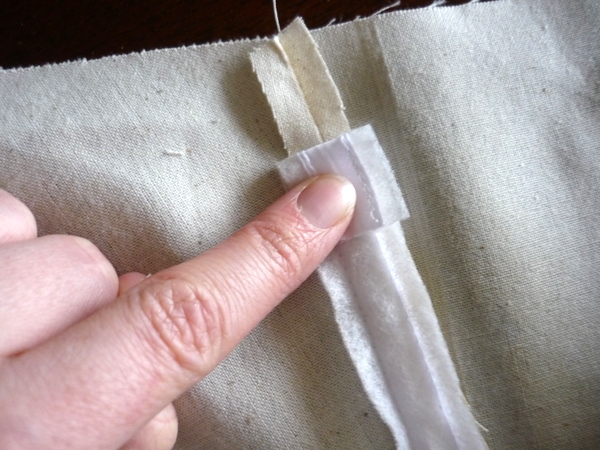 Pin casings to all of the seams you're going to add boning to.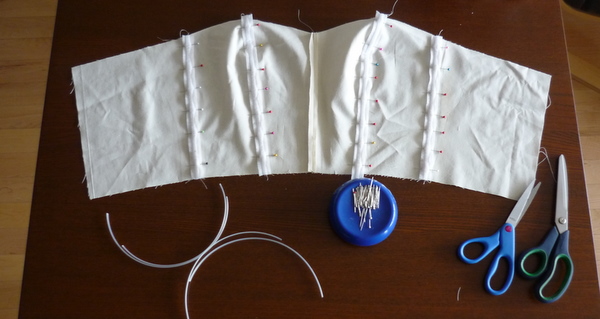 Take the bodice to the sewing machine, and sew on either side of the strip, through the original casing stitch lines.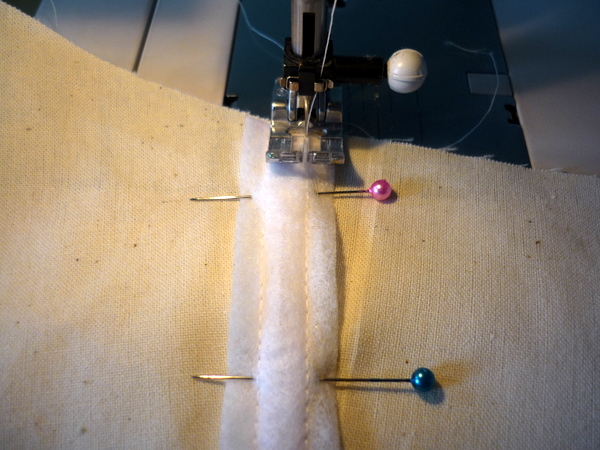 Here's what it looks like from the other side: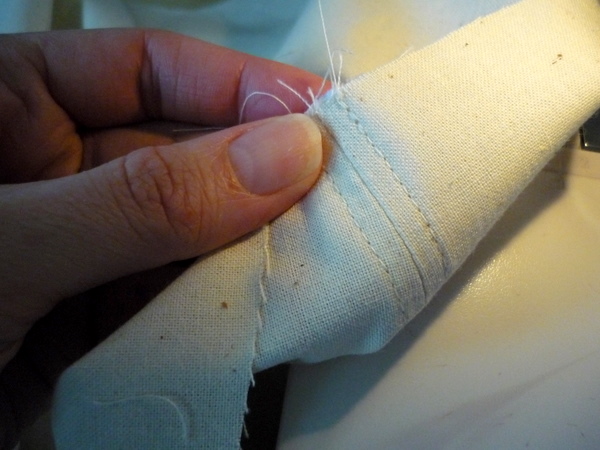 Once the boning has sat in the hot water for about 5-10 minutes, take it out and press it under something heavy and flat. I didn't take photos, but you can use a heavy book, a stack of magazines, anything that will keep it flat while it cools off.
It won't be perfectly flat, but it will be better than tightly curled, especially if you bought the last few metres of the boning roll (the inside of the coil)!
Insert the boning back into its casings.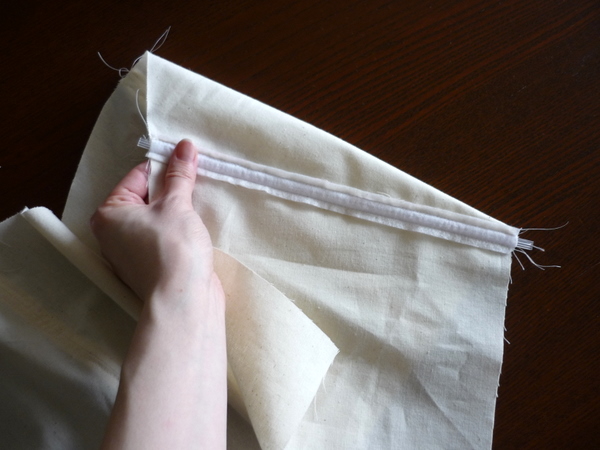 Almost done! You can see that my boning sticks out farther than the edge of my bodice. What I'm doing there is taking off 5/8″ (1.5cm) off each end of the boning. I suppose you could simply measure 3cm and trim it off one end, now that I think of it! Our goal is to make sure that when we stitch our seam allowances along the top and along the bottom, that we don't stitch through the boning. If you're worried, trim extra! Trim 3/4″  if you like.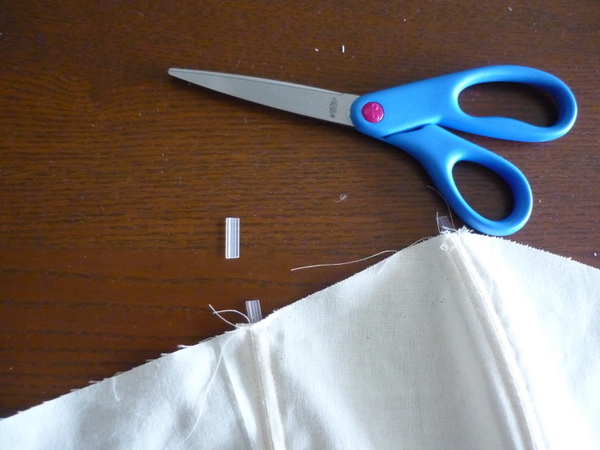 Before we close off the boning, let's remove the sharp corners. Grab a nail file, and file the ends into a slight arc, smoothing out any sharp points.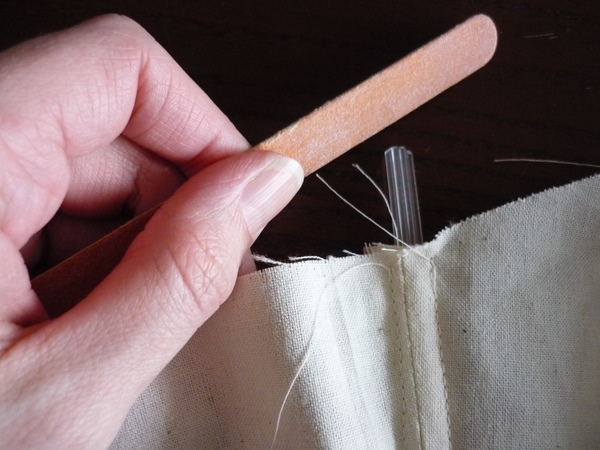 If you leave the sharp corners, your boning might poke through your dress and make a hole. (It happened on my prom dress, it's definitely possible!)
Here I'm checking to make sure that my boning ends at least 5/8″ (1.5cm) from the raw edge. Feel where your boning ends, and make sure it is far enough away!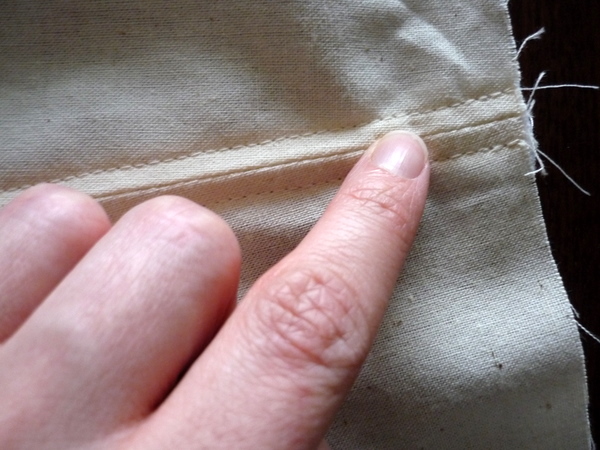 Baste along the casing openings, to keep the boning inside its casing.
And you've sewn a boned bodice! Sorry for the blurry photo, but this is what it looks like, more or less!
Some questions you might have:
Where and when can I use boning?
Boning is usually seen on strapless or halter tops and dresses – anywhere where the garment needs a little help to stay in place! You can add boning to a dress with straps if you feel it will add structure.
What happens if my boning looks different from yours?
Boning also comes in metal, and in plastic without casings. If your boning doesn't have a casing, you can use self-fabric or bias tape to create casings, just like we did with the casings in this tutorial. For metal boning, you can buy it in different lengths so you can avoid cutting it. If you do have to cut it, do it carefully! There are little caps that go on the ends of metal boning to protect your garment.
Where can I buy boning online?
I did a quick check and found these sources. I haven't shopped from any of these stores, as my local store carries plastic boning. If you have a recommendation, leave us a comment below!
Just to finish it off, here's a quick run-through of what I did after making the padded bodice, bra cups, and this boned muslin bodice!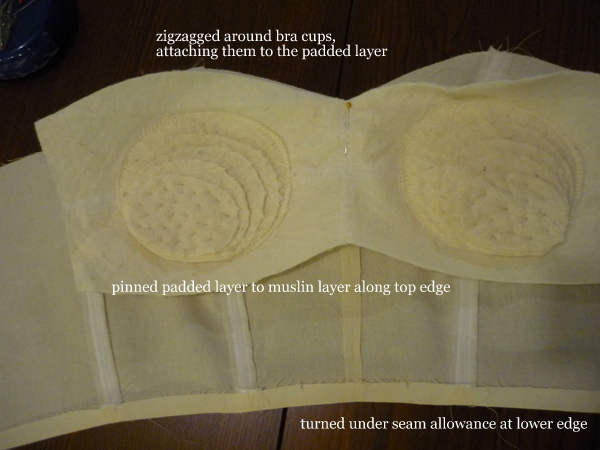 Then, I took this muslin layer, and sewed it into the dress. Basically I treated it like a lining, just a heavily constructed lining!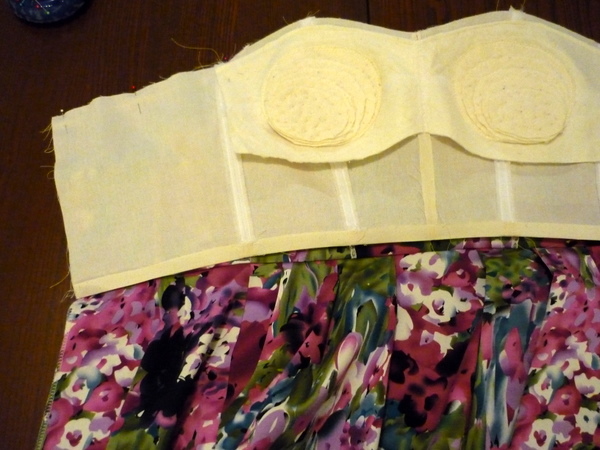 I sewed along the top edge of the bodice, turned it right side out. I planned to slipstitch the lining along the waist seam, but added purple ribbon along the seam instead for extra softness.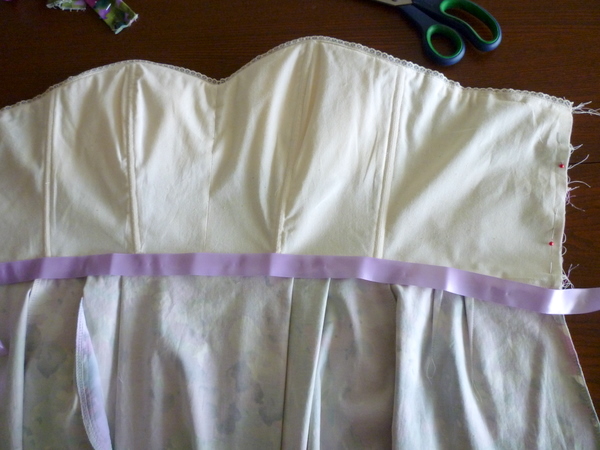 That's it for the padded bust series! These posts are meant to give you some insight into how to add padding, cups, or boning to your dress projects, and for a peek into the inner workings of the dress. Let me know if you have any questions on this little how-to guide. (It feels good to have finished off the series, finally!)
Have a great weekend, everyone!