Thanks for all the awesome birthday wishes!! You guys are the best. I had no idea I'd get so many thoughtful comments! Thanks for all the kind thoughts and reassurance that the best is yet to come as I get closer to my thirties. (I knew it!)
Yesterday was about me, but today's about YOU. I'm sharing the love with a fun giveaway!
We're celebrating a few milestones at once here, and not just the fact that I'm inching closer to 30.  I recently reached 300 followers, I passed my one-year blogoversary over a week ago, and I started the Self-Employment program! Lots of exciting things happening in my world. Let's celebrate!
Here's what I'm giving away:
A copy of the Pendrell Blouse Pattern, including free shipping to anywhere in the world. Best of all, you'll have all of the Pendrell Sew-Along posts for reference when you're ready to sew your blouse! (Click the image below for more info on the blouse pattern.)
Fabric for the Pendrell Blouse! Two and a half metres (2 3/4  yards) of printed polyester in a pretty teal print.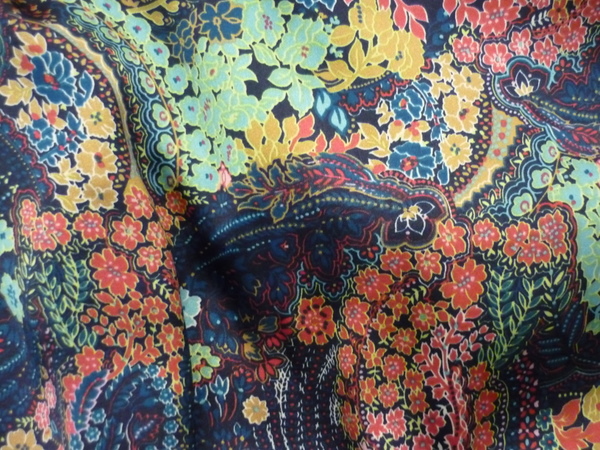 Matching, all-purpose thread: one spool of Gutermann thread. I'll find you a nice, coordinating dark blue-green to sew up your blouse.
It's essentially a Pendrell Blouse Kit! Once this package arrives in your mailbox, you'll have everything you need to whip up a beautiful blouse. Isn't that fun? A couple of people mentioned how much they liked the blouse pattern, but couldn't afford it at the moment. Well, here's your chance to win it, plus the fabric and thread to make it up!
Does the fabric look familiar? It's the same print I made my Sew-Along blouse from! There were several comments from people who loved the fabric, so when I came across more (at a small, random fabric store) I just had to pick some up. It's 60″ (150cm) wide too, which is more than enough fabric to cover any view, any size!
How to Enter:
Leave a comment ON THIS POST, with your answer to the question of the day: what fabric is your favourite to sew with?
Mine is rayon. It's special, it's hard to find, and it feels beautiful and soft. I do love how well-behaved and easily-ironed cotton is, and I love the luxuriousness and durability of wool, so those two would be close behind… but oh, rayon! It's one of those fabrics that seems like such a treasure to find, especially pretty rayon prints.
Enter by tweeting about the giveaway, by clicking 'Like' Sewaholic on Facebook and/or follow with Google Friend Connect. Leave ONE comment for each extra entry, and leave me a comment if you already Like or Follow!
Who can win:
Anyone in the world! Yes, I'll ship the prize to anywhere in the world. Being in Canada, I like when all countries are included. So you're ALL eligible to win, no matter where you live.
How the winner will be picked:
Randomly! This giveaway will be open until end of day Wednesday, March 2nd. After that, no more entries! I'll pick the winner randomly and announce it by the end of the week.
Ok, go! Comment away!
Remember, the question is: what's your favourite fabric to sew with? I'm looking forward to reading your answers!