Hey, everyone! Finally my office is set up and I'm working from the comfort and style of the new place. It seems like a long time ago already that I finished packing up my old office, moved everything into the new space, built all of the new furniture (including building the bookcase in front of the open door to 90% complete, before admitting that IKEA was right and it did in fact require two people to build the thing, like the instructions said) and shipped out all of the sale orders. Thank you to everyone that bought patterns in the Moving Sale. You sure helped lighten my load!
Want to see where I work and sew now, in the new and improved office? Here we go! (Come on in!)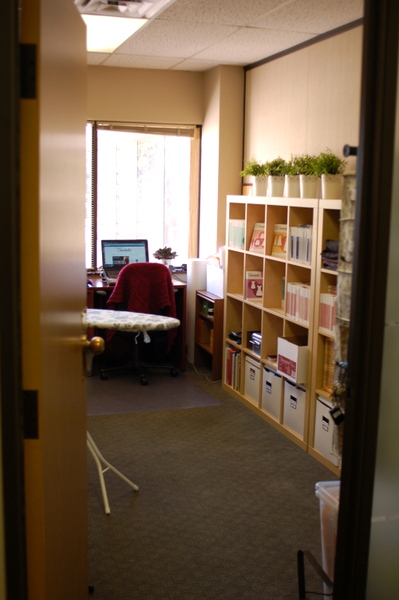 I now have two expedit bookcases. (Love these!) When I first moved into the office, Pendrell and Crescent shared a cubby and the rest of the cubes were filled with books and fabric.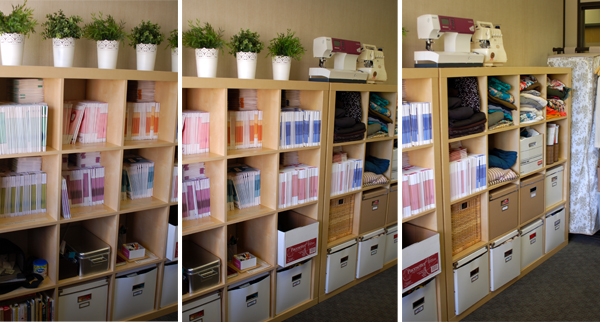 Now I have room for 24 patterns and eight boxes of fabric and trims! I can't wait to fill them up with new designs. (Yes, this is the thing I mentioned above, that IKEA recommends building with two people. It's all fine until getting the last beam in place at the very end, and of course lifting the thing up. Trust me, it's good to have a friend around for the building and absolutely necessary for the final lifting!)
I can also store my sewing machines on top of the bookcases, when I need to use the sewing table for something else. They're light enough, and the surface is easily reached, so that lifting them up isn't too inconvenient.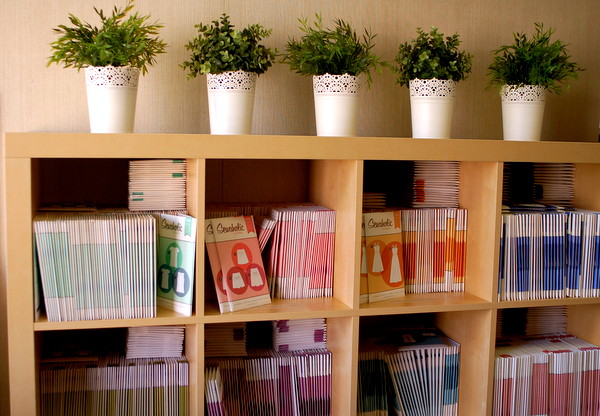 I have a hanging rack for samples. (Before, I had samples piled on the single back-of-the-door hook, sometimes with extra hangers hanging from a rubber band so I could cram more on to the hook. Sounds a little crazy now, doesn't it? You do what you have to when you're working in a small space.)
The hanging storage helps hide useful things, like a lint roller and camera tripod, but keeps them close at hand. The big hanging storage I bought by accident, wanting it to be the small one, but it worked out well for hiding big things. (There are some big surprises hidden in there right now!)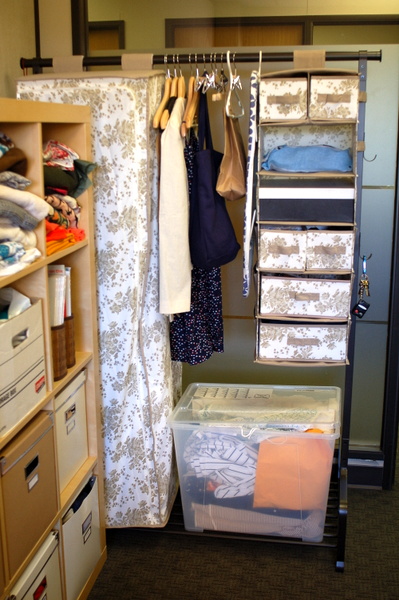 I have a full size floor-standing ironing board, finally! Originally, I'd planned to made do with the mini tabletop one. (You've probably seen the tabletop board in a hundred photos at least! This is it.)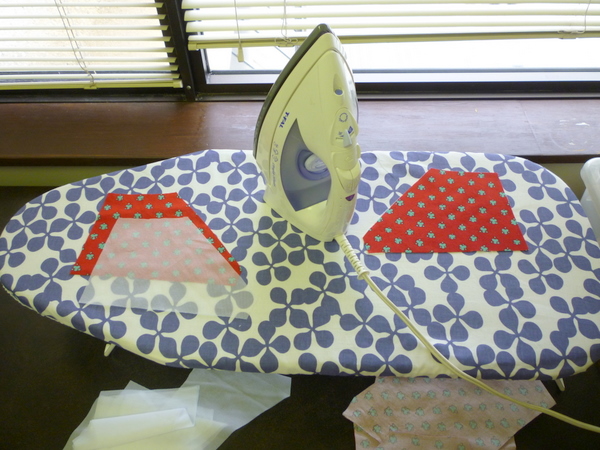 It's been fine over the last year and it sure is space-saving! But as I started to get settled in the new space, I realized there would be space for a real ironing board. (I also realized it was time to replace the ironing board cover, so it was a good opportunity to make an upgrade.)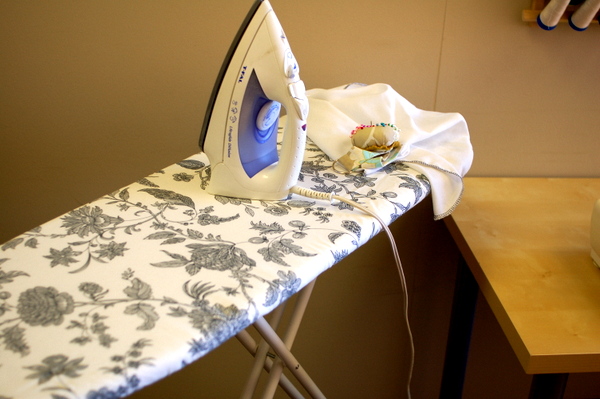 With the mini-sized ironing board I'd started to dislike ironing out my freshly-washed fabric before cutting because it was so cramped and hard to do. (It felt like before I'd finish one end of the yardage, the other end would be wrinkly again.) Who would have thought that a new ironing board would be so exciting?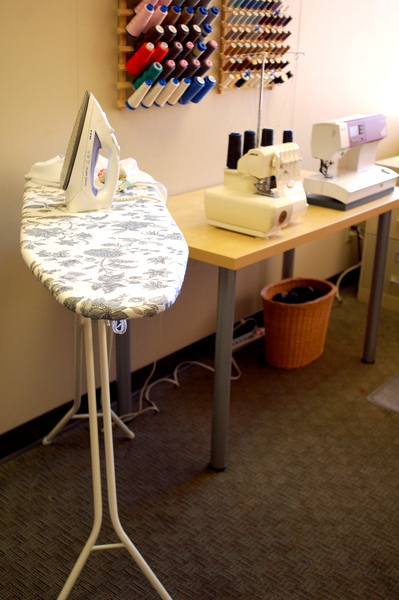 I still have a window! I really wanted to still have a window. Besides enjoying the natural light for better photographs, I feel more productive when I can see the outside, even if it's all in my head.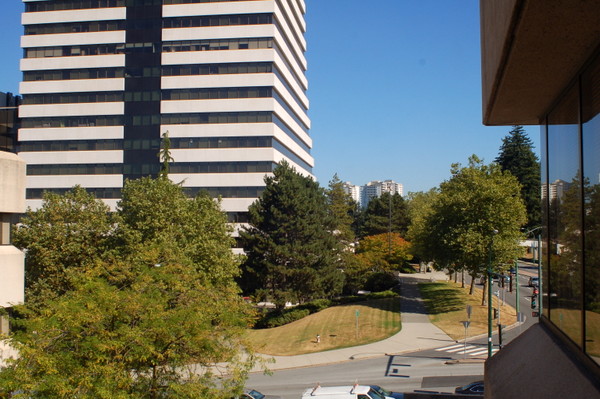 It's funny the things that made a huge difference. In the old space, I had boxes piled two rows high on top of the bookcase. No big deal, right? They're white, they're unobtrusive, and they're out of the way. For some reason, having anything piled floor-to-ceiling made the whole room feel smaller, like I was working in a narrow tunnel.
With the open space above the bookcases now, the place feels so much more spacious! (That and the lovely plants in lace-trimmed pots. I couldn't resist adding these totally unnecessary but very cute decorations. Yup, they're fake, but at least they'll be green and 'alive' forever!)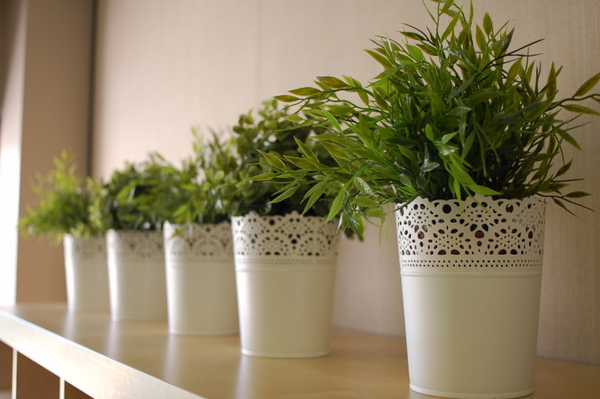 I do have a live plant that I'm super proud of – it's been with me since I first moved into the office last May 2011! It's an African violet and it has no flowers at the moment, but it's still very much alive. Flourishing, even. There are way more green leaves than when it arrived.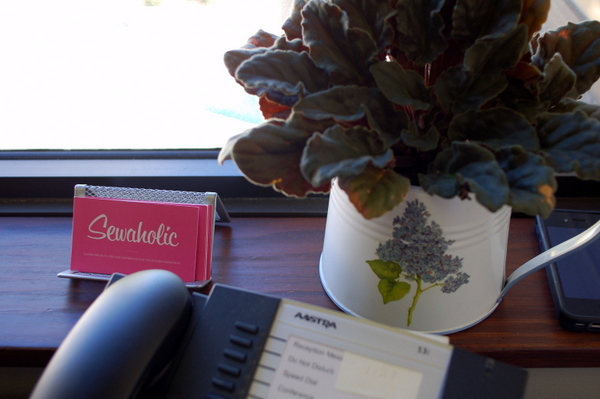 My desk is a little smaller…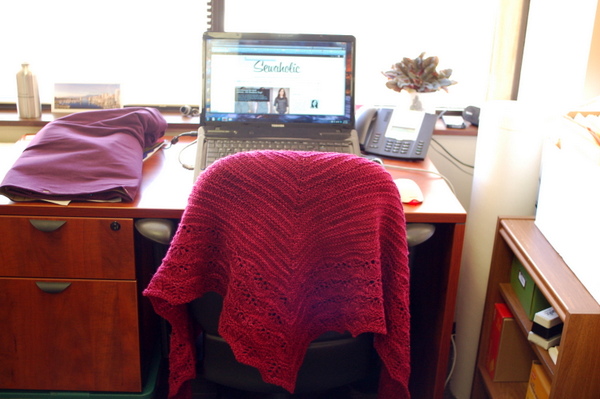 but the sewing table is the same.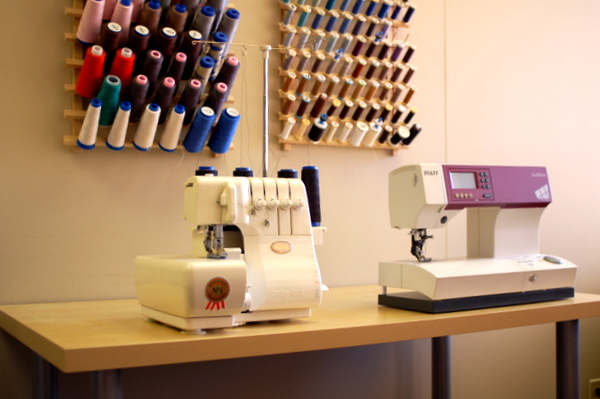 I have way more fabric that I remembered, strangely. At least now I have enough room to cut and sew again! Going through my fabric collection reminded me of what I had planned to make. Sometimes I still wanted to make the same thing, with other pieces I thought 'hey! that was going to be a Pendrell but now I think it would be a better Alma.'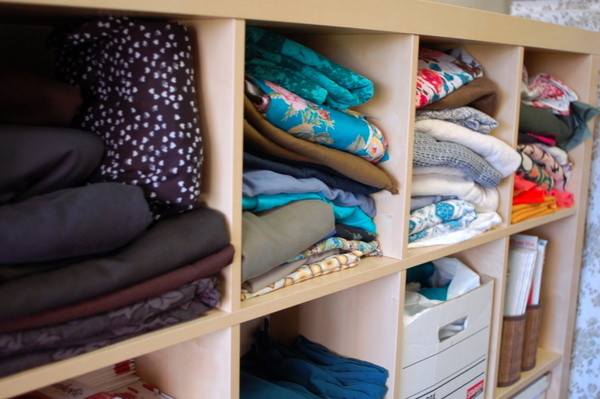 Keeping the fabric in the cube is temporary. I'm crazily rationally thinking I can sew through it as new patterns arrive and take over the cubes. Seems possible, right?
And that's where I work! It's only about 30% larger than my previous office, but in here, I have space to relax and room to grow. It's surprisingly cooler and quieter as well as larger. Everything is freshly organized. It's challenging to work and be productive while feeling cramped, and hard to make decisions on pattern development when I'm wondering where on earth to put the next pattern.
This is an exciting new chapter in the Sewaholic Patterns world. Thanks to all of you for reading, commenting, buying patterns and cheering me on!