It's been a busy weekend so far! I'm excited that so many of you want to do the Sew-Along, it looks like there's almost thirty people interested!  So I created a Sewaholic Patterns Flickr Group for us!
We can use this group to share, discuss and get inspired for the Sew-Along! Plus, even if you're not participating in the Sew-Along, the Flickr Group will be a great place to check out finished projects for ideas and inspiration.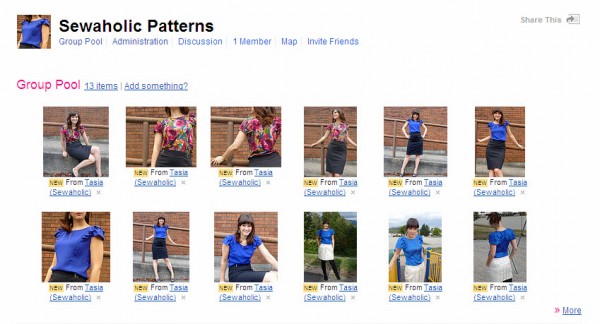 Homebake Queen asked a really good question yesterday: 'What exactly is a Sew Along??!'  I think I know, but I also would love to hear what you guys would like to see, besides just the sewing part.
A Sew-Along, from what I've learned since I started blogging, is like a long-distance sewing meet-up. Like when two friends who live in different cities go see the same movie separately together, and then call each other to talk about it afterwards? It's kind of like that.
We all pick a pattern and fabric, and then I'll post step-by-step photos of the sewing instructions. We'll sew a little bit every day or so, and the posts will be there in case you work at a more relaxed pace. You can ask me questions along the way if you get stuck, and when it's all done we each have a pretty, finished blouse! The great part is that there's a whole bunch of us doing it together. Ten (or twenty or thirty) sewing minds are better than one!
Gertie recently led a Lady Grey Sew-along and it was wonderful, full of tailoring tips, fabric recommendations, fitting help and even suggestions on how to accessorize the finished coat!
I know there are questions on fit already, specifically Full Bust Adjustments (FBA's), so I'll include some posts on fitting and adjusting. I'll also talk about fabric recommendations for the blouse. Is there anything I'm forgetting? Anything you'd like to see?
Also, how do you all feel about starting in January? Krysta made a good point yesterday that a lot of people are sewing Christmas gifts right now, and will be super busy once December starts. Does that sound about right for timing? Let's say, January 10th? Let me know your thoughts!