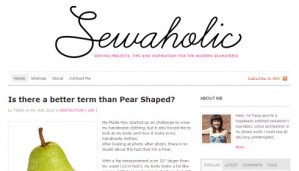 Hello readers! As you may have noticed, Sewaholic.net recently got a makeover. Welcome to my new and improved site, with a custom-designed logo by my lovely and talented sister. Thanks Sofia!
My goal was to streamline the look of the site and make it more user-friendly. I loved the pink polka dots but wanted something cleaner, so that the images really stand out.
Thanks for your patience over the weekend as I worked out the bugs!
New features include:
New header with Sewaholic logo! This is definitely the best part, and worth the hours it took to re-do the site. Yay for customization!
Pink link text. It's just cool. And when you hover over a link, it turns light pink. So pretty! (Ok, it's not really a feature. But I love it!)
I've always liked seeing 'About Me' on other bloggers' sidebars, so I can see who's behind the blog easily. Now I have my own, complete with a Gravatar. Ever wondered how to get one? I figured it out! Click here to get one, too.
Simple sidebar panel with Popular, Latest, Comments and Tags. Easily find recent posts, most popular posts, and see what people are talking about!
Twitter widget on the sidebar. See my latest tweets and follow me on Twitter!
Linky-things. At the bottom of each post there are little graphics to share the post on various social media sites (Twitter, Facebook, Reddit etc). If there's one you like that isn't listed, let me know! 
Reply to comments. Now I can reply to each comment individually!
Self-Stitched-September button. It's official now, the button's up for all the world to see!
Pattern Review widget with my latest reviews on PatternReview.com
Sitemap page for easy navigation
If you're visiting in a reader, stop by and take a look! There are still a few minor tweaks and changes to make. I still need to add back the 'subscribe by email' option, and enable some of the super fancy features, but the big transition is complete. And I'm thrilled! I love the new look, it feels very professional and sleek.
But I want to hear what you think too – what do you think? Leave me a comment below, I'd love to hear your feedback and thoughts!