Good news! Caroline's updated the Sew-Alongs and Tutorials Page to include every single tutorial we've ever done for all our patterns. It's quite impressive to see the long list of tutorials we've posted.
Here is where to find them – there's a link right on the top menu!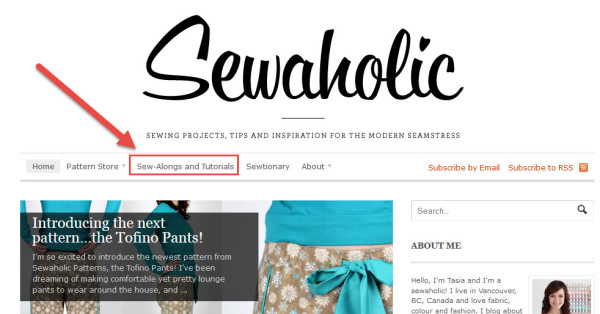 I even figured out how to add links that jump down to the right section, so you don't have to scroll through everything to find what you want. Neat eh? (If you want to know how to do that, here's the tutorial I used.)
Caroline did all of the link-collecting work and I made the links jump. Teamwork!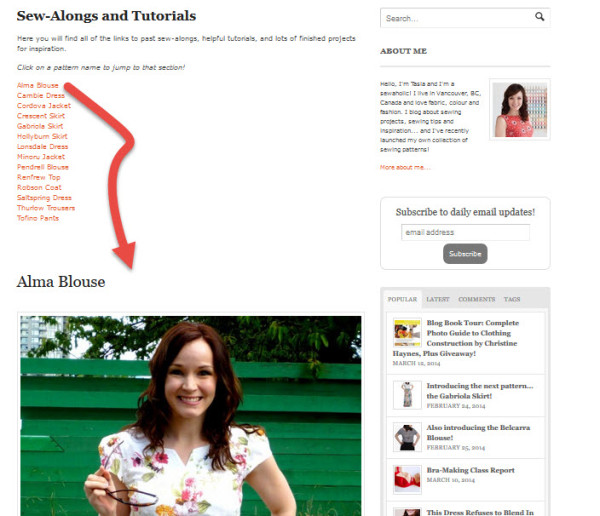 This is of course more impressive when it jumps farther down the page, but I wanted to demonstrate and could only capture so much on the screen.
Click on Alma Blouse and it takes you to the start of the Alma Blouse posts. Click on Minoru Jacket and here is where it takes you: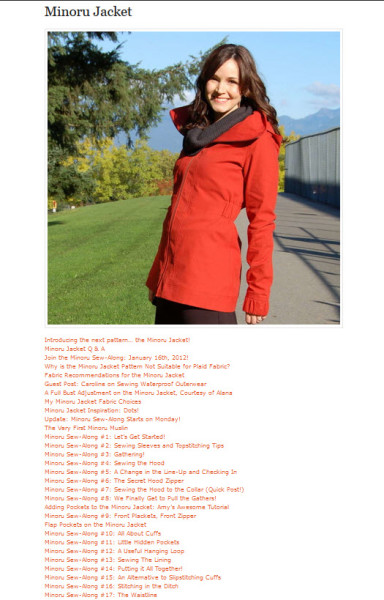 So if you're sewing any of our patterns, it's now easier to find help as you sew!
It's also easier to know if the pattern you're considering has a lot of tutorials posted, as that might help with your decision to purchase. Many of our patterns have so much free information posted online. Even if the pattern is slightly more complicated than usual, you'll be in good hands with our tutorials and sew-along posts.
Thanks Caroline for putting this together. I hope it's now easier to find tutorials for your Sewaholic sewing projects!