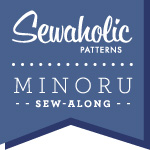 Happy Friday, everyone! It's been a good week for me. My next pattern is in the works, I was a guest speaker at an exciting event yesterday (more to come on that!), and my office is freshly re-organized. I love the feeling of winding down the year, tying up loose ends, and getting ready for a fresh start in January.
Especially because we'll be sewing the Minoru Jacket together in January! I'm very excited to be sewing this jacket along with you guys. I'm putting together a schedule like we did with the Lonsdale Sew-Along (click here to see the handy calendar I did last time) and was wondering about speed. How fast do you guys want to do this? When do you want to be wearing your finished jackets?
I've done a quick outline of the sewing steps and it looks like we'll be finishing up by Feb 15th or 20th if we go at a pretty fast speed. That's about a month from the start date of January 16th, 2012. No weekend posts, but daily Monday to Friday sew-along steps. Some of them are easy, quick sewing posts and some will be more involved. I didn't include fitting or making a muslin, but start right off with the first sewing step. I'm hoping to include some bonus steps like adding pockets to the outside of the jacket.
So we'd start January 16th, and be finished by February 20th. That's a full month to make our Minoru Jackets.
Is that too fast? Is that just right? Let me know what you think!
Can I still join the Sew-Along?
A couple people have asked whether it's too late to join in. It's never too late to join! Even when we've already started, you're welcome to pick up the pattern and join in the fun. The Sew-Along posts will always be up on the website for reference later on, with a full list of links on this page – Sew-Alongs.
Where can I find the Sew-Along related posts so far?
Here are links to all Minoru Sew-Along related posts. So far, we've talked a bit about timing, fabric suggestions and seen how to adjust the pattern for a fuller bustline.
Plus, you can find sew-along related posts in the future following this link:
http://sewaholic.net/tag/minoru-sew-along
Let me know what you think about the timing for the sew-along! If that sounds about right to you, I'll put together a calendar for the first week of January so you can plan your sewing time.
My Christmas festivities are starting already, with four events to attend this weekend. (How many times do you think I can wear last year's party dress without anyone noticing?)
Have an awesome weekend, everyone!